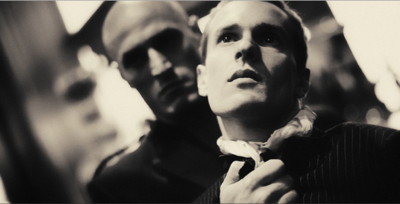 August Strindberg wrote his classic play Miss Julie in 1888. It was a controversial play focusing on the inequities between men and women, and between the socio-economic classes. It was also controversial because the writer's style challenged the theatrical conventions of the time by stressing a contemporary realism that challenged Strindberg's audiences.
Conceived, adapted and directed by Ken Roht, co-adapted by Erik Patterson, Ken Roht's Miss Julie(n) is a music/theater adaptation that focuses on the inequity between gay and straight men, while factoring in the struggles between the haves and have-nots. Julien is a desperate and lonely gay young man, shunned by his father and his servants. Jean is a straight servant willing to do anything to improve his station. Jean's fiancée Christine adamantly adheres to convention and to unforgiving religiosity, and the abstract chorus of singing and dancing servants creates a quite but relentless chaos that compounds the psychic confusion of the lead characters. So, except for the change of sex and sexuality of the title character, this adaptation is quite true to the initial writings and intentions of Strindberg.
Roht says "Years ago I saw the Mike Figgis movie production of Miss Julie, starring Saffron Burrows, and knew that I had to play the part of Miss Julie. I understood her pain and confusion somehow. So many years have past, I got too old to play the role, and several attempts to mount the play have been unsuccessful, mostly because I couldn't find just the right guys to play the leads. I have the right guys now, both rather competitive athletes/performers, and I'm thrilled to pit them against one another."
This production will take place in Clare Graham's magical gallery space, the MorYork Gallery, and will run for twelve performances only, from  February 21—March 10, 2013.
Graham is a sculptor, and is a collector of important art and an abundance of whimsical oddities. This location creates the perfect surrealist environment for Ken Roht's Miss Julie(n). Almost every inch of the fantastical gallery will be explored and exploited.
This production features Jonny Rodgers (Julien) and Dylan Kenin (Jean), along with Erica Rice as Christine. The chorus includes Patty Cornell, Raul Clayton Staggs, Silvie Zamora, Michael Bonnabel, Jamie Hebert, Lucie McGrane and Sienna Beckman.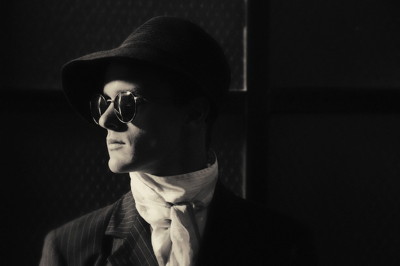 Ken Roht's Miss Julie(n)
A dance-theater adaptation of Strindberg's classic play Miss Julie.
4959 York Blvd,
Highland Park, CA 90042
Runs: February 21—March 10, 2013
Twelve performances only.
Performances: Thursday-Sunday, 8PM
All shows, including Sunday, are at 8PM.
$20.00  ***CASH ONLY***
(The first two Sundays are Pay-What-You-Can at the door, CASH ONLY.)
SPECIAL EVENT:
Wednesday February 20, 2013, 8PM.

Dress Rehearsal/Champagne Fundraiser… $40… CASH ONLY
TICKETS: Purchase online here or call  323.515.2482
About the Artist:
Ken Roht is a music theater auteur from Los Angeles. Most recently completed his first musical feature film, The Bloody Indulgent, a crass vampire film starring Kevin Richardson of the Backstreet Boys. His 99cent holiday spectacles have become a tradition in Los Angeles, having created seven original musicals in eight years. He is currently in pre-production for his next film musical, Perfect Cowboy, about two gay fathers bringing up a straight country western singer in a rural community. As writer/director/ choreographer: Permissible Union, L.A. Grand Performances, a chamber opera about a hypocritical, closeted politician; Last Resort, REDCAT, a chamber opera about two whimsical, Beckettian lovers facing the end of the world; the 99c Holiday Shows, Evidence Room and Bootleg Theater, LA. Granted by Plum Foundation, Good Works Foundation, L.A. Department of Cultural Affairs, Audrey Skirball-Kenis, L.A. County Arts Commission and Durfee Foundation. As a director/choreographer: Offenbach!!!, Bard Summerscape, New York; The Breast of Tiresias/Tears of a Knife, The Good Soldier Schweik, Long Beach Opera: and Donovan Leitch's Dark Root of the Dream, a Gypsy Musical, Largo at the Coronet. As a choreographer for opera: 360–Don Giovanni Finale, New York Philharmonic; Monodramas, New York City Opera, director Michael Counts (with another Counts/NYCO collaboration in Spring of 2013, Rossini's Moses in Egypt; Die Liebe der Danae, Bard Summerscape, director Kevin Newbury; Verdi's Macbeth, Boston Lyric Opera, director David Schweizer; Ricky Gordon's Orpheus and Euridice, Long Beach Opera, director Andreas Mitisek. As a choreographer for theater: The Shaggs, History of the World, Playwrights Horizons-N.Y., Lookingglass Theater-Chicago, Inside the Ford; American Night, Yale Rep, La Jolla Playhouse; Aristophanes' Peace, Getty Villa; Imaginary Invalid, American Night, Midsummer Nights Dream, Servant of Two Masters, On the Razzle, Two Gentlemen of Verona, Oregon Shakespeare Festival; Stones in His Pocket, Mark Taper Forum; Little Night Music, Midsummer Nights Dream, Corpus Habeas, South Coast Repertory; So Long Ago I Can't Remember, Gale Gates, et al; Quotations from a Ruined City, Bogeyman, Father was a Peculiar Man, Minamata, Peep Show, Reza Abdoh's Dar a Luz.