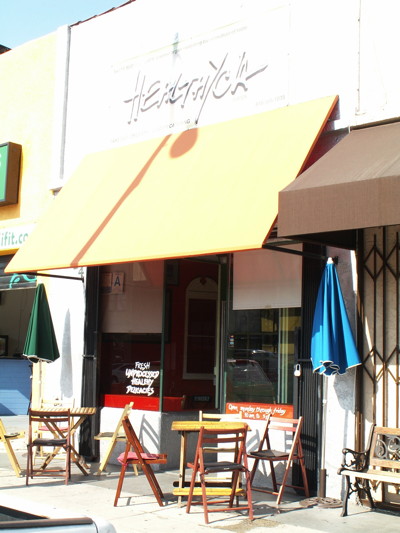 Isn't it crazy when someone tells you about a fantastic lunch place in your area and you find out that it has been quietly operating for several years?
Open weekdays, healthyca on Lankershim in NoHo is hands-down my all-time favorite lunch place in the East Valley.
healthyca (FYI – it's pronounced health-i-ka) serves exactly the kind of food I've been dreaming about for so long; healthy, delicious and affordable.
Chef Maki''s abundant menu is heavy on vegetarian options as well as offering several meat selections. He uses high quality, mostly organic ingredients and produce –- even the salmon is wild caught. The almost sinfully delectable homemade dressings, sauces and spreads are made daily. In Maki''s kitchen they don''t use preservatives or butter; just exquisite oils, vinegars and herbs.
Averaging around $9.24-9.50 (NB – the Grilled Salmon Salad is $10.95), the boxed salads may seem pricey, but they certainly are plentiful. More than just a full meal, you may even find yourself eating half of it for lunch the next day. I did, and still found mine fresh, crisp and tasty. Two persons can definitely share the salad combo and feel completely satisfied.
There are eleven different salad combinations to choose from – including SOUTHWESTERN, MEDITERRANEAN SOY,  CHILLED ORIENT – but I just can''t seen to graduate from my favorite -– ALBACORE tuna salad with roasted beets, creamy white cannellini beans, slices of hard-boiled egg and red potatoes, cherry tomatoes, red onions (I sometimes substitute grilled onions), tasty little black nicoise olives — all presented on a bed of greens scented with tarragon.
All the salads come with a little pot of an additional gourmet salad, including quinoa (my fave), herbed rice and an exciting wild rice medley full of tiny diced ingredients and plump grains.
Add to all that a pot of dressing from the list of ten, such as non-fat basil, oriental, chipotle, delicious lemon-olive oil or –- my favorite –- a stunning low-fat citrus dressing.
Once presented and consumed, this beautifully balanced salad is huge on the 'WOW' factor. Quite simply, anyone who is weary of salads needs to come to healthyca. You will fall in love with their fantastic flavors.
Also on the menu – —hot and cold sandwiches (choose from nine); half a dozen hot meals (all approx $12.00) and also fresh juices and smoothies.

***Only open weekdays***

Eat in, take out, delivery ($15.00 minimum order) and custom catering –

 ***  – healthyca has it all covered ***
Sandwich Review:
Okay, I don't usually get excited about sandwiches. They're not really my… thing. It's not that I avoid bread or anything, it's just that I tend to prefer my carbs in pasta form, or as roasted or fried potatoes. So you've gotta appreciate it when I go nuts about this new sandwich I tried. It was Oh. My. God.
Portobello Mushroom ($9.24) on home whole wheat ciabatta (i.e. baked in-house, gentle readers) with beets, chevre, walnuts, roasted tomato (with a bit of a spicy kick!), black olive tapenade, lettuce and I sub'd grilled onion instead of raw red onion.
The complex flavor profile and combination of this heavenly sandwich was just a knockout. It was so damn good, I went back and got it again the very next day they were open (Monday). Like I said, I don't go for sandwiches very often…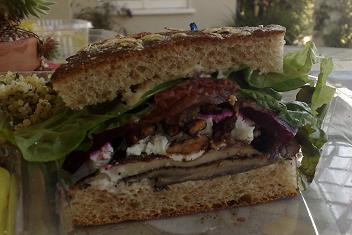 healthyca
4724 Lankershim Blvd,
(north of Riverside and just south of Camarillo)
North Hollywood, CA 91602
Hours:
Monday — Friday – 10am-5pm
Delivery hours – 11am-3pm  ($15 minimum order)
(818) 505-1035
(818) 050-1037 fax
::NOTA BENE::

It's really an industrial kitchen, but they do have a handful of tables and chairs, some on the street in the sun, so you can eat there…

But I think it's best to call in your order and get it to go.

That way your leftovers (tomorrow's lunch!) is already boxed.