The trailblazing Los Angeles Master Chorale launches its milestone 50th Season on Sunday, September 22, 2013, 7 pm, at Walt Disney Concert Hall, with a spectacular retrospective concert conducted by the Kiki & David Gindler Music Director Grant Gershon celebrating the rich history and inspiring artistry of the acclaimed and extraordinary musical organization.  The concert, which comes on the heels of the Chorale's highly anticipated Ravinia Festival debut in Chicago, features some of the most beloved and groundbreaking works in the chorus's expansive repertoire and spotlights signature musical selections linked to each of the four music directors who have led the Chorale during its fifty-year history – including Renaissance motets for Roger Wagner, Scottish folk songs for John Currie, O Magnum Mysterium for Paul Salamunovich and Unclouded Day and Spem in alium for Grant Gershon – enriched by rare video footage, still photos and more from the choir's annals.
Literally bridging the past and present, more than 100 Chorale alumni are traveling from across the country to join the choir's 115 current members for an emotional and memorable finale.  KUSC's Alan Chapman will host the musical festivities.
Additionally, BP Hall will be transformed into a temporary gallery for a fascinating one-day historical exhibition about the Chorale drawn from its extensive archives as well as personal artifacts from some of the people who have helped shape the ensemble over the past five decades.  The first phase of the Chorale's extensive new interactive electronic archive is being debuted there as well.  The magical evening concludes with a complimentary post-concert champagne toast for the entire 2,200-member audience with the Chorale.
"The Los Angeles Master Chorale is hitting on all cylinders," says Gershon, who marks his 13th season at the helm of the Chorale.  "Our concerts continue to sell out, our programming continues to win awards and generate excitement in the musical community, our singers have achieved ever-greater levels of artistry, and our education programs are making an enormous impact on young people's lives.  This is a time to celebrate the Chorale's legacy as well as look ahead to a vibrant future for choral music.  This organization leads the choral field in the United States through its strong example of artistic integrity and community engagement."
Serving as the musical voice of Los Angeles for half a century, the Los Angeles Master Chorale holds a prominent place in the city's cultural fabric as well as in the annals of classical music.  Noted for its remarkable legacy as one of the world's preeminent choirs, it is credited with expanding the choral literature with dozens of high profile commissions and world premieres, and is hailed as both a virtuosic symphonic chorus and a masterful a cappella tour de force.  The dazzling year-long 50th season celebration features 10 programs, four of which are repeated, for a total of 14 performances at Walt Disney Concert Hall with repertoire chosen from the Grammy®-nominated choir's treasure trove of signature works.
On November 2 and 3, 2013, the Chorale presents Carl Orff's instantly recognizable Carmina Burana with soprano Stacey Tappan, tenor Timothy Gonzalez, baritone José Adán Pérez, and the Los Angeles Children's Chorus.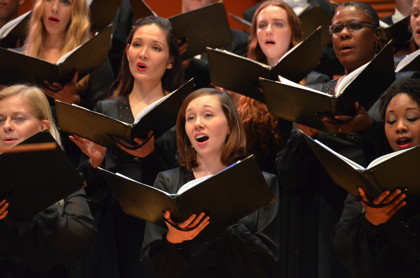 Los Angeles Master Chorale's 50th Season Celebration
Multi-Media Retrospective Concert
Grant Gershon, conductor
Alan Chapman, host
Historical Exhibition
Post-Concert Champagne Toast for Entire Audience
Sunday, September 22, 2013, 7 pm
PROGRAM:
Repertoire selected from from the Grammy®-nominated chorus's treasure trove of signature works
Walt Disney Concert Hall
111 S. Grand Avenue
Los Angeles, CA 90012
TICKET PRICES:
Concert Tickets: $29—$129.00
Student Rush seats available at box office two hours before the performance.
TICKETS/INFORMATION:
213-972-7282 or purchase here.
(NB—Tickets cannot be purchased at the Walt Disney Concert Hall Box Office except on concert days, starting 2 hours prior to the performance.)
About the Los Angeles Master Chorale:

Giving a voice to Walt Disney Concert Hall, the Grammy®-nominated Los Angeles Master Chorale is led by Music Director Grant Gershon.  The New York Times calls the choir "inspired," and The New York Observer declares it "a superb vocal ensemble."  The Chorale is currently in its 50th season as a resident company of The Music Center of Los Angeles County and its 11th as the resident chorus at Disney Hall.  Presenting its own concert series each season, it performs choral music from the earliest writings to the most recent contemporary compositions.  To date, the choir has commissioned 39 and premiered 88 new works, of which 57 were world premieres, and has been awarded three ASCAP/Chorus America Awards for Adventurous Programming as well as Chorus America's prestigious Margaret Hillis Award for Choral Excellence.  The Chorale has performed in more than 300 concerts with the Los Angeles Philharmonic at both Disney Hall and the Hollywood Bowl, and recently toured with the orchestra to Europe and New York City. It has also appeared at the Ojai Music Festival, the Great Performers series at Lincoln Center, and the Overture Center in Madison, Wisconsin, as well as in leading venues throughout the Southland.  Its discography includes five CDs under Gershon's baton. The latest, released in 2012 on Decca, features three works by Polish composer Henryk Górecki.  LAMC previously released three CDs under Music Director Emeritus Paul Salamunovich on RCM, including the Grammy®-nominated Lauridsen-Lux Aeterna.  The Chorale is also featured with Gershon on the soundtracks of such major motion pictures as Lady in the Water and License to Wed.  Serving more than 30,000 audience members of all ages annually, the Los Angeles Master Chorale also provides education outreach to some 6,000 students each year.

GRANT GERSHON was named the Kiki and David Gindler Music Director of the Los Angeles Master Chorale in 2001 and also serves as Resident Conductor of LA Opera.  Heralded by critics, the Los Angeles Times declares that the Chorale "has become the most exciting chorus in the country under Grant Gershon" and Opera News proclaims him "a first-rate conductor."  During his tenure with the Chorale, he has led more than 100 performances at the Walt Disney Concert Hall, including virtually all of the major works in the choral repertoire.  A champion of new music as well, Gershon has led world premiere performances of major works by Louis Andriessen, Christopher Rouse, Steve Reich, Gabriela Lena Frank and Chinary Ung, among many others.  His discography includes two Grammy®Award-nominated recordings: Sweeney Todd (New York Philharmonic Special Editions) and Ligeti's Grand Macabre (Sony Classical); and five CDs with the Chorale: Glass-Salonen (RCM), You Are (Variations) (Nonesuch), Daniel Variations (Nonesuch), A Good Understanding (Decca), and, most recently, Miserere (Decca), featuring works by Henryk Górecki recorded in Walt Disney Concert Hall.  He conducts the Chorale in 14 concerts at Walt Disney Concert Hall during the 2013-14 season.  This summer he guest conducted Handel's L'Allegro, il Penseroso ed il Moderato in Edinburgh, Scotland for the Berkshire Choral Festival, a new production of Verdi's La Traviata for Wolf Trap Opera with the National Symphony Orchestra at Wolf Trap National Park for the Performing Arts, and accompanied a recital of French music with soprano Elissa Johnston, his wife, at Boston Court in Pasadena, California.  Gershon, a tenor, makes two appearances at the Ravinia Festival, singing the quartet version of David Lang's the little match girl passion with Johnston, mezzo-soprano Chorale member Adriana Manfredi and bass-baritone Cedric Berry (August 26, 2013), and conducting The Gospel According To The Other Mary with the Los Angeles Master Chorale, the Chicago Philharmonic Orchestra and the original cast of soloists (September 7, 2013).  With LA Opera, he conducts Bizet's Carmen at the Dorothy Chandler Pavilion (September 26, 28, and October 4, 2013).  In celebration of composer Chinary Ung's 70th birthday, Gershon conducts his critically acclaimed AURA at UC San Diego (November 13, 2013).   He also guest conducts the Los Angeles Philharmonic in a performance with the Chorale of Phillip Glass' the CIVIL wars, the Rome Section at Disney Hall, (April 17 and 19, 2014), and conducts a concert with high school students from across the country at Carnegie Hall for Choirs of America (June 21, 2014).

Artists, program and ticket prices subject to change.