The Napa Valley has more than 75 wineries with art on display for the public throughout the year. During Napa Valley Arts in April™, the denizens celebrate their favorite pairing–wine and art–with an exploration of winery art installations, special tastings, and exclusive artist events. Napa Valley Arts in April offers special access and packages to enjoy the Napa Valley Collection, so whether you're a fan of Belle Epoch or contemporary, or works that range from pricey to priceless, this could be the perfect time to get a dose of Napa Valley culture with your Cabernet.
See below for Hotel packages that offer creative ways to experience Napa Valley's cultural treasures.
The Napa Valley's hotels are offering art-themed lodging packages during the fourth annual Napa Valley Arts in April, a month-long celebration of the significant art collections in the Napa Valley. These collections are showcased in collaboration with more than three-dozen of the region's wineries, cultural institutions, and the valley's cities and towns. Exclusive Arts in April lodging packages include:
• Southbridge Napa Valley, located in St. Helena, offers a one-night stay in a king deluxe room, plus two tickets to the Napa Valley Vintners' Perspective Napa Valley event on Thursday, April 17, from 6 to 8pm. Join winery members of the Napa Valley Vintners and photographer Sam Aslanian for wine tasting, light bites and a private viewing of many of the art prints from his new book Perspective Napa Valley, a coffee table tome that captures the essence of winemaking in Napa Valley. This Southbridge Napa Valley package is valid on April 17, 2014, and the rate is $440 per couple.
• Calistoga's Mount View Hotel and Spa offers a stay in one of their three artist winery cottages during the month of April, which have been outfitted with easel, canvas and watercolor paints at the ready. Artistically inclined guests can turn completed artworks into the front desk for entry into the hotel's Arts in April watercolor contest for a chance to win a future hotel stay. Once April ends, Mount View's owners will select a favorite painting among the entries, and the selected artist will be awarded a gift certificate for a one-night stay in an artist winery cottage valid Sunday through Thursday with spa treatments for two. Mount View's art package is valid April 1 through April 30, 2014, with rates starting at $209 per night.
• Calistoga Spa Hot Springs presents photographs from members of the Calistoga Camera Club between April 21 – 27, 2014. The lobby of the Calistoga Spa Hot Springs will be converted into an art gallery showcasing the club's work, with local vintners regularly pouring some of their signature wines. Guests of the hotel will receive a commemorative collection of the photographs in postcard form, and will also be able to visit local wineries such as Laura Michael Winery and Lava Vine for private, complimentary tastings. The Calistoga Spa Hot Springs photograph package is valid April 21 through April 27, 2014, and rates start at $187 per night.
• River Terrace Inn in Napa offers an Arts at Every Angle package, including in-room canvas and watercolors provided by Napa Valley Art Supply, "artinis" made with locally sourced fruit juices from Oxbow Public Market, and daily breakfast. This package is valid April 1 through April 30, 2014, and rates begin at $264 per night.
•  Bardessono in Yountville offers an Arts in April package that includes a private tour of the rotating Andrew Schwartz Gallery artwork on display of local bay area artists, two tastings at Ma(i)sonry, admission for two to the Napa Valley Museum in Yountville, and dessert for two at Lucy Restaurant & Bar. The Bardessono Arts in April package is valid April 1 through April 30, 2014, and rates start at $550 per night.
• Embassy Suites Napa Valley in the City of Napa offers complimentary tasting passes for two to Artesa Vineyards & Winery plus a complimentary arts-related welcome amenity upon arrival. This package is valid April 1 through April 30, 2014, and rates start at $219 per night.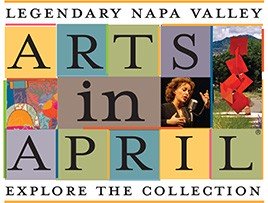 About Arts in April 2014:
Arts in April 2014 features the best Napa Valley art collections, art education, art and wine pairings and a number of art-themed festivities. Events throughout the month include a west coast opening exhibition and reception with Rolling Stone magazine's first chief photographer Baron Wolman for his On Assignment: Woodstock exhibition at Markham Vineyards in St. Helena, and the Art, Sip and Savor art crawl and wine tasting in Yountville featuring artists whose works are displayed throughout the Yountville Art Walk. In addition to traditional gallery shows and artist receptions, Napa Valley Arts in April features historic winery architecture tours and the performing arts. Participating wineries with new exhibitions and special programming include Beaulieu Vineyard, HALL Wines, The Hess Collection, Jessup Cellars, Long Meadow Ranch Winery, Ma(i)sonry Napa Valley, Peju Province Winery, Robert Mondavi Winery, St. Supéry Estate Vineyards and Winery, Sterling Vineyards, and Viader Vineyards.
For a full lineup of Napa Valley Arts in April winery activities and community events, please visit their official site.
A summary of events can be found here.