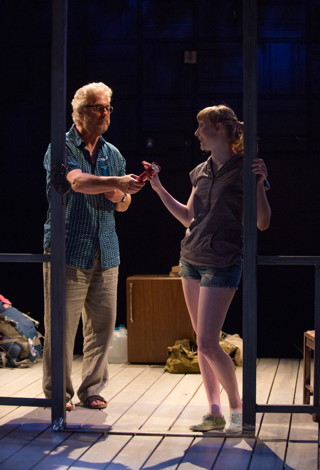 "OMIGOD! Like, whatEVER!" A taciturn man in exile shares the stage with a gratingly garrulous teen in Greg Pierce's one act two-hander Slowgirl, now playing at the Geffen until April 27.
Slowgirl is about a guy who, we learn, ran away from some scandal in the US seven years previously and retired to Costa Rica. William Petersen plays 'Uncle Sterling.' He has built a labyrinth on his property that he walks in a meditative way daily. The sudden arrival of his troubled teenaged niece Becky upsets his routine, while eliciting his empathy, and forces him to confront the impact his chosen exile has had on his family. (Playing Becky Rae Gray is reprising her performance at Chicago's Steppenwolf Theatre Company.) She, too, is fleeing a tragedy. It's in finding their common ground that both characters can make a shift.
Pierce's play is extremely well crafted. He presents his two characters in an interesting way, parcelling out information via dialogue that never feels forced or expository. He delicately presents a scenario and makes us do the work—join the dots, draw conclusions and even make judgements. It's not often that a playwright provokes an internal dialogue; I found myself wanting—needing—one character to say something and the other character to do something… And yet, by the play's low-key conclusion, those things had not happened, nor were they necessarily going to happen, and yet I felt satisfied.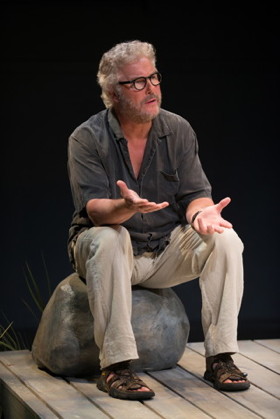 The Geffen Playhouse presents
The Steppenwolf Theatre Company Production of
Slowgirl
By Greg Pierce
Directed by Randall Arney
Runs until Sunday, April 27, 2014
Talk Back Tuesdays – April 1st & 8th
LOCATION:
The Geffen Playhouse in the Aurdrey Skirball Kenis Theater
10886 Le Conte Avenue,
Los Angeles
TICKET INFORMATION:
Tickets are available now in-person at the Geffen Playhouse box office, via phone at 310.208.5454 or online here.
Prices are $57-$72.00