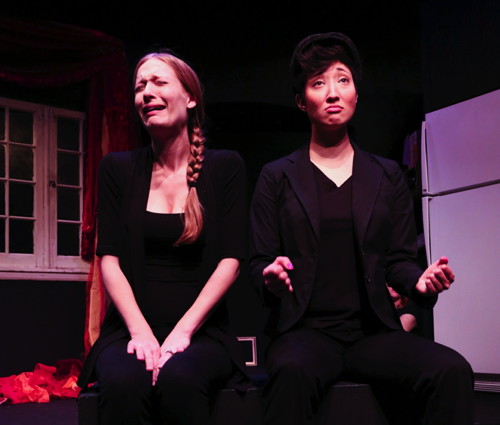 Greetings theater peeps!
My latest theater review for the new critical website Stage Raw — which contains the latest arts and theater coverage from our intrepid team of journalists & critics — is out now.
Happy reading!
Cold Tangerines: The Play is now playing at the Fremont Centre Theatre through June 29, 2014.
Playwright-performer Lynn Downey Braswell was apparently so taken by Shauna Niequist's 2007 memoir/short story collection that she adapted it to become her stage vehicle. Portraying Shauna, the show's narrator, Braswell's frank, confessional and sometimes amusing style of performance serves the material well.
In Cold Tangerines: Celebrating the Extraordinary Nature of Everyday Life — the first of three books of personal remembrances — Niequist relates tales about God and life that aspire to celebrate the extraordinary moments nesting within our everyday existence.
Cold Tangerines: The Play, however, is an insufferable collage of mundane episodes and tedious navel gazing, as observed and interpreted through a lens of extreme neuroticism, while grasping for some meaningful epiphany. Inexplicably broken into two acts, the 90-minute show (including intermission) of rambling soul searching, self-loathing and bleated insecurities feels interminable. Act 2 explores worry, terror and writer's block before arriving at a hopeful resolution.