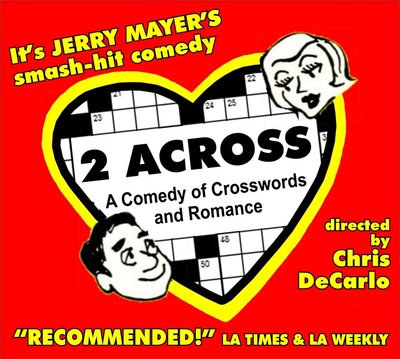 The Santa Monica Playhouse is a not-for-profit, professional intimate theater and educational conservatory that has been serving its community for an impressive 54 years.
Now playing — and in its last week of an extended run — is a sweet two-handed play about an unexpected friendship that blossoms into something deeper.
2 Across stars Kip Gilman and Wendy Michaels, a pair of strangers that meet on a commuter train very early one morning and strike up a friendship over their shared fondness for doing newspaper crossword puzzles. Naturally, their interaction is prickly at first — they are, after all, complete strangers to each other — but during the course of their one hour and 20 (or so) minute train journey (the play unfolds in 'real time') their conversation gradually begins to get more personal.
Directed by Chris DeCarlo, and written by Jerry Mayer, the play is gentle, mildly funny and somewhat heartfelt. The characters feel well-observed and authentic — just like people you might actually meet by chance one day. Running as a 75-minute one-act play, 2 Across certainly does not lag or bore at any time, but it doesn't electrify either. It's just a sweet little play with some nice messages within.
2 Across by Jerry Mayer
Santa Monica Playhouse
1211 4th St, Santa Monica, CA 90401
(310) 394-9779
EXTENDED!! Now playing through November 23, 2014.
Saturdays, 7:30pm
Sunday matinee 3:30pm
General admission $29.50
Students, seniors, teachers, members of the military $22.50
Groups of 8 or more $18.50
under 15's $15.00
To Reserve your Tickets
Call the Box Office at 310.394.9779 ext 1