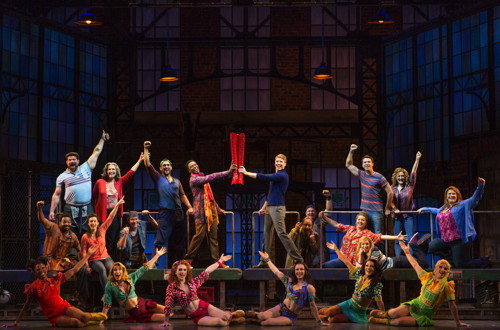 Fun and fluffy, the upbeat musical Kinky Boots is currently touring through L.A. You can catch the show at the Pantages Theater in Hollywood until November 30, 2014.
The show is a musical remake of the (somewhat more gritty and non-musical) movie of the same name from 2005 and features a collaboration between some Broadway and musical heavyweights — namely four-time Tony® Award-winner Harvey Fierstein (book) and Grammy® Award-winning rock icon Cyndi Lauper (music and lyrics and Tony® Award-winner for Best Score for Kinky Boots).
The story is slim — a young man inherits a fourth-generation shoe factory in Northhampton, Northern England, only to learn it has been operating at a loss and the small family of factory workers are facing unemployment. A chance meeting with a drag artist named 'Lola' sets him and his factory on a whole new trajectory.
The musical — and its songs — is, for the most part, great fun but the storyline is so glib and the pace so slick and glossy that there seems to be never any real threat of danger nor high stakes peril. We all know Charlie is going to turn his business around, and that the new line of boots will wow at the International Fashion show in Milan. We don't care that his relationship with his superficial fiancee is going south because there's a pretty blonde wallflower who works at the factory who he'll invariably end up with by the show's feel-good conclusion.
While the numerous characters are interesting and quirky enough for many of them to warrant their own song, this show zips along at a breakneck pace. But Kinky Boots really comes alive whenever the Angels (the sextet of feisty drag queens featured throughout) take to the stage, backing up the diva-like central figure Lola.
Promoted from playing one of the Angels of the original Broadway company, Kyle Taylor Parker struts his stuff as Lola—something he got to do to great acclaim on several occasions in New York as the Lola understudy. We even get a torch song Beyonce moment for one of his solos. Steven Booth stars as shoe factory owner Charlie Price. Parker and Booth are joined by Lindsay Nicole Chambers as Lauren, Joe Coots as Don, Craig Waletzko as George and Grace Stockdale in her touring debut as Nicola.
One of the Angels (not sure but I think it was Hernando Umana) dazzled us with her full-on heavy metal soaring vocals as the referee for the boxing match scene.
Rounding out the ensemble are Damien Brett, Stephen Carrasco, Lauren Nicole Chapman, Amelia Cormack, Troi Gaines, J. Harrison Ghee, Blair Goldberg, Darius Harper, Andrew Theo Johnson, Crystal Kellogg, Jeffrey Kishinevskiy, Jeff Kuhr, Ross Lekites, Patty Lohr, Mike Longo, Tommy Martinez, David McDonald, Nick McGough, Bonnie Milligan, Anthony Picarello, Horace V. Rogers, Ricky Schroeder, Anne Tolpegin, Juan Torres-Falcon, Hernando Umana and Sam Zeller.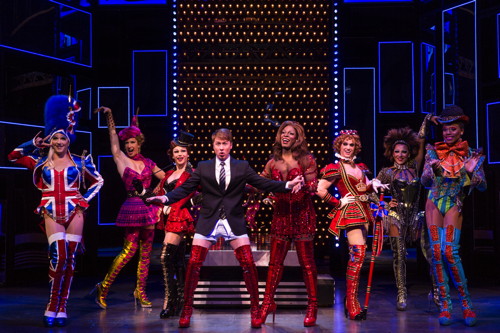 Kinky Boots
Pantages Theater
6233 Hollywood Boulevard,
Hollywood CA
Runs through November 30, 2014.
Tickets available online here or here, by phone at 800-982-2787 or at the Hollywood Pantages Box Office located at 6233 Hollywood Boulevard (Opens daily at 10am.)