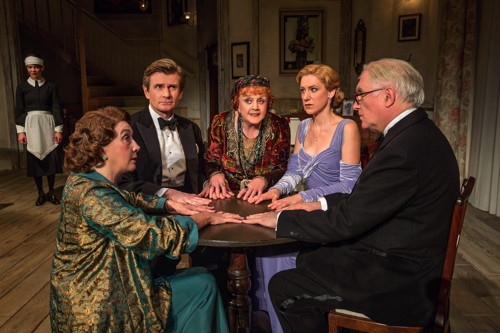 Noël Coward's wonderfully daffy supernatural comedy Blithe Spirit is now playing at the Ahmanson, in downtown Los Angeles, with the marvelous (almost) nonagenarian Angela Lansbury portraying the idiosyncratic spiritualist at the center of the story. The acclaimed actress is returning to the role of Madame Arcati, for which she won her fifth Tony Award® in 2009 for Best Featured Actress in a Play.
When a glib, socialite novelist Charles Condomine, (Charles Edwards – of TV's Downton Abbey fame) and his wife Ruth (Charlotte Parry) invite a medium named Madame Arcati (Angela Lansbury) and two friends, Dr. Bradman (Simon Jones) and Mrs Bradman (Sandra Shipley), over to his home for a séance, it all sounds like a fun romp for the skeptical quartet and their eccentric guest. Ostensibly hoping to gather material for his next book, Charles is unprepared when the scheme works all too well. The hapless Charles gets a whole lot more than he bargained for when the sexy, temperamental ghost of his first wife Elvira (Jemima Rooper) turns up. Elvira makes continual attempts to disrupt Charles's marriage to his second wife, Ruth, who can neither see nor hear the ghost. Naturally, chaos and hilarity ensues.
Directed by Michael Blakemore, this production is a faithful rendition of Coward's marvelous mid-20th century comedy and has gathered a fabulous cast. While Lansbury actually doesn't have a lot of time on stage, nevertheless her presence in a handful of scenes is the highlight of the evening. She seems to be having a lot of fun with the zany role that she first undertook on Broadway in 2009 and reprised earlier 2014 for London's West End. Especially hilarious are the herky-jerky gestures and odd movements she makes as she is getting prepared for the séance where she hopes to commune with the spirits on the 'other side.'
It's tremendous fun to watch the sly Elvira try to work her charms on her former husband, attempting to woo him anew as his present wife grows more intolerant and glacial by the minute.
While this production lacks the alacrity and furious comedic pacing enjoyed in a recent staging at A Noise Within, you really can't go wrong with this classic comedy!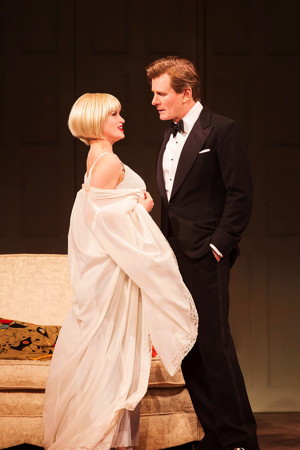 Blithe Spirit
Ahmanson Theatre
135 N. Grand Ave., L.A.
Los Angeles
Runs through Sunday, January 18, 2015.
Tuesdays-Fridays, 8 p.m.
Saturdays, 2 and 8 p.m.
Sundays, 1 and 6:30 p.m.
TICKETS & INFO:
$25—$140.00
(213) 972-4400
Official site.
Running time: 2 hours, 35 minutes.
BACKGROUND:

According to his autobiography, Noël Coward claims he wrote this play over five days while enjoying a vacation in Wales with his friend Joyce Carey.

Blithe Spirit was first staged at London's Piccadilly Theatre, on the West End, in 1941 and set a new long-run record for non-musical British plays with its almost 2,000 performances. The play did well on Broadway later that year, gaining eight Tony Award nominations but losing to Hello Dolly! Coward also directed a musical adaptation, High Spirits on Broadway in 1964.

Blithe Spirit was also filmed numerous times, as TV movies in 1946, 1948, 1956 and 1966, but is perhaps best known as the theatrically-released feature film from 1945 starring Rex Harrison. Coward produced the film and co-wrote the screenplay with his director David Lean. Both Margaret Rutherford and Kay Hammond reprised their West-End roles for the film version.

Incidentally, it's important to note that Rex Harrison never played Charles Condomine on stage and was apparently criticized severely by Noël Coward for not having the required comic timing and being too 'straight.' The light feeling of the original play comes over well on screen, however, despite a heavily re-worked ending.

Appearing in the first stage production as Madame Arcati, the genuine psychic, Rutherford originated the role that Coward had envisaged and shaped for her. She would carry her portrayal of Madame Arcati to the screen adaptation. Not only would this become one of Rutherford's most memorable screen performances — with her cycling about the Kentish countryside, her cape fluttering behind her — but it would establish the model for portraying that pseudo-soothsayer forever thereafter.