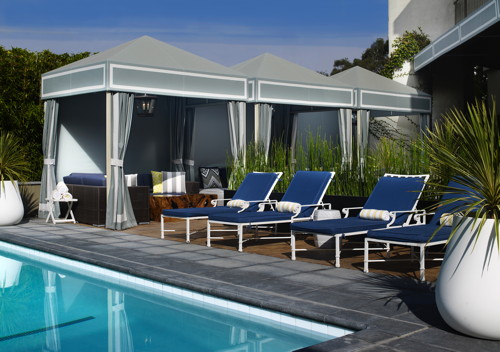 What could be better than a low-stress, mini-holiday right here in L.A.? Anyone up for a cool 'staycation'? Okay — I'll admit it – this deal is also available to out-of-towners (natch!) but I'm here to tell you, this package is a really great offer for us locals!
Here's the scoop:
Santa Monica's The Broad Stage and the glamorous beach-handy hotel Le Méridien Delfina (part of the Starwood Hotels group) has once again partnered for the Broad's 2014-15 performing arts season to offer the enticing Discovering the Arts hotel package. This hotel-plus-entertainment package enables guests to discover global music, international theater, and contemporary dance with the greatest of ease.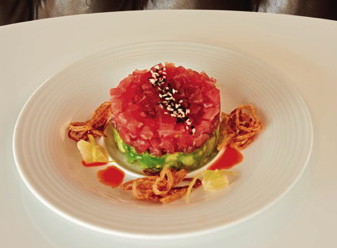 We checked into Le Méridien Delfina last Friday afternoon, and chilled out with some pre-show cocktails and snacks in the Longitude Bar + Restaurant that's situated on ground level within the hotel's large foyer. While my companion enjoyed his martini, unfortunately both of my fancy mixed drinks needed to be re-made. The bartender swiftly improved the imbalanced (way too-citrus-y) cocktails that I had selected, one of which was the hotel's signature drink (Uh-oh!) Alls well that ends well. We tried their Hawaiian Tuna Tartare appetizer (pictured above) and the Charred Squid, both of which were sublime.

  Following that cheerful respite, we were whisked away by hotel car 'round the corner to the nearby Broad Stage (a mere 10 minutes chauffeured drive!) to enjoy the evening's fantastic concert. We had selected Preservation Hall Jazz Band and Allen Toussaint in New Orleans Legends — which was outstanding! Eight jazz musicians commanded the stage, each with about 30 or so years of experience — their skills were evident in their high quality performances and comfortable stage presence. After the wonderful jazz show that had us grinning from ear to ear, we enjoyed a delicious supper for two at back at the Longitude Bar + Restaurant. Decent wine, okay pizza (I had the Duck Confit pizza) and the Salmon entree was perfectly cooked.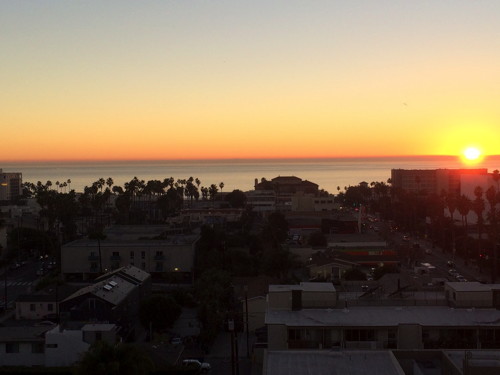 Our well-appointed and comfy deluxe ocean view room afforded us magnificent views of the setting sun!
This Discovering the Arts hotel package is highly recommended.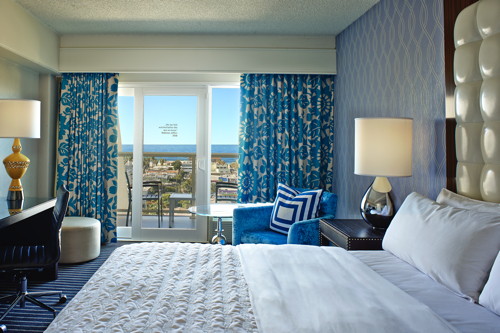 Coming up is a range of events to choose from:
An evening of Irish melodies with A Celtic Holiday with Lúnasa and Karan Casey (December 20, 2014), Chris Lemmon in Hershey Felder's Jack Lemmon Returns (January 9, 2014 – February 12, 2015), hip-hop & classical duo Black Violin (March 20, 2015), and the lilting Hawaiian rhythms of Hapa (March 27- 28, 2015).
For more details, visit The Broad Stage's official website and calendar listing page here.
About Le Méridien Delfina:
The hotel is well situated on Pico Blvd in Santa Monica. It's not right on the beach, but it's a short walk down to the pier. Plus, they have bicycles you can rent at the hotel. Our room was the deluxe ocean view room, luxury amenities.
Discovering the Arts is perfect for anyone looking for a 'stay-cation,' and the ability to live life as a tourist here in Los Angeles, if only for a weekend — minus the traffic!
Rates for the Discovering the Arts package start at $299, and include a deluxe city view room and two tickets to a performance at The Broad Stage.  There is also the Discovering the Arts In Style luxury hotel package (package is $599), which includes a deluxe ocean view room, luxury amenities, dinner for two at Longitude Bar + Restaurant, transportation to and from The Broad Stage and two tickets to a Broad Stage performance.
To book or for more information on the Discovering the Arts package, call 888-627-8532 and mention rate plan DISCOVER or visit their official site and click on "Special Offers."
Le Méridien Delfina Santa Monica is located at 530 Pico Boulevard, Santa Monica, CA 90405.

This package is available until late March, 2015.
***
About The Broad Stage:
The Eli and Edythe Broad Stage at the Santa Monica College Performing Arts Center opened its doorsin October 2008. Inspired by Italian "horseshoe" theaters, yet conceived in an absolutely contemporaryvernacular, The Broad Stage is an artist's dream and an audience's delight. Unlike any performancespace in the country, it is sublimely intimate with 499-seats and strikingly grand at the same time.Theater shows, dance, film, operas, musicals, symphony and chamber orchestras are presented on oneof the city's largest proscenium stages. In addition to The Broad Stage, The Edye, a smaller black boxtheater, presents new, developing and innovative work as part of the Under the Radar Series. Featuringyoung, innovative artists, programming at The Edye is intentionally spontaneous, reflecting the dynamicnature of the space and allowing the latest, most exciting artists to be booked on short notice. TheBroad Stage's education and outreach program offers opportunities for cultural exposure through various student events, currently reaching 1,000 students and community members annually throughover 30 free and low-cost events.
The Broad Stage is located at 1310 11th Street, Santa Monica CA 90401. Parking is FREE.
About Le Méridien Delfina:
Perched four blocks above the Pacific Ocean shoreline, Le Méridien Delfina Santa Monica is located in the heart of the pedestrian-friendly California beach city with superior access to Los Angeles and nearby attractions. Our inspiring hotel boasts a connection to the local culture from biking, surfing and California cuisine to music, art museums and innovative technology. Families can enjoy a day in a pool cabana and evenings at the Santa Monica Pier, while corporate visitors can experience staying in the heart of Silicon Beach and a personalized stay during business travel and meetings. Unlock Art is revealed throughout the hotel, highlighting local artists and the curated experience of the Le Meridien brand, along with partnerships to the Santa Monica Museum of Art and the Broad Stage. Dining at Le Meridien Delfina Santa Monica is stimulated by creativity beyond local California inspiration. Signature morning experiences with Illy coffee, "eye openers" and French pastries set the tone for a delectable guest experience, which carries into the day and evening with sparkling drinks and sophisticated yet casual restaurant menus highlighting everything from charcuterie and elegant cheeses to upscale fish tacos and fresh, local seafood. Le Méridien Delfina Santa Monica is located at 530 Pico Boulevard, Santa Monica, CA 90405. For additional information, please visit their official site here.