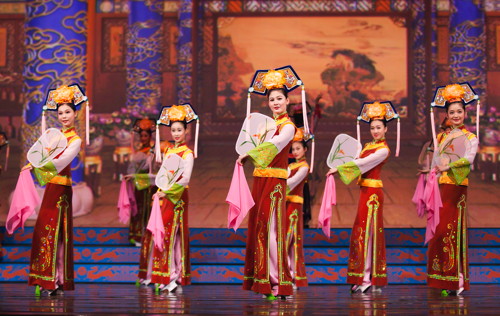 As a gong strikes, sounds from 5,000-year-old Chinese instruments rise to blend with a 40-piece Western orchestra. Sixty dancers take the stage in front of a 30-foot tall video backdrop as audiences embark on an adventure to long-ago dynasties through the all-new, enchanting spectacular, Shen Yun 2015. Shen Yun Performing Arts creates a new production every year with five separate casts that tour the world. Beginning this month Shen Yun 2015 will appear in Hollywood, Northridge, Costa Mesa, Thousand Oaks, and Long Beach.
An additional performance in Thousand Oaks and Long Beach is now on sale.
For the past three years, this stunning presentation has sold out every Los Angeles area performance.
Through the universal language of music and dance, Shen Yun 2015 weaves a wondrous tapestry of heavenly realms, ancient legends and modern heroic tales, taking the audience on a journey through 5,000 years of Chinese culture. Its breathtaking beauty and explosive energy stuns and uplifts. Breathtaking, large-scale dance numbers and intricate solos are choreographed by international award winning dancer and choreographer Michelle Ren. One of Shen Yun's founders and first dancers, Ren splits her time between the San Gabriel Valley and the East Coast.
"Performers achieve a melding of form, spirit, movement, using body and mind, unifying the internal with the external," Ren said. "The movements and techniques are only a part of this glorious dance." Ren added that Shen Yun cannot be seen in China today, where traditional culture has been nearly lost. Yet Shen Yun, a nonprofit organization, has become an international phenomenon bringing the wonders of ancient Chinese culture to millions across the globe.
From the Tang and Qin dynasties to Tibetan and Mongolian folklore, Shen Yun 2015 presents timeless myths and legends that were passed down from generation to generation and celebrate values such as loyalty, truthfulness and compassion. Shen Yun interprets not only 5,000 years of history but also represents 56 ethnic groups.
Over the years, martial arts techniques honed on the battlefield mesh into Chinese classical dance in jumps, spins and tumbling techniques. These highly physical moves combined with the delicate expressionism of circular movement make classical Chinese dance one of the world's most precise and expressive art forms.
Since 2007, more than 5 million people in 30 countries on four continents have seen Shen Yun. The dancers, from around the world train at Fei Tian Academy of the Arts in New Jersey and San Francisco.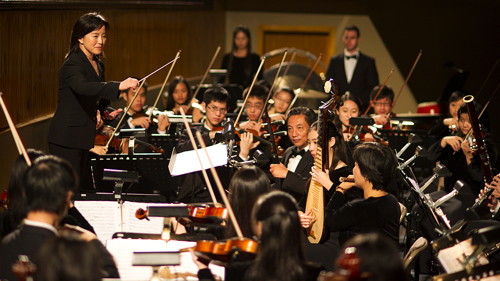 Original music is performed live by a 40-piece orchestra is created for each production by artists from around the world. Shen Yun recruits top composers and musicians from around the world to join the company. Leading the melody amidst a Western ensemble, instruments like the pipaand erhu ground the sounds in a Chinese style. Resounding voices of bel canto soloists heighten impassioned songs throughout the show.
"Shen Yun uses a symphony orchestra as the core and integrates Chinese instruments into a form that all nationalities can accept," said Jing Xian, a Shen Yun composer. "The Western orchestra sound is unique yet is a widely accepted form, so we take these two comprehensive systems and combine the best each has to offer."
Shen Yun 2015 features choreography by Yungchia Chen and Michelle Ren, and original music by Jing Xian and Junyi Tan. The Shen Yun Symphony Orchestra is conducted by Milen Nachev and William Kuo.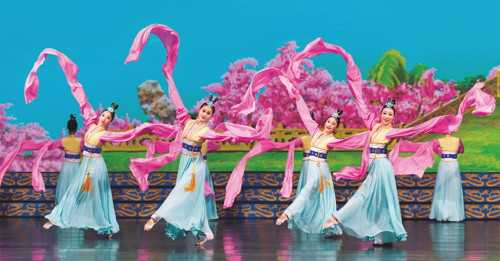 SHOW DETAILS:
SHEN YUN 2015
Presented by Shen Yun Performing Arts.
Tickets are on sale now for $50 – $200 and are available by calling 800-880-0188, or in person at the each theater's box office.
More information is available here.
Dolby Theatre
6801 Hollywood Blvd.; Hollywood, CA 90028
Thursday, January 22 at 7:30pm
Friday, January 23 at 7:30pm
Saturday, January 24 at 2:00pm and 7:30pm
Sunday, January 25 at 1:00pm
Valley Performing Arts Center at California State University, Northridge 
18111 Nordhoff Street; Northridge, CA 91330
Tuesday, January 27 at 7:30pm
Wednesday, January 28 at 7:30pm
Segerstrom Center for the Arts
600 Town Center Drive; Costa Mesa, CA 92626
Thursday, January 29 at 7:30pm
Friday, January 30 at 7:30pm
Saturday, January 31 at 2:00pm and 7:30pm
Sunday, February 1 at 12:00pm
Thousand Oaks Civis Arts Plaza
2100 E Thousand Oaks Blvd.; Thousand Oaks, CA 91362
Tuesday, February 3 at 7:30pm
Wednesday, February 4 at 7:30pm – NEW SHOW ADDED AT 2:30pm
Thursday, February 5 at 7:30pm
Terrace Theater
300 E Ocean Blvd.; Long Beach, CA 90802
Saturday, February 7 at 2:00pm and 7:30pm
Sunday, February 8 at 1:00pm – NEW SHOW ADDED AT 6:00pm
ABOUT SHEN YUN PERFORMING ARTS:

In 2006, a group of leading classical Chinese artists came together in New York with one wish: to revive the true, divinely inspired culture of China and share it with the world. Entirely nonprofit and independent of the Chinese regime, Shen Yun Performing Arts enjoys the artistic freedom of New York, enabling it to now bring these ancient traditions to the stage. Shen Yun and its mission have drawn top talent from around the world; many artists are winners of international competitions in dance, choreography, and music. The five companies travel six months of the year, performing in more than 30 countries on four continents.To date, millions have seen a Shen Yun show. For more information on Shen Yun Performing Arts, visit their official site here or the company's Youtube page here.