LA Virtuosi gave an intimate concert here in Los Angeles on Saturday, April 25th to promote their forthcoming concert in the Napa Valley, in northern California.
Held at The California Club, downtown, this LA concert was a preview of the Napa Valley Festival del Sole 2015, a non-­profit organization dedicated to enhancing the region's cultural vitality, running from July 17-26, 2015. Numerous dinners, concerts and art events make up the ten days of festivities and fundraising opportunities that flourish annually during these last two weeks of July.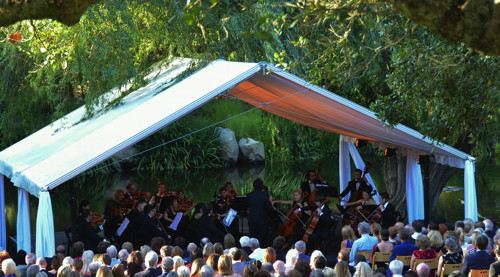 LA Virtuosi is Carlo Ponti's new LA group; a totally non-profit orchestra supporting arts education in the schools. Maestro Carlo Ponti's has gathered professionals as well as some of his incredibly talented students to come together to form his new Chamber Orchestra. More information about the group can be found here.
The Whittier Trust hosted this preview of Napa Valley Festival del Sole 2015 to grant a taste of the delights of the festival, offering an "experience like no other." More info on the Napa Valley Festival del Sole, including a calendar of this year's events in July, can be found here.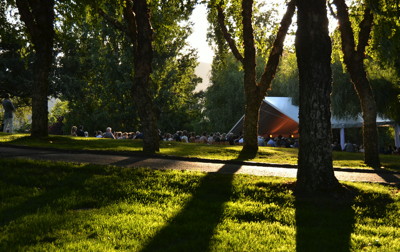 Just take a look at one of the festival's highlights — Napa Valley Festival del Sole presents award-­winning actor Kevin Spacey as the headline entertainer for its Annual Festival Gala at Meadowood Napa Valley on July 19, 2015.
The celebration, Hollywood + Vine, will be reminiscent of the glittering nightclub scene of Hollywood's Golden Era, featuring Spacey singing standards from the swing era and popular classics from the Great American Songbook.
The evening of music and glamor will be held on the newly designed croquet glen and fairways at Meadowood Napa Valley. Guests will dine on cuisine from Meadowood estate chef Alejandro Ayala, paired with 90+ point wines from the vaults of Diageo Chateau & Estate Wines. Afterwards, Kevin Spacey – two–time Academy Award winner, Golden Globe Award winner, Tony Award winner, and star and executive producer of the Netflix hit House of Cards – will bring his star power to the festival stage to sing and entertain.
The festivities will culminate with a high-­energy live auction featuring a dozen exclusive luxury lots. More detailed information can be found here.  Proceeds from the auction make possible the festival's free and low-cost concert opportunities for local residents as well as grants to bolster Napa County public school arts education initiatives. In 2014, the event raised a record-­setting $1.3 million and allowed the organization to fulfill every wish submitted by Napa County elementary art, drama and music teachers for classroom materials for the 2014-15 school year.
Passes to the Festival Gala at Meadowood are available for $3,000 per person ($1800 tax deductible). Table sponsorships, ensuring prime seating and recognition benefits, are available for $15,000 and up. To purchase passes or sponsor a table, please contact Tessa Edwards, Development Manager, here or 707.346.5052, ext. 4.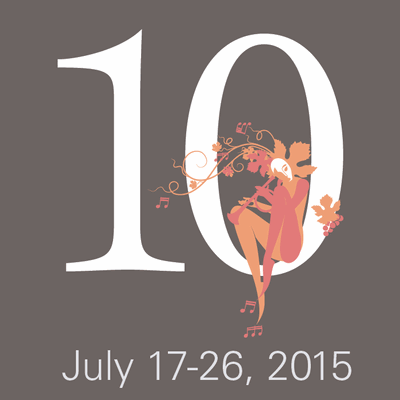 About the Napa Valley Festival del Sole:
Napa Valley Festival del Sole recently announced the results of its record-setting ninth season. Last year more than 100 participating wineries, hotels, resorts, theaters, restaurants, businesses, vintners and event hosts showcased Napa Valley at its best during the 10-day celebration. The festival attracted more than 10,000 attendees, including 2000 attending the annual community concert and popular Bouchaine Young Artist series, offered to the community free of charge.
One of the festival's marquee events, the Annual Gala at Meadowood Napa Valley, raised $1.32 million, more than triple the total from 2013. Funds raised support arts education and the festival's innovative programming. Beneficiaries include the arts and music departments of Napa County schools, the Napa Valley Youth Symphony and other arts education and community programs.
More info on the Napa Valley Festival del Sole, including a calendar of this year's events in July, can be found here.