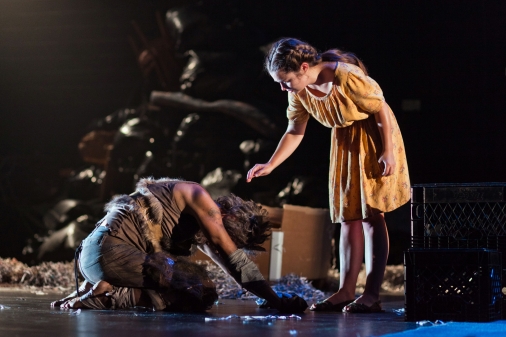 Opening tonight, and making its West Coast Premiere, is Dog Days, a deeply unsettling 2012 operatic work that blends classical vocalism with dark, heavy metal influences.
In the aftermath of an unimaginable catastrophe, a family struggles to keep together. The teenage daughter clings to hope, unwilling to accept her dire situation, until a stranger shows up at the doorstep, a reminder of just how bad things have become. Based on a powerful short story by Judy Budnitz, Dog Days is a shocking reminder of contemporary opera's raw power.
LA Opera President/CEO Christopher Koelsch sat down with the creative forces behind Dog Days — including producer Beth Morrison, composer David T. Little and librettist Royce Vavrek — to discuss the inspiration and motivation for their production and how it both reflects and challenges norms of contemporary opera.
With Dog Days, LA Opera launches an exciting initiative to present new operas at REDCAT. The partnership is part of LA Opera's growing Off Grand initiative that encompasses a wide variety of artistic exploration.
Producer Beth Morrison remarked, "This is an exciting way to build new audiences. The creation of new work, and this collaboration with LA Opera, helps us to have a hand in developing and exposing new composers and new works under Christopher's vision. We couldn't be more excited.
"Dog Days has very special place in my heart and my company's heart. [Beth Morrison Projects, the Brooklyn-based new-music initiative.] It represents what is best in contemporary, new opera — meaning a story of our time in the musical vernacular of the now, and a language that we can use to connect to new and contemporary audiences."
Morrison considers her director, Rob Woodruff, to be "a visionary and an iconic theater director. He's created something that is unique and hopefully never before seen on an opera stage. Royce [the librettist] is leader of his generation of text writers for opera who has been writing with all major composers of his and older generations."
David C. Little [the composer] has been collaborating with librettist Royce Vavrek since 2006.  Lauren Worsham, who plays Lisa, is a Tony-nominated performer. Adds Morrison, "She's an incredible singing actress. She embodies everything I hope to work with. She's an actress first, but she has singing chops. "
Says David C. Little, "For the past decade I have been falling in love with the medium of opera. I love working in theater with singers on musical drama. I embrace the possibilities of broad musical language." Naturally he ended up working in the operatic form.
The composer adds, "Dog Days is appealing because it has big ideas being presented in the form of every day life. These are not large, regal characters. In this work we explore the same ideas as grand Opera, especially addressing questions such as 'What does it mean to be a human being?' and 'What is the line between humanity and an animal?'"
Librettist Royce Vavrek chimes in, "We rendered a Greek tragedy on stage – Dog Days is set in the near future. This piece transcends the kitchen sink."
Adds the director, Rob Woodruff, "I'm not sure there's a hard line in the labeling of forms. There's a relationship between music and text, and I'm interested in investigating that language. We have a wedding of music and text and that is the stuff of performances and always has been."
Leading lady Lauren Worsham commented, "I've lived with this show for about 5 to 6 years. Up until the opening, I couldn't tell if this was the most brilliant or terrible thing I've ever done," she laughs.
There's a degree of audacity to the work. But the composer admits, "I don't remember thinking of it like that. I just tried to write the most honest version of this piece. I often asked myself, 'can you do that? yes you can.' Shock is not a goal."
Adds  Woodruff, "The composer and the librettist are writing in an expansive way, discovering what is the best way to tell the story. They are exploring the vernacular and they using wonderfully trained voices to see what that evokes."
About the dog character, Little's take on it is this: "The dog has looked at what humanity has become and he's opted out." Adds Vavrek, "He's hungry and he's also chosen this form because it's more likely that he'll be given food."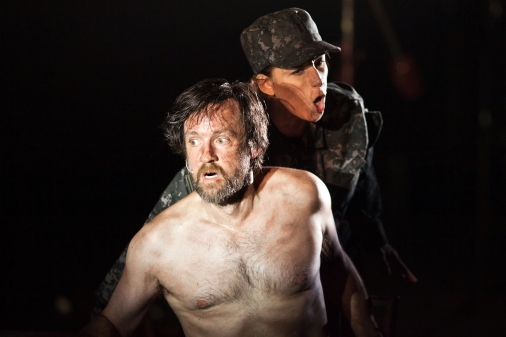 Dog Days by composer David T. Little and librettist Royce Vavrek.
Presented by LA Opera and REDCAT — NEXT ON GRAND
The Roy and Edna Disney/CalArts Theater (REDCAT) at the Walt Disney Concert Hall
631 West 2nd Street
Los Angeles, CA 90012
Thursday, June 11, 2015, at 8 PM
Friday, June 12, 2015, at 8 PM
Saturday, June 13, 2015 at 8 PM
Sunday, June 14, 2015, at 2 PM
CAST:
Lisa by Lauren Worsham
Prince by John Kelly
Father by James Bobick
Mother by Marnie Breckenridge
Pat by Peter Tantsits
Elliot by Michael Marcotte
Captain by Cherry Duke
Instrumental Ensemble by Newspeak
CREATIVE TEAM:
Composed by David T. Little
Libretto by Royce Vavrek
Based on the short story Dog Days by Judy Budnitz
Directed by Robert Woodruff
Music Direction by Alan Pierson
Scenic and Video Design by Jim Findlay
Lighting Design by Christopher Kuhl
Costume Design and Scenic Consultation by Victoria "Vita" Tzykun
Sound Engineering by Garth MacAleavey
Video Engineering by Eamonn Farrell
Prince's Wig Design by Anne Ford-Coates