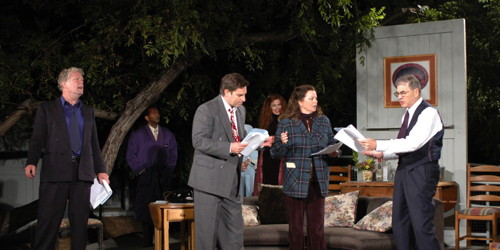 TreePeople and the Actors Conservatory Ensemble are excited to announce the return of the summer entertainment series "Once Upon A Canyon Night" – back for its 13th season and running on select weekends from July 10th through September.
The entertaining evenings are presented outdoors and set under the stars. Nestled in the woods is TreePeople's beautiful S. Mark Taper Foundation Amphitheatre, located at its park headquarters at the intersection of Coldwater Canyon and Mulholland Drive.
The complete lineup features a poetry jam, comics, staged readings, and shows for the whole family. Check out the website for a full listing of performances.
All proceeds directly benefit the maintenance and care of TreePeople's beautiful 45acre Coldwater Canyon Park.
For tickets and more information, go here.
TreePeople and Actors Conservatory presents
Once Upon A Canyon Night
TreePeople is located at 12601 Mulholland Drive, Beverly Hills, CA 90210
Performances:
Friday & Saturday, July 24 & 25, 2015
8:00 p.m.
THE RAINMAKER by N. RICHARD NASH
A staged reading directed by Mary Lou Metzger & Dennis Hunter.
Set in a time of paralyzing drought in the West, we meet a girl whose father and brothers are as worried about her becoming an old maid as they are about their dying cattle. Enter a charming, fast talking con man, who promises to bring rain. A fable of how faith can carve a fairy tale out of the harsh realities of our daily struggles, while reminding us that love, and the magic of a summer night, can make everything possible.
General Admission $20.00, Sponsor Level TreePeople members and up $15.00
Friday & Saturday, August 7 & 8, 2015
8:00 p.m.
DIAL M FOR MURDER by FREDERICK KNOTT
A staged reading directed by Jill Klein.
Need some extra cash? Sell your car or… why not kill your wife? It's murder, money, sex and blackmail in this classic mystery, the source for the much-loved motion picture by Alfred Hitchcock.
General Admission $20.00, Sponsor Level TreePeople members and up $15.00