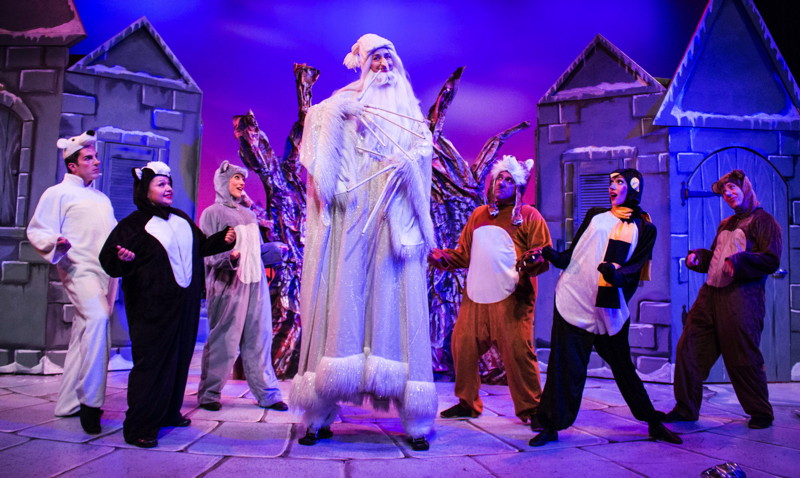 Gentle readers and #LAThtr aficionadi,
Here follows my latest review for the critical website Stage Raw — which contains current arts and theater coverage from our intrepid team of journalists & critics.
We recommend this fine play.
Happy reading!
Santa Claus is Comin' to Motown.
The talented Troubadour Theatre troupe once again present their annual holiday-themed show featuring their signature brand of madcap nonsense. Their tried-and-tested formula: take a Christmas story, add some pop songs and send it up. This time it's a 'Santa's origins' storyline, loosely based on the 1970 Rankin-Bass "animagic" stop-motion TV classic, featuring flying reindeer, elves, Christmas trees and, of course, Santa Claus. The plot line is livened up with some of Motown's greatest hits, as well as various R&B standards such as "Chain of Fools," "Respect," "ABC" and "Soul(ess) Man." All are performed with great gusto by the cast.
You can read the rest of this review here.
Santa Claus is Comin' to Motown
Troubadour Theatre Company
Falcon Theatre
4252 W Riverside Dr.,
Toluca Lake
Runs through January 17, 2016.
Performances:
Weds, Thurs, & Fri at 8 p.m.;
Sat at 4 & 8 p.m.;
Sun at 4 & 7 p.m.
*No 7 p.m. show on January 17*
Box office:
(818) 955-8101 or order tickets online here.
Running time:
One hour and 30 minutes, with one intermission.