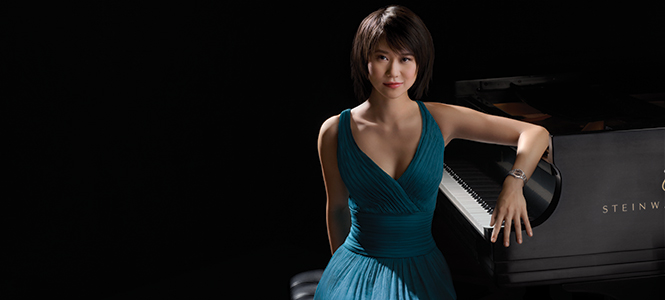 The Russian National Orchestra is making a stop at The Valley Performing Arts Center in Northridge during its 25th Anniversary Tour. Under the baton of Mikhail Pletnev, the orchestra's Music Director, the ensemble will present classic works by Russian greats Shostakovich, Tchaikovsky and Stravinsky.
Acclaimed pianist Yuja Wang with accompany the orchestra for Tchaikovsky's Piano Concerto No. 2 in G major, Op. 44.
Pianist Yuja Wang is widely recognized as one of the most important artists of her generation. Regularly lauded for her controlled, prodigious technique, Yuja has been praised for her authority over the most complex technical demands of the repertoire, the depth of her musical insight, as well as her fresh interpretations and charismatic stage presence.
Yuja is an exclusive recording artist for Deutsche Grammophon. Following her debut recording, Sonatas & Etudes, Gramophone magazine named Yuja the Classic FM 2009 Young Artist of the Year. For her second recording, Transformation, Yuja received an Echo Klassik award as "Young Artist of the Year." Yuja next collaborated with Maestro Claudio Abbado and the Mahler Chamber Orchestra to record her first concerto album featuring Rachmaninoff's Rhapsody on a Theme of Paganini and his Concerto No. 2 in C minor, which was nominated for a Grammy as "Best Classical Instrumental Solo." This was followed by Fantasia, a collection of encore pieces by Albéniz, Bach, Chopin, Rachmaninov, Saint-Saëns, Scriabin and others. Yuja next collaborated with Gustavo Dudamel and the Simón Bolívar Symphony Orchestra on a live recording of Prokofiev's Concerto No. 2 and Rachmaninoff's Concerto No. 3. Most recently, Yuja joined violinist Leonidas Kavakos to record the complete Brahms Violin and Piano sonatas for Decca Records.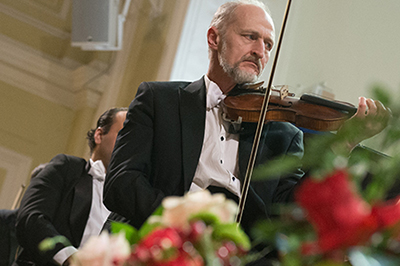 Russian National Orchestra with Yuja Wang, piano
Shostakovich: Festive Overture
Tchaikovsky: Piano Concerto No. 2 in G major, Op. 44 (Yuja Wang)
Stravinsky: The Firebird (1945)
Valley Performing Arts Center, Great Hall
18111 Nordhoff Street,
Northridge, CA 91330
Friday, February 19, 2016
8:00 PM
Tickets:
$45—$99.00
In Person: VPAC Ticket Office, located in the VPAC Courtyard
By Phone: (818) 677-3000
Online:  http://ValleyPerformingArtsCenter.org
Press Release:
International classical music sensation Yuja Wang helps launch the Russian National Orchestra's 25thAnniversary United States Tour at Valley Performing Arts Center on Friday, Feb 19 at 8pm.  Under the baton of Music Director Mikhail Pletnev, the all-Russian program will include Shostakovich: Festive Overture; Ms. Wang will be the soloist on the Tchaikovsky Piano Concerto No. 2 in G major, Op. 44 and the program will conclude with Stravinsky's The Firebird (1945).  Russian National Orchestra's current CD, Shostakovich Symphony No. 7 is currently nominated for a 2106 Grammy Award.
The 25th Anniversary U. S. Tour will include 16 dates in 7 different states across the county and will include performances at Davies Symphony Hall in San Francisco, the Segerstrom Center in Costa Mesa and New York City's Carnegie Hall, among others.
About The Russian National Orchestra:
The Russian National Orchestra was founded in 1990 by pianist and conductor Pletnev and is today recognized as one of the world's top orchestras.  Maintaining an active international tour schedule, the RNO appears throughout Europe, Asia and the Americas, and is a frequent visitor to major festivals such as Edinburgh, Shanghai and the BBC Proms.  The orchestra presents its own RNO Grand Festival each September to open the Moscow season, and is founding orchestra of Festival Napa Valley every July in California's Napa Valley.
RNO concerts are regularly aired on National Public Radio in the United States, the European Broadcasting Union, and Russia's Kultura channel.  The orchestra's critically acclaimed discography, launched with a 1991 CD cited as the best recording of Tchaikovsky's Pathéthique in history, now numbers more than 80 recordings, with conductors that include Founder and Music Director Mikhail Pletnev, Vladimir Jurowski, Kent Nagano, Vasily Petrenko and Carlo Ponti.
The Russian National Orchestra has been characterized as the among the important cultural story of our time.  It is unique among the principal Russian ensembles as a private institution funded with the support of individuals, corporations and foundations in Russia and throughout the world.  The RNO's artistry and path-breaking independence is recognized globally, with critics describing it as "a living symbol of the best in Russian art" (Miami Herald), "as close to perfect as one could hope for" (Trinity Mirror), "astoundingly virtuosic" (Glasgow Herald) and "an awe-inspiring experience; should human beings be able to play like this?" (Gramophone).
Mikhail Pletnev's genius as pianist, conductor and composer enchants and amazes audiences around the globe. He was Gold Medal and First Prize winner of the 1978 Tchaikovsky International Piano Competition when he was only 21, a prize that earned him early recognition worldwide. An invitation to perform at the 1988 superpower summit in Washington led to a friendship with Mikhail Gorbachev and the historic opportunity to make music in artistic freedom.
Pletnev's performances and recordings have proved him to be an outstanding interpreter of an extensive repertoire, both as pianist and conductor. His recordings have earned numerous prizes including a 2005 Grammy Award for the CD of his own arrangement, for two pianos, of Prokofiev's Cinderella. He received Grammy nominations for a CD of Schumann Symphonic Etudes (2004) and for his recording of Rachmaninov and Prokofiev Piano Concertos No. 3 with the RNO and conductor Mstislav Rostropovich (2003). His album of Scarlatti's Keyboard Sonatas (Virgin/EMI) received a Gramophone Award in 1996. BBC Music Magazine called the recording "piano playing at its greatest… this performance alone would be enough to secure Pletnev a place among the greatest pianists ever known." His recording of the complete Beethoven symphonies and piano concertos (Deutsche Grammophon) was named "Best of 2007" by The New Yorker magazine.
Pletnev's compositions include works for orchestra, piano, strings and voices. His unrivalled transcriptions for piano of Tchaikovsky's Nutcracker Suite and Sleeping Beauty were selected for the 1998 anthology "Great Pianists of the 20th Century" (Philips Classics).
Today he is one of Russia's most respected and influential artists. An advisor on Russia's Cultural Council, in 2007 Pletnev was awarded a Presidential Prize for his contributions to the artistic life of the country. Pianist, conductor, composer and cultural leader — all are significant facets of Mikhail Pletnev's life as an artist. Yet he considers himself, simply, a musician.
About Yuja Wang:
Born in 1987, Yuja Wang studied in her native Beijing. Following recitals in China and abroad, she went to study in Calgary and in 2002 became a student of Gary Graffman at the Curtis Institute in Philadelphia. The following year she made her triumphant European concert debut with the Zurich Tonhalle Orchestra under David Zinman, and her North American debut in 2005 with Ottawa's National Arts Centre Orchestra under Pinchas Zukerman prompted the Canadian press to declare: "A star is born." Since then, Yuja has performed with many of the world's leading orchestras under conductors including Dutoit, Maazel, Marriner, Temirkanov and Tilson Thomas, appeared at festivals including Verbier and Saratoga, and given recitals in many of the world's musical capitals. In 2009, Yuja Wang signed an exclusive contract with Deutsche Grammophon.
Tickets:
Tickets for the Russian National Orchestra with Yuja Wang range from $45 – $99 and can be purchased by visiting ValleyPerformingArtsCenter.org or calling (818) 677-3000.  Valley Performing Arts Center is located on the campus of California State University, Northridge (CSUN), 18111 Nordhoff Street Northridge, CA 91330-8448, at the corner of Nordhoff and Lindley.
About Valley Performing Arts Center:
Now in its Fifth Anniversary year, VPAC's mission is to present a wide variety of performances that not only includes new and original work from the Los Angeles region, but also work from around the world that appeals to all of LA's rich and diverse communities.  The Valley Performing Arts Center's 2015-16 Season signals a new era for the premiere event venue.  Under the leadership of Executive Director Thor Steingraber, VPAC expands its programming to include new and original work, and outstanding multi-disciplinary performances. Located on the campus of California State University Northridge, VPAC's season offers a vibrant and diverse performance program of nearly 50 classical and popular music, dance, theater, family and international events that will serve to establish VPAC as the intellectual and cultural heart of the San Fernando Valley and further establish itself as one of the top arts companies in Southern California.  The award-winning 1,700-seat theatre was designed by HGA Architects and Engineers and was recently cited by the LA Times as "a growing hub for live music, dance, drama and other cultural events."