Coming very soon to Los Angeles is #BinderCon L.A. — a two-day conference and symposium "to empower women and gender non-conforming writers with tools, connections, and strategies to advance their careers." It's all happening over the weekend of March 19 and 20 on the UCLA Campus in Westwood, as well as online.  With the start date being less than two weeks away, you have just two days remaining to obtain a conference pass for the discounted rate of $175.00. See below for more details.
Out of the Binders is a nonprofit organization and BinderCon is the semi-annual conference they produce, comprising of a weekend of inspiring talks and empowering panels covering all different aspects of writing.
BinderCon is a professional development conference designed to empower women and gender non-conforming writers with the tools, connections, and strategies they need to advance their careers. More than a conference, this is a strong community of writers working to increase the diversity of voices in the media and literary arts through conferences, workshops and other career-building events.
The conference will feature many women writers who hold some of the most prominent positions in today's media.  All of the women slated to give a speech, lead workshops, or participate in a panel represent a wealth of knowledge and success that they are willing to share. Although the conference is focused on writers, advice from participants spans all career aspirations.
This year keynote speakers include:
Lisa Kudrow – Emmy Award-winning actress, writer, & producer
Effie Brown – Producer, Dear White People
Jillian Lauren – Author, Everything You Ever Wanted
Jenny Lumet  – Screenwriter
Robin Schiff  – Writer/producer, Romy and Michele's High School Reunion
Rebecca Walker  – Author and TV writer
Past speakers include Jill Abramson, the first female Executive Editor of the New York Times; Anna Holmes, founder of Jezebel; Leslie Jamison, bestselling essayist; screenwriter/director Gina Prince-Bythewood; Sundance executive Keri Putnam; and Katie Orenstein, founder of the OpEd Project. BinderCon has also been featured on MSNBC.com, FastCompany.com, Huffington Post, Flavorwire, Bitch Magazine and BUST.
Background:
In 2013, Lux Alptraum and Leigh Stein co-founded Out of the Binders, a nonprofit dedicated to advocating and providing professional development services for women and gender-nonconfoming writers.
It began as a popular Facebook group called "Binders Full of Women Writers," devoted to women scribes. The group's title is a tongue-in-cheek jab at Mitt Romney's infamous quote from the 2012 presidential debate: "I went to a number of women's groups and said: 'Can you help us find folks?' And they brought us whole binders full of women."
The community that formed from the Facebook group inspired Alptraum and Stein to take that collective energy and channel it into an event.
The basic premise: What would happen if women helped other women advance their writing careers?
At the core of their project is the staging of these semi-annual professional development conferences, BinderCon, which offers attendees access to a wide variety of panels, workshops, and networking opportunities all geared to help them get ahead in their writing careers.
As Alptraum wrote for The Advocate, "Leigh and I wanted to have a conference where all kinds of women and gender-nonconforming writers — from a variety of racial and ethnic backgrounds as well as ages sexual orientations, gender identities, physical abilities, and professional fields – would feel comfortable and welcome."
An antidote for the isolation some writers experience, BinderCon exists for writers to draw support from a friendly network to help themselves get ahead.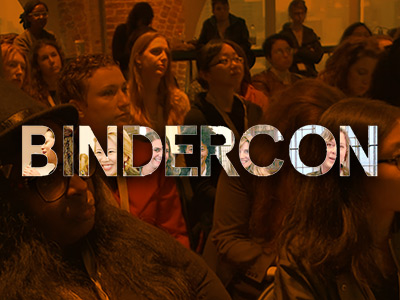 March 19 & 20, 2016
UCLA Campus in Westwood.
$175 General Admission tickets will be on sale until March 9, 2016, at which point a limited number of last minute tickets will be available online for $250. A limited number of General Admission tickets will also be on sale at the door for the day of price of $350. Admission is limited to women and gender non-conforming people, though everyone is welcome to check out the panel videos.
Unable to attend? Watch the Livestream here or catch up with clips on their youtube channel.
Sample panel: What should writers know before getting into animation? Find out at #BinderCon L.A.
Out of the Binders is a 501(c)(3) nonprofit organization dedicated to increasing the diversity of voices in the media and literary arts. The Harnisch Foundation has generously offered to sponsor the livestream of our LA conference (19-20 March, 2016), enabling women and gender non-conforming writers around the world to experience the event.
See what the fabulous books and content #binders are producing here.