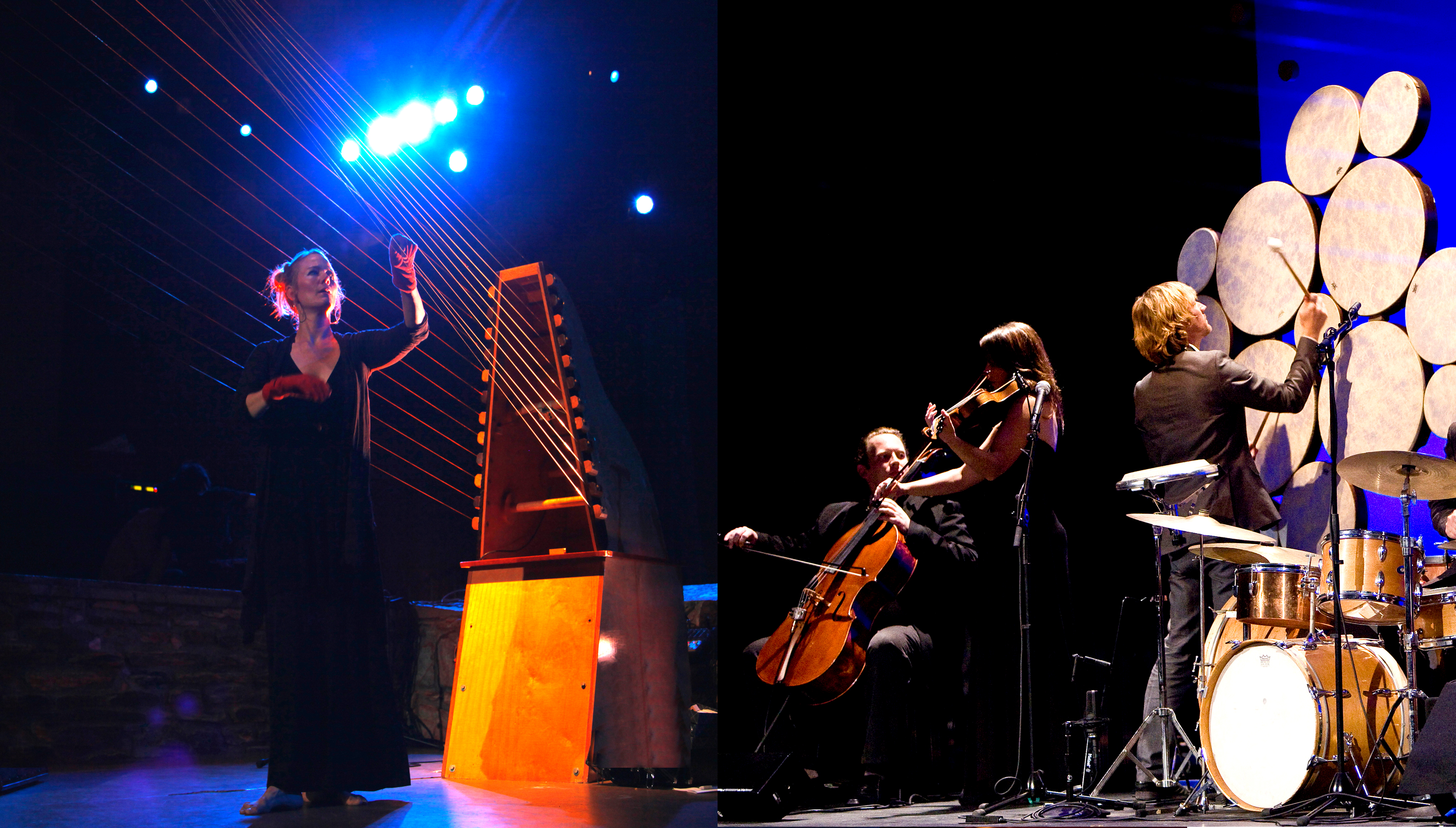 String Theory is remounting their aural and visual performance piece, Remembering Water, following sold out shows in 2015. The performance features the group's signature giant harps which transform architecture into musical instruments.
Remembering Water is a seventy-minute, multi-media performance work featuring newly invented instruments, each created by String Theory. These include Harness Harps and the FIN Harp. Culminating in a new exploration of String Theory's combining of artistic mediums, the performance is interwoven with dance, original music, projections and their signature giant Harps. Remembering Water is loosely inspired by the photographs of Robert and Shana ParkeHarrison from their book, The Architect's Brother.
This event will also mark the release of String Theory's new EP Remembering Water.
The performance space is transformed by String Theory's sculptural instruments (their Giant Harps), and is energized by performers with wearable instruments, percussion sculptures, cello, bass, guitar, vocals and electronics. Eleven performers — musicians and contemporary dancers — will take to the stage.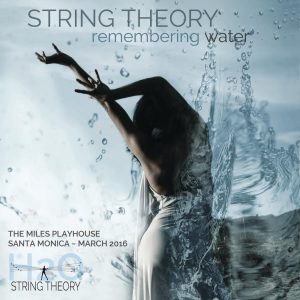 Remembering Water by String Theory.
Miles Playhouse
1130 Lincoln Blvd.,
Santa Monica
Performances:
March 11, 12, 18, 19, 24, 25, and 26 at 8pm
March 13, 20, and 27 at 7pm
Free parking:
808 Wilshire Blvd.
About String Theory:
String Theory is an LA based performance ensemble known for their eclectic cinematic music and their invented sonic sculptures that transform architecture and environments into giant musical instruments. The result is a visually stunning and aurally expansive landscape wherein the performance unfolds. String Theory's performance resume includes the 66th Emmy Awards, The Grammy's, Disney Hall, the Ford Amphitheater and extensive tours. You can find their music on feature films like HBO's documentary "Cat Dancers", Sony Pictures "Red Sands" and the indie feature "Jean-Michel Basquiat: The Radiant Child."
At its heart, String Theory is a dynamic rock band with classical flourishes and strong, visceral contemporary dancers. A hybrid of kinetic performance components featuring sonic sculpture, dance and original music. String Theory is an ensemble dedicated to creating innovative performance work. Their signature revolves around a series of large-scale invented instruments that transform spaces into giant musical instruments with strings running hundreds of feet.
The String Theory ensemble features:
Co-founders: Holly Rothschild (long-string harps, percussion, choreography, direction)
and Sundance Composer Fellow, Luke Rothschild (instrument design/creation, composition, vocals, bass, guitar and percussion),
Also:
Joseph Harvey (cello, composition)
Robert Amjarv (guitar, bass, voice, keys, electronics, composition)
Danny Dolan (dance, long strings, percussion)
Lavinia Findikoglu (dance, long strings, percussion)
Tess Hewlett (dance, long strings, percussion)
Vivek Maddala (guitar, percussion)
Danny Moynahan (sax, flute, keys, saw, vocals)
Julie Pusch (violin, viola, voice)
Gavin Salmon (percussion)
Andrea Sobke (dance, long strings, percussion)