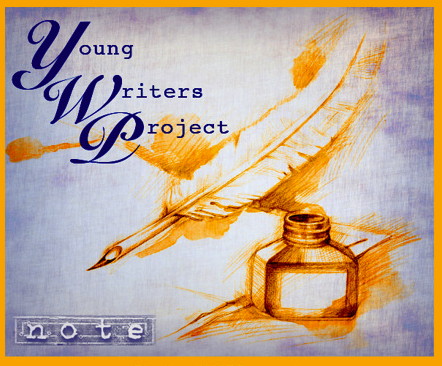 "There are five plays being presented this year, including one play that was written by an entire high school class," explains Lauren Letherer, producer of Theatre of NOTE's Young Writers Project.
Letherer enthusiastically adds, "This series has been going for 14 years. It is probably one of the greatest things I have been involved in."
NOTE's outreach program, featuring original work from young L.A. playwrights, returns to the NOTE stage in May. Each of the five plays is approximately ten minutes long, and all are performed as one program. Weekend performances are May 7th, 8th, 14th and 15th  — each at 11am. Admission is free but donations are encouraged. See below for more details.
Background:

The Young Writers Project (YWP) began in 2001 as an opportunity for Theatre of NOTE to work with high school students on developing and producing theatre pieces. Utilizing Theatre of NOTE writers, they lead workshops in high schools throughout Southern California. The company theater professionals then produce selected pieces that are performed and directed by Theatre of Note members.

All involved donate their time, expertise and commitment. 

Since its inception, the company has premiered more than 70 new plays, some of which have gone on to win awards at theater festivals. The YWP also offers a modest stipend to the finalists, for use in furthering their education.

The YWP instills confidence in students and develops their collaborative skills through the creative process. The program's ultimate goals are: to help students learn the benefits of teamwork and communication; to foster their expression and to help provide them with the tools to unlock their creativity. The young playwrights work closely with the director, actors and producers as their original plays are realized on the stage. They are each required to attend all four public performances as well as be prepared to discuss their creative process with the audience during the Q & A sessions that follow.
Plays:
Frank Steins by Brandon Martinez
Newly accepted into Harvard, Brandon Martinez is currently a senior at Servite High School. "I've been working in theatre for seven years, writing plays for the past three years. I began working on this play, Frank Steins, after Theater of NOTE directors Lauren Letherer and Alina Phelan visited Servite High School and provided the opportunity to have my play written and produced. I feel so excited and blessed that my play was chosen; I had never had an opportunity to have an audience with trained actors performing my work, which opens doors to receiving feedback from the performers and the audience. This experience has given me confidence in my work and has inspired me to continue writing plays. I believe that with work and dedication, I will be able to have more opportunities like this to share my work with others."
Callbacks by Gerardo Garcia
Lynwood, Cali resident Gerardo Garcia is a junior at Paramount High School. In his play, Callbacks, a group of high school teenagers attend a callback audition for their school's musical, West Side Story. Following a dramatic and violent episode on their campus, the group would-be actors band together to survive — attempting to remain calm and hopefully stay alive until help arrives. Recalls Garcia, "I was inspired by a TV show American Crime [the anthology crime drama series] where a shooting, similar to the incident in my play, was depicted. Throughout the show, they had several people from the tragic Columbine shooting talking about the experience. It made me realize that as a high school student, I need to be more informed and aware of threats that can potentially happen at my school — or anywhere, to be quite frank. This is my intention: to spread awareness of such dangers that outside threats can bring to schools and to be ready to learn how to be as safe as possible.
Garcia says he learned about NOTE's Young Writers Program last year when one of the company's actors visited his school's drama club to describe the project and its process. "My friend was one of the winners from last year and she told me all about her experience. It sounded amazing! I've learned so much from YWP. I feel like I've had 'hands-on' experience with the whole production process, from the writing, the casting to the directing. Honestly, I've loved it all so far, and participating in this program has made me determined to strive and succeed in the entertainment industry in future." He says he hope to have a better understanding of his career options my be. Clearly effusive about the joys of the experience, Garcia expresses his deep gratitude; "Thank you Young Writers Program for making my imagination become a reality."
Reverse Psychology by Julianne Holmquist
Julianne Holmquist hails from Long Beach and is a junior at Rosary Academy in Fullerton. "Reverse Psychology, is about a teenage boy, Michael, and his sessions with his therapist, Dr. Joan."
Through their therapy sessions, the two characters observe their personal struggles as mirrored in the other. As the play unfolds, each find they are able to overcome their issues by seeing the other person as a model.
Explains Holmquist,"My play is about finding help in unexpected places by opening yourself up to someone. I first thought of the idea when listening to a therapist's speech at career day. I started writing the play this past summer."
Holmquist says she found out about The Young Writers Project and the Theatre of Note when her local theater advertised this playwriting workshop. She jumped at the opportunity to expand her writing skills, and was especially entranced by the auditions and casting process. "I am so grateful I took the workshop because this experience has been utterly surreal. I've seen real actors perform my words on a real stage. So far, this experience has been so amazing. It has long been one of my dreams to have my work performed on stage, so this experience is already all that I could hope for and more." She sounds excited to see the final result.
Basketball with the Angels by Kristyn Byrd
Student at Rosary Academy, Kristyn Byrd described her experience at NOTE with phenomenal enthusiasm:
"So far my experience with Playwrights has been amazing. They've been so helpful during this process and I couldn't be more thankful for their guidance. From the beginning workshop to learning how to write to actually writing a play, it's just been overall fantastic! I wasn't able to attend the actual audition for my play, but trusting my well-experienced, amazing director, I knew she would choose the right cast. I was able to see the cast list afterwards and — honestly — I was just thrilled that I actually had a cast! I never knew that my little ol' play would be picked, so the fact that my play even has a cast is incredible and the fact that we're working together to make a schedule is just astonishing. I cannot wait to start practicing and seeing the overall product because I know this program will truly bring my words to life."
Today by Estella Church and the Students of Hawthorne High School
A teacher for three years, now in her second year as Hawthorne High School's theatre director, Estella Church worked as stage manager and technical director from the spry age of 12. She completed her MA in education by the time she turned 23. Mrs. Church is extremely proud of her students and their collaboratively-written piece, Today.
Explains Church, "My students are between the grades of 9 and 12, with most of them being seniors. Our lead student on the project is Caitlyn Bundy and another lead writer is Stacy Alfaro." A total of fifteen students were involved in writing for the project.
Today delves into the topics of police brutality and racial profiling as witnessed from the eyes of today's average teenager. In incorporating text from interviews, newsreels, and social media platforms such as Twitter feeds, the play itself is a verbatim-style work, intended to emulate others such as The Laramie Project and Chavez Ravine.
"A verbatim piece requires that writers and researchers use the words of the people affected by the issue or topic at hand. In the case of this play, students interviewed dozens of community members (students, teachers, family, administration, community groups, etc) on the topic, transcribed the interviews, and pieced this work together. The title — though as their teacher I felt was a little bland — was what they insisted on." Church pushed for a title that incorporated a hashtag — "I thought that would have been cool and trendy. According to students, their title was the most fitting." The devoted teacher goes on to add, "Today, someone will be racially profiled. Today someone will be shot down by a police officer. Today, an incident of violence will go viral. Today, these issues should be talked about in classrooms around the country, if not the world."
The writing process for Today began over a year ago. The fatal shooting of Michael Brown occurred on August 9, 2014, in Ferguson, Missouri; a northern suburb of St. Louis. Following this controversial event, the Hawthorne High School students staged an event on campus to honor his last words.
Recalls Church, "That [demonstration] was not received as well as organizers had hoped. Students expressed to me they felt voiceless, both before and after the demonstration." 
In fact, according to project producer Lauren Letherer, one of their classmates had also fallen victim to violence. The students wanted to stage a vigil at the school, but were fearful of repercussions.
Instead, the workshop leader (Shanti Reinhardt) suggested they pour their outrage onto paper and write about it. Remarks Letherer, "Today is a chilling play — mostly told verbatim from gathered interviews."
Adds Church,"At the time, we were covering 'verbatim-style' theatre in our Advanced Drama class and the current project was to write a [reported] piece. Students selected their top three issues: (1) police brutality, (2) body image, and (3) homophobia." But Church and her students faced some emotional obstacles during their exhaustive research and interview process. "It all became too overwhelming when the number of victims became, literally, too many to count. Students, overwhelmed emotionally, set the project aside and as a team we chose to focus on our musical with intentions of finishing this story later." When the students were told they had been accepted into NOTE's annual YWP project, the team decided to revisit and complete their research. Says Church,"The result is this 10-minute play, Today. I believe it is great that it worked out this way. Because it was only ten minutes long, it focused the students' intention and forced them to focus on the issue more broadly instead of growing more and more depressed with each victim they learned more about. While it is not a pure 'verbatim piece,' students were still able to express what they were feeling and going through — what they are still feeling and going through…"
Church outlines the many benefits of participating in Theatre of NOTE's Young Writers Project:
"As their instructor, what was so fun was to watch them in the workshops and write alongside Chris and Shanti. The kids were writing some of the silliest bits, and some of it could have been the beginning of a hit show — perhaps a hipster-filled cartoon or musical. Students let loose and were able to have an almost cathartic moment with one another. I think it allowed them to have fun with the writing process and put them in a much happier place in order to be able to write the piece they really needed to write. Now I know what to do; next year when they tackle their next topic, if they are overwhelmed emotionally, we will take a step back, and have a few silly moments like those ones we got to experience here at Theatre of NOTE."
She adds, "As an educator, I am hoping for more recognition and support from our community as a whole and foster a culture of fine arts. Being honored as a winner for this year's YWP is a big deal for our community. We have just begun rebuilding the theatre program…" Church says it has been languishing since the early 90's, so this collaboration with NOTE proved a fantastic way to put the program back on the map. "For students, this is a prime example of the sheer level of brilliance they are capable of when they truly collaborate as an ensemble. More importantly, at least in the case of our topic, they are learning that they are very capable of using their voice and talents to serve others. On top of all that — as if that wasn't enough — students' confidence level has just shot through the roof and self-esteem is all aglow." Concludes Church, "Students believe their theatre program is worth fighting for; that they are worth fighting for."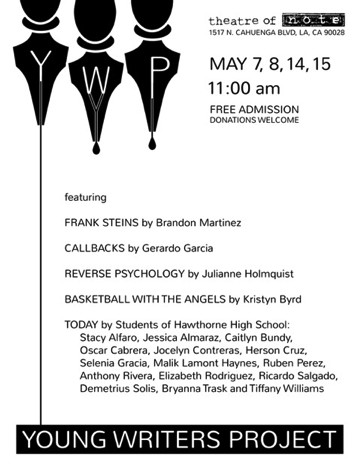 Theatre of NOTE's Young Writers Project
1517 N. Cahuenga Blvd.,
Hollywood CA 90028
Performances:
11am.
Saturday May 7 & Sunday May 8, 2016
Saturday May 14 & Sunday May 15, 2016 
Admission is free but donations are most welcome
(Monetary support is highly encouraged)
A Q & A session with the playwrights will follow each performance
The Plays:
Frank Steins by Brandon Martinez
Callbacks by Gerardo Garcia
Basketball with the Angels by Kristyn Byrd
Today by Estella Church and the Students of Hawthorne High School:
Stacy Alfaro, Jessica Almaraz, Caitlyn Bundy, Oscar Cabrera, Jocelyn Contreras, Herson Cruz, Selenia Gracia, Malik Lamont Haynes, Ruben Perez, Anthony Rivera, Elizabeth Rodriguez, Ricardo Salgado, Demetrius Solis, Bryanna Trask and Tiffany Williams.
About Theatre of NOTE's Young Writers Project (YWP) and its success:

The YWP has helped students build confidence in all aspects of their lives by giving a voice to their experiences through the creative process. Participants have returned to NOTE to tell the company of the transformation that artistic encouragement, and the YWP in particular, brought to their lives. In 2003, they had the honor of being asked to participate in Los Angeles' fringe theatre festival "Edgefest" as one of its special presentations. NOTE's YWP Project has received press coverage in the Los Angeles Times as well as local papers from the communities of participating schools. A few students have utilized the program to help them get into college, sharing their experience with YWP as part of their admissions process. One student entered New York University as a writer, and others continue to write while pursuing other interests. One finalist went on to join Theatre of NOTE as a company member. She has since gone on to work in costume designing on the movie "The Hateful 8" and is starting AFI's women's directing program in the fall.

Started by longtime NOTE member Jonathan Klein, the annual program is now run by Lauren Letherer, who has been involved since its inception. The company goes to five high schools every year reaching students in both English and theater classes. 2016's plays are particularly impressive and include topics such as police brutality, suicide, disabilities and school shootings. The participants definitely do not shy away from the heavier topics.
ABOUT THEATRE OF NOTE:

Theatre of NOTE has an impressive history of presenting world premiere plays, many of them by Los Angeles-based writers.  Original works by local writers have received four Ovation Award "Best Original Play" nominations, nine LA Weekly Theatre Award play writing nominations (including three wins), five Dramalogue award wins, along with recognition from the GLAAD Awards, Garland Awards, and LA Scenies.  One play by local writer Erik Patterson, (who has participated in the YWP program several times), was a PEN Center USA Literary Award finalist.