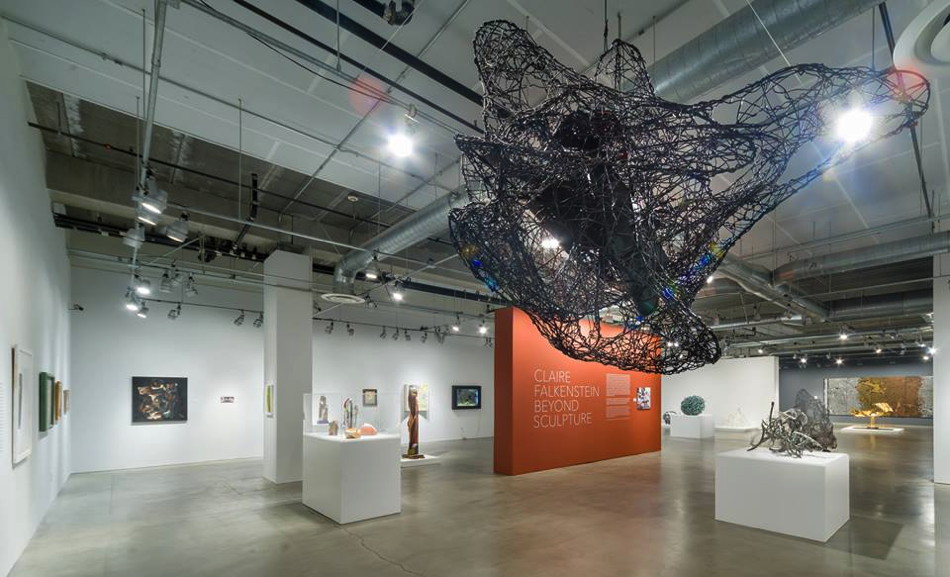 From the press notes:

The Pasadena Museum of California Art (PMCA) is proud to present Claire Falkenstein: Beyond Sculpture, the first comprehensive museum exhibition of international artist Claire Falkenstein (1908–1997). Though her enduring reputation rests on her sculpture, this prolific female artist began and ended her career as an inventive painter, and her body of work also includes printmaking, jewelry, glass, films, stage sets for dance, public murals, fountains, and monumental architectural commissions. The retrospective span the varied oeuvre of this international female artist and vanguard and assembles preeminent examples from each media, presenting the full range of one of America's most experimental, productive, and peripatetic twentieth-century artists.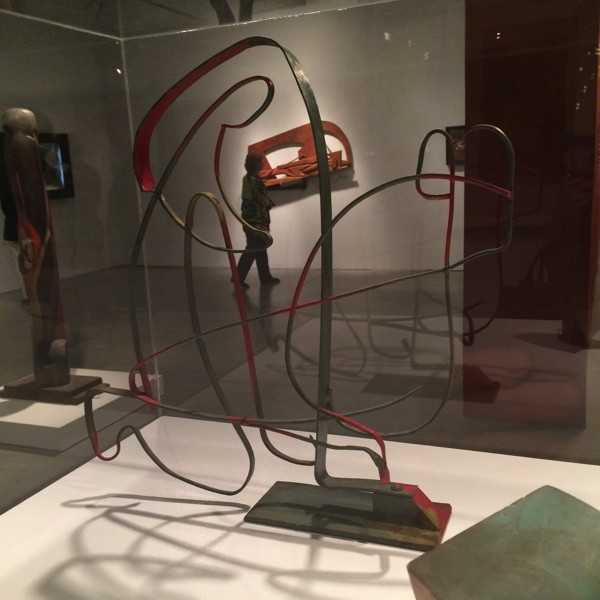 Of note is one of Falkenstein's first sculptures; a small work entitled "Game," made of forged iron and less than a foot square in size. Created in 1944, it's deceptively simple, the welded piece has a bold and exploratory shape and construction.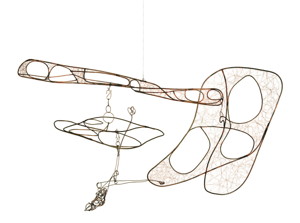 Falkenstein would go on to explore wire and metal sculpture, creating suspended works as well as ones that seem to crouch on the floor. Evident is her deliberate choices — where and when to leave holes or gaps inside the metal interiors.
One suspended piece, a scenic element for a dance piece, is reminiscent of a Calder mobile.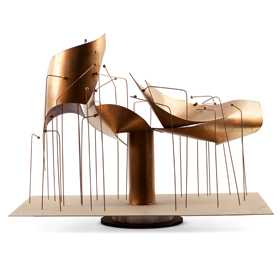 One shimmering and gorgeous medium piece – entitled "Flora (Topology), 1973" – is comprised of sheets of bronze teamed with wires topped with balls, all bronze. Closer examination reveals that the sculpture is raised on a platform and its construction includes a "kinetic engine." Is it, thus, a moving sculpture? It is indeed! Unfortunately, the piece is considered too fragile to be displayed in motion. One imagines a bell-like sound as the ball-topped wires tap the bronze sheets. Not so…
Having viewed a video of the work in motion, it proves disappointing — the wobbly rotation somewhat deficient in its mechanical execution… Oh well, not all art experiments are 100% successful. In this case, the work presents well as a stationery piece and it's actually best left to the viewer's imagination as to what it would look or sound like in motion.
Nevertheless, there is an unmistakable and driving sense of kinetic movement and energy within all her works, especially the pointillism of her 'arrow' paintings that depict schools of tiny arrows massing and converging like small fish or unseen air currents.
Falkenstein is remarkable for her exhaustive artistic exploration, having worked in every single media imaginable: paint, glass, etching, intaglio, collage, wood, metal, resin, wire, terra-cotta, and so on.
Claire Falkenstein: Beyond Sculpture marks the first comprehensive exhibition of her work since 1997, and covers her oeuvre that spans a career of 65 years.
From the press notes:
Over half of the works in Brett Weston: Significant Details have never been displayed before. Furthermore, Weston's close-up, abstracted photographs show a different side of one of the most celebrated and prolific twentieth-century photographers who is best known for his high-contrast panoramic images.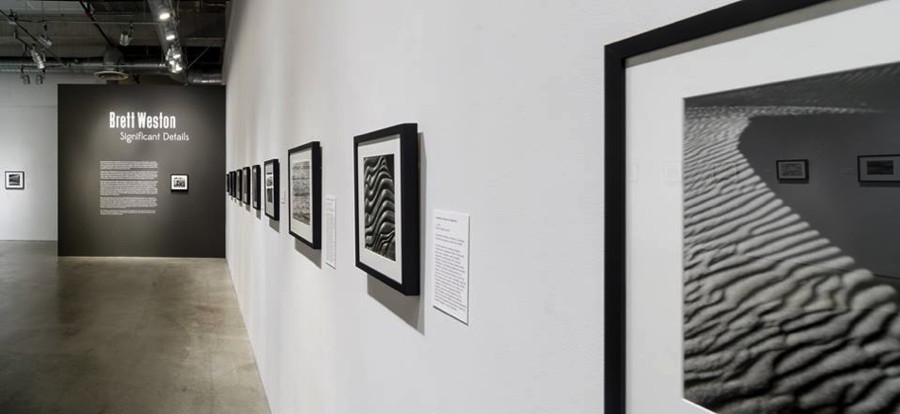 Weston's photographs celebrate the microscopic, as he closely trains his lens onto both nature and human-made objects to render them abstract. We see electricity towers and car details such as hood ornaments; cracked glass, crazed and flaking paint; desiccated mud flats, striated sand eroded by the surf or strewn with stands of kelp. A close up image of a jellyfish resembles a sea animal's shell. The sun-bleached bones of a turtle's skeleton appear alien and otherworldly. Pine needles lie in stark relief to ice, slabs of ice float on water. Water droplets stand out against a glass pane. All of Weston's photos are developed with silver gelatin to maximize the contract between the inky black and the stark white, silvers and greys.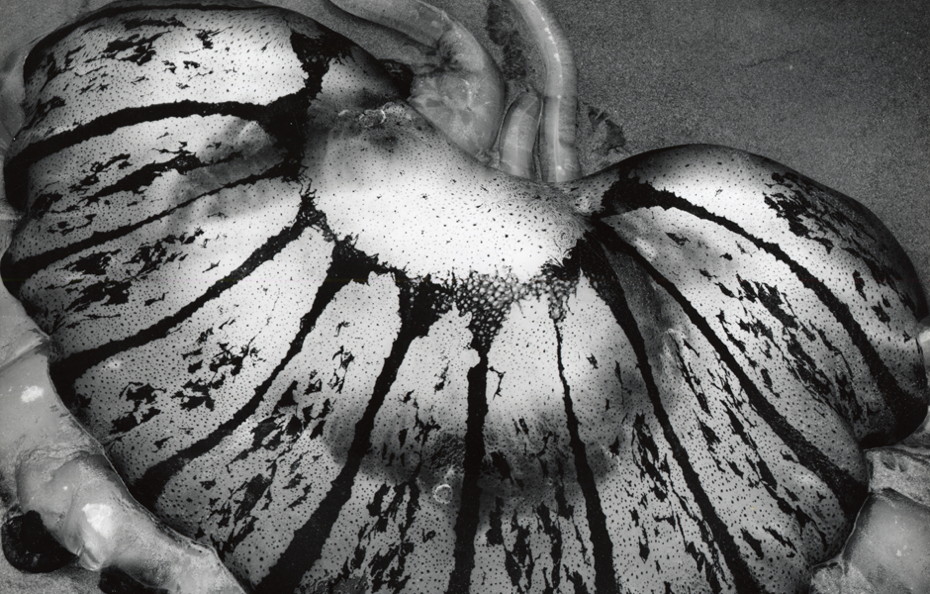 From the press notes:
Contemporary artists collaborate for Kat Hutter and Roger Lee: Another California Day; an unprecedented collaboration at the intersection of the artists' independent practices (Hutter's as a painter and Lee's as a ceramicist). Here you can see their photographic explorations of California, and their combined endeavor K&R, through which they produce carefully-crafted and glazed ceramic wares. The multimedia installation translates photos taken throughout California by the Los-Angeles-based husband and wife duo into a sensory experience.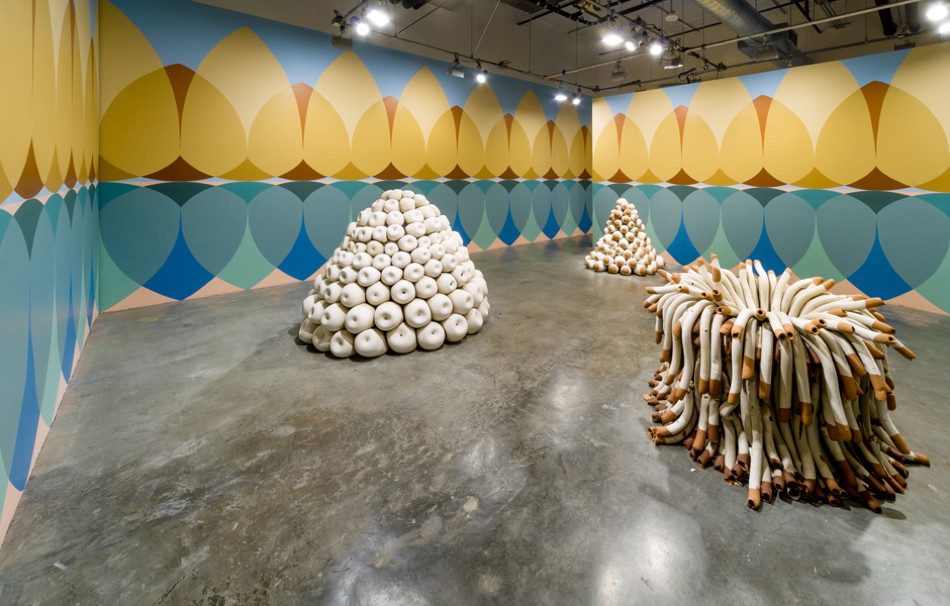 Pasadena Museum Of California Art
Claire Falkenstein: Beyond Sculpture
Brett Weston: Significant Details
Kat Hutter and Roger Lee: Another California Day
All three exhibitions are on view through September 11, 2016.
Museum information:
Plan Your Visit:
The museum is located at 490 East Union Street. From the 210 Freeway, take the Lake Avenue exit. Go south and take a right on Union Street. From the 110 Freeway/Downtown Los Angeles, follow the freeway until its end, then take Arroyo Parkway and turn right at Colorado, then left at Oakland to get to Union Street. Parking is available at the Museum.
Hours:
Open Wednesday–Sunday, 12:00–5:00pm; third Thursday of each month, 5:00–8:00pm; closed Mondays, Tuesdays, July 4, Thanksgiving, Christmas, and New Year's Day.
Admission:
$7 for adults, $5 for seniors and students; free for PMCA members and children under 12; free the first Friday of each month (12:00–5:00pm); free the third Thursday of each month (5:00–8:00pm). Access for people with disabilities is provided.
Mission:
The mission of the Pasadena Museum of California Art (PMCA) is to present the breadth of California art and design through exhibitions that explore the cultural dynamics and influences that are unique to California.
Docent Tours and Group Rates:
The museum offers docent tours on the second Saturday of each month (2:00pm; free with admission). Docent tours are also available Wednesday–Friday, 12:00–5:00pm, to private groups for a fee of $75. A non-refundable deposit of $40 is due two weeks prior to the scheduled date. Self-guided tours for K–12 students are offered for free. They are unable to accommodate docent tours for groups larger than 35 people. Before requesting a tour, please check the exhibition calendar to see which exhibitions will be available during your visit.
A discounted group rate of $3 per person is available for groups of 20 or more (K–12 student groups are free). Please call to notify us at least one week in advance for these special admission rates. For any questions or to make reservations for a tour or group rate, call our Bookstore and Membership Associate, Susan Wang, at 626.568.3665 x14 or email swang@ pmcaonline.org.
For more information, please call 626.568.3665 or visit pmcaonline.org.