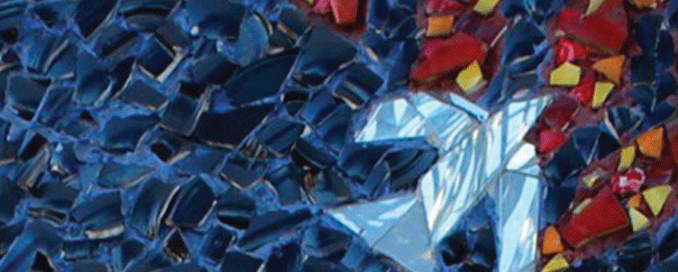 The event will celebrate the publication of Bird Float, Tree Song Disarticulation, and Collaboration, a collection of poems by Los Angeles poets edited by Terry Wolverton. The anthology chronicles a year-long project by Wolverton in which she invited a different poet each month to collaborate with her, using a specified process, by which each created new poems using language generated by the other. The project raises questions about inspiration, origination and ownership of language, and, by extension, the creative process.
During the live event, poets Olga Garcia Echeverria, Donna Frazier, Douglas Kearney and Wolverton will read their poems as well as describe some of the process writing that led to poems, and discuss their responses to the collaboration and working with the dis•articulations process.
The audience will be given an opportunity to explore parts of the process to generate their own text, based on prompts given by the poets. The anthology will be for sale.
Bird Float, Tree Song Disarticulation, and Collaboration – Poetry reading and workshop
Armory Center for the Arts
145 North Raymond Avenue,
Pasadena, CA 9110
Sunday, July 10, 2016
2:00 pm – 4:00 pm
About the Poets:

Olga García Echeverría was born and raised in East Los Angeles. Ultra Libra in love with the ocean and the clouds and the birds and the trees and the disappearing bees. Author of Falling Angels: Cuentos y Poema (Calaca Press and Chibcha Press 2008). Teacher of English. Creator and destroyer of language.Splendid Spinster of the New Millennium who plans to joyfully spin words until her fingers turn to dust.

Donna Frazier realized early that poetry is an oasis for a nonlinear mind flying about in a linear world. Fell in love with it. Spent time with great teachers like William Matthews, Marie Ponsot, and Terry Wolverton. Is always writing and editing, much of the time for other people, but in the best moments for her own muses. Has published work in places like Mudlark and First Things. A collection of her dreamy and practical inspiration for writers is on her website: www.donnafrazier.com/news.

Douglas Kearney's third poetry collection, Patter (Red Hen Press, 2014) examines miscarriage, infertility, and parenthood and was a finalist for the California Book Award in Poetry. Cultural critic Greg Tate remarked that Kearney's second book, National Poetry Series selection, The Black Automaton (Fence Books, 2009), "flows from a consideration of urban speech, negro spontaneity and book learning." A collection of opera libretti—Someone Took They Tongues—is forthcoming from Subito Press. Noemi Press will publish his collection of writing on poetics and performativity—Mess and Mess and in late 2015. He has received a Whiting Writer's Award, residencies/fellowships from Cave Canem, The Rauschenberg Foundation, and others. His work has appeared in a number of journals, including Poetry, nocturnes, Pleiades, Iowa Review, Boston Review, and Callaloo; and anthologies including Best American Poetry, Best American Experimental Writing, Wide Awake, and What I Say: Innovative Poetry by Black Poets in America. Raised in Altadena, CA, he lives with his family in California's Santa Clarita Valley. He teaches at CalArts.

Terry Wolverton is a literary artist and author of ten books of poetry, fiction and creative nonfiction,including Embers, a novel in poems, and Insurgent Muse: life and art at the Woman's Building, a memoir. She has edited fifteen literary compilations, including (with Robert Drake) three volumes each of His: brilliant new fiction by gay men and Hers: brilliant new fiction by lesbians. She has also created performance, visual and media arts, and collaborated with choreographers, musicians, and visual artists. She is the founder of Writers At Work, a creative writing studio in Los Angeles, and affiliated faculty in the MFA Writing Program of Antioch University Los Angeles. For more info:terrywolverton.com.