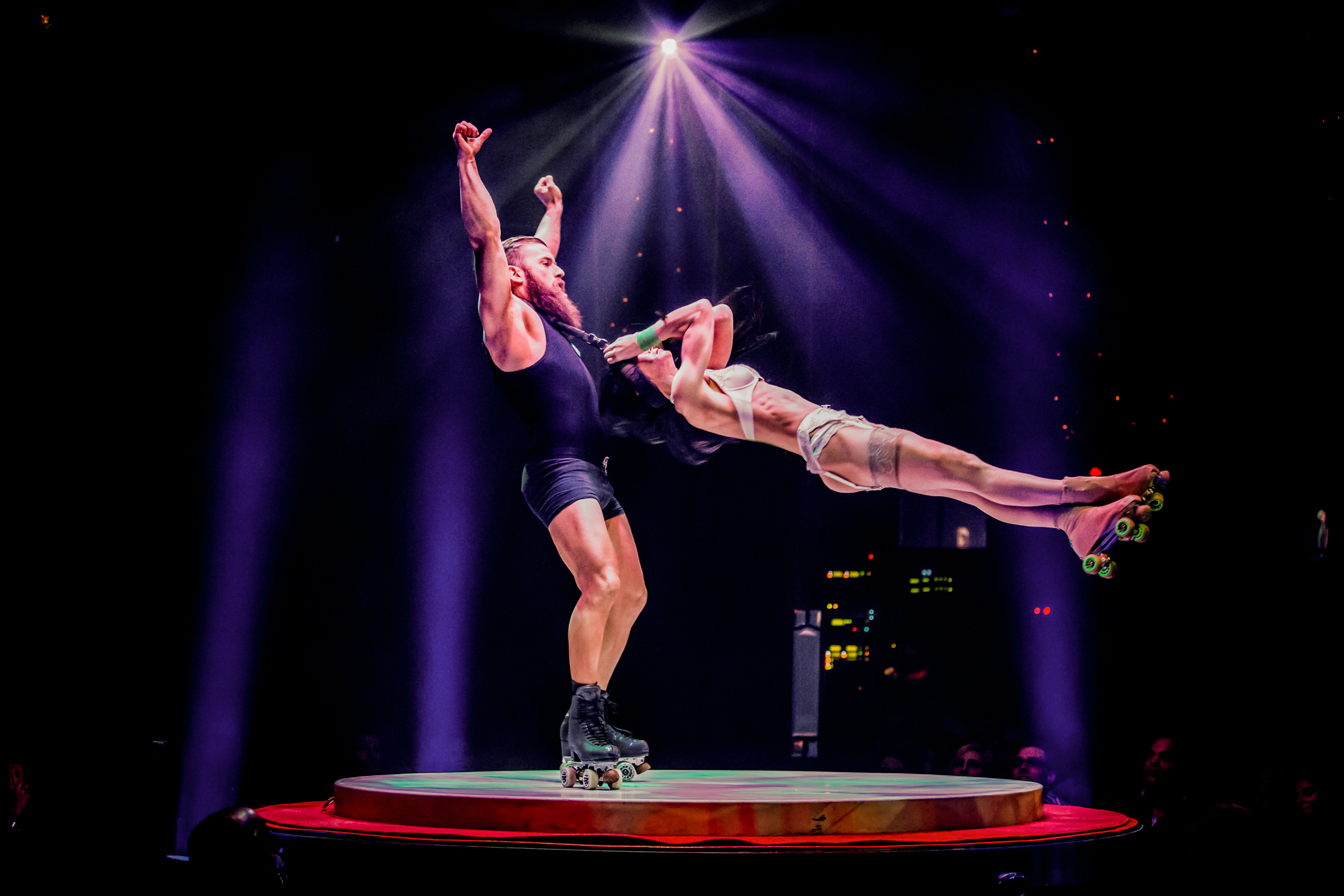 Sexy, sordid, sleazy fun—a new acrobatic and cabaret show straight out of Vegas (and straight out of the past) is coming to L.A. for a limited season.
Inspired by the absinthe-drenched cabarets of late 19th century Europe, ABSINTHE, is an adult-themed cocktail of circus, comedy, burlesque and vaudeville for a 21st century audience. Guests enter the seductively intimate environment of Spiegelworld's tent where the artists perform on a central circular stage only 9 feet in diameter.  In Las Vegas, ABSINTHE has been playing to sold-out audiences at the world's most famous casino, Caesars Palace, since 2011 and celebrates its sixth anniversary there in April.

Spiegelworld's Impresario Extraordinaire Ross Mollison said, "ABSINTHE is a rare opportunity to see extreme circus acts performed in an intimate environment by some of the world's most sexy and talented artists." said Mollison. 
Absinthe is hosted by a notorious Master of Ceremonies known as 'The Gazillionaire' — described as "the gold-toothed, foul-mouthed, lecherous dirtbag who runs the show."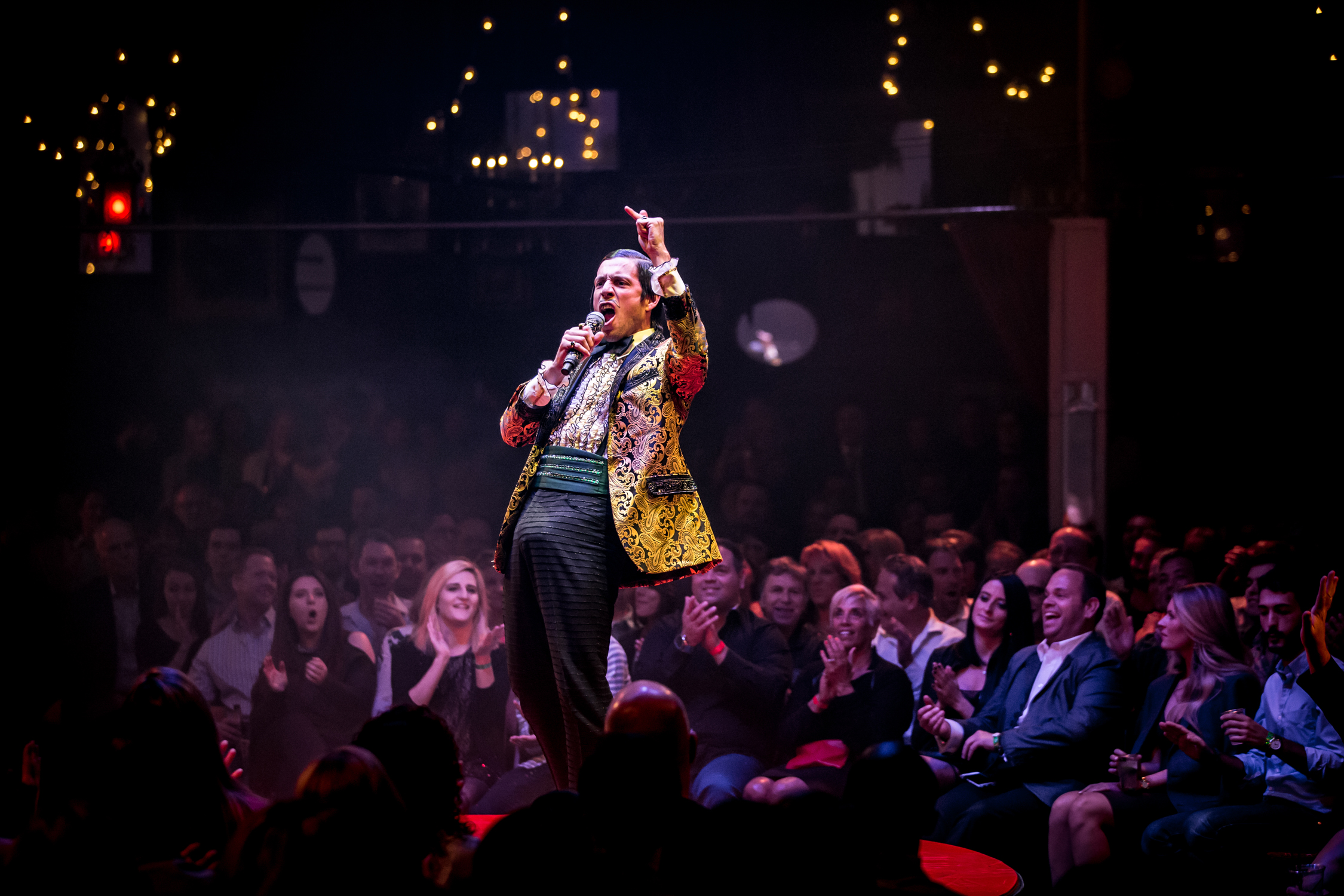 I spoke with the man himself to gain some insight into this theatrical enterprise:
You're The Gazillionaire – how come you need more cash?  Doesn't money make more money?
"Is there such a thing as too much money? And if I didn't put on this show in LA I'd have to spend way too much time one on one with my assistant Dorothy and the thought of that makes me suicidal."
How does someone become a Gazillionaire?
"You can't become a Gazillionaire you just are a Gazillionaire. It can't be taught or learned or acquired or there'd be more of me and there isn't. I'm the only one. Lucky you."
What does that lifestyle entail?
"Mostly yachts and limousines and lots of naked people rubbing themselves all over me. There are a lot of juices, it's all very moist. Also there's booze and tons of whiny celebrities and famous people that want things from me. If they have any talent I might put them in one of my shows but mostly they do my laundry. You know, living a life of travel and sex and booze and oversleeping and constantly bathing in deep pools of money is not something that I would wish on anyone…because then it wouldn't be special for me, and that would be stupid."  
How many women to date are claiming you are their baby-daddy and why have you never heard of condoms?!
"It's an endless list… What's a condom?" 
What is it about the "the absinthe-drenched cabarets of late 19th century Europe" that you find so appealing?
"They're sexy, dirty, anonymous and lawless. You can get away with a lot of desirable shit inside one of those shows. See shit you never thought possible. Then it packs up and leaves. Sound a lot like my sex life…"  
What does that world offer audiences today beyond a trip back in time?
"The greatest show known to man. Absinthe. It also offers the opportunity to forget your troubles, leave your life at the door and witness something sexy, interactive, and unforgettable. We have the hottest talents in the world under one roof, and just mere inches in front of your face. You can literally reach out and touch the performers. But I wouldn't do it or you might get kicked in the face."
Acrobats are a dime a dozen – what's so special about the troupe you have assembled?  Deets, please.
"Not so special. So what if they can do a double standing back flip, or the contortionist can put her own head up her ass. I've seen it all but I know that most audiences haven't seen this shit."
What dumb question did I forget to ask you? (Please supply answer.)
"Absinthe was recently voted the Greatest Show Of All Time in Las Vegas History. Normally I don't give a shit about what people say or polls or voting or anything that involves people making decisions, but in this case it seems someone actually didn't fuck up."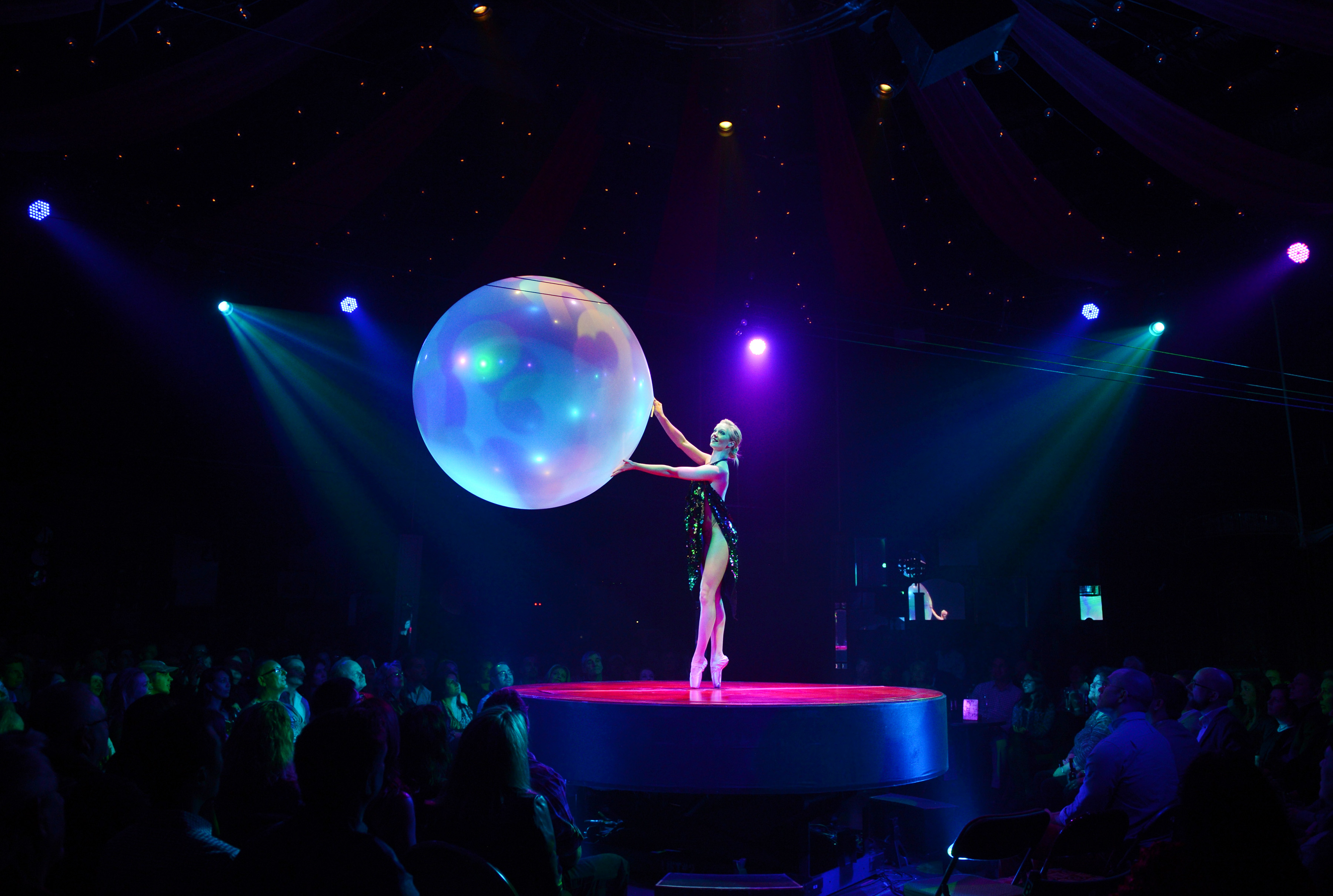 Absinthe by Spiegelworld, presented by L.A. LIVE
Venue: Spiegelworld Tent at L.A. LIVE's Event Deck
1005 Chick Hearn Ct.,
Los Angeles CA 90015
Dates: March 22, 2017 for a limited engagement
Tickets:  Starting at $59.00
More information can be found at AbsintheLA.com
Performances:
Tuesdays and Wednesdays at 7:30p
Thursdays, Fridays and Saturdays at 7:30p and 9:30p 
Sundays at 5:30 and 7:30p
Note: special preview performances – Wednesday, March 22 at 7:30p and 9:30p