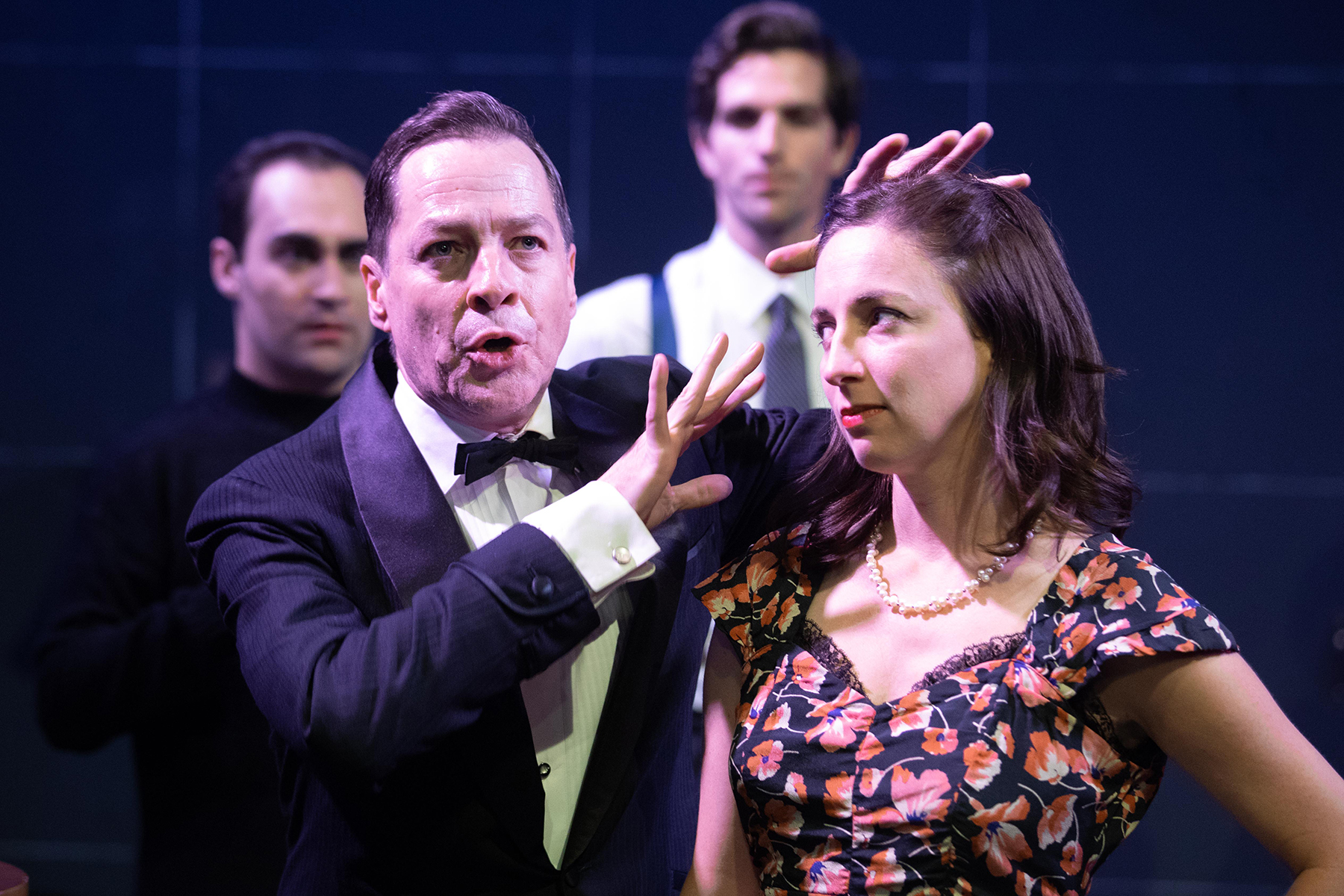 Joe Gilford's elegant play swings with a musical grace that eases us into its troubling dramatic subject matter. Finks is set New York City and Philadelphia during the early 1950s; a time when this country was gripped by Cold War paranoia. We track a period in the lives of a handful of characters—mostly entertainers—who meet and perform in clubs and whose careers and personal integrity become threatened by overbearing government influence in the form of agents of the House of Un-American Activities Commission. The play's title refers to the slur attributed to those were a "rat fink" — a squealer, an informer, a snitch, a stoolie. Specifically, an informer or someone who betrays their family, friends or colleagues to a higher authority to save their own skin.
From the press notes:

On the verge of TV stardom, a comic meets an actress/activist and their romance blossoms—as does their risk of being blacklisted for their political activities. Between 1947 and 1953, the House Un-American Activities Committee was tasked with exposing communist subversion. They conducted hearings which lead to more than 300 directors, actors, radios personalities, and screenwriters to be boycotted by studios and denied job opportunities. Friends were turned against friends, and family members. Most who were named never recovered their careers. Those who willingly testify—naming others to the committee—were branded as "finks."

A New York Times Critic's Pick, Finks was nominated for a Drama Desk Award and Rogue Machine's West Coast premiere production brings together writer Joe Gilford and director Michael Pressman, both children of the Blacklisted. Joe Gilford documents the struggle his parents, entertainers Jack Gilford and Madeline Lee Gilford, endured when they were called to testify.
The play mostly revolves around the budding relationship between Mickey Dobbs (played well French Stewart) and actress/social activist Natalie (another fine performance from Vanessa Stewart). Dobbs is an entertainer who becomes smitten with Natalie and agrees to perform at events she organizes to raise funds for important causes. They fall in love and start a family. But just as Mickey's career looks about to take off in the (new) medium of television, some of his past connections are interpreted as seditious. Pretty soon many of the characters we have formed an affection for are facing the gut-wrenching choice between naming names or refusing to cooperate and suffer blacklisting and a jail sentence.
Under Michael Pressman's direction, his cast all give excellent performances. There's a lovely fluidity to the scenes as they shift from a warm and friendly nightclub or home environment to the cold scrutiny of the Hayes Office hearings, with their brutal interrogations. Richard Levinson is especially good as Dickie Lewis, the piano man as well as the show's musical director, providing live accompaniment from time to time. Finks is not so much a musical as a drama with musical moments. The tone and general vibe is low-key and seemingly effortless, until it sneaks up on you with its emotional sucker punch.
Gilford's play soberly reminds us of the time when attending a protest rally or meeting of activists could cost you your career and livelihood. Gilford's insightful play also recalls the chilling ending of George Orwell's futurist yet horrifyingly prescient novel 1984, that presents a finale that somehow is worse than death. How do you live with yourself when faced with the choice between throwing your friends or family under the bus in order to elude prosecution? Finks is especially disturbing given the current political climate of casual oppression and government-sanctioned fascism.
Wonderfully entertaining and sobering in its dramatic content, Finks is highly recommended.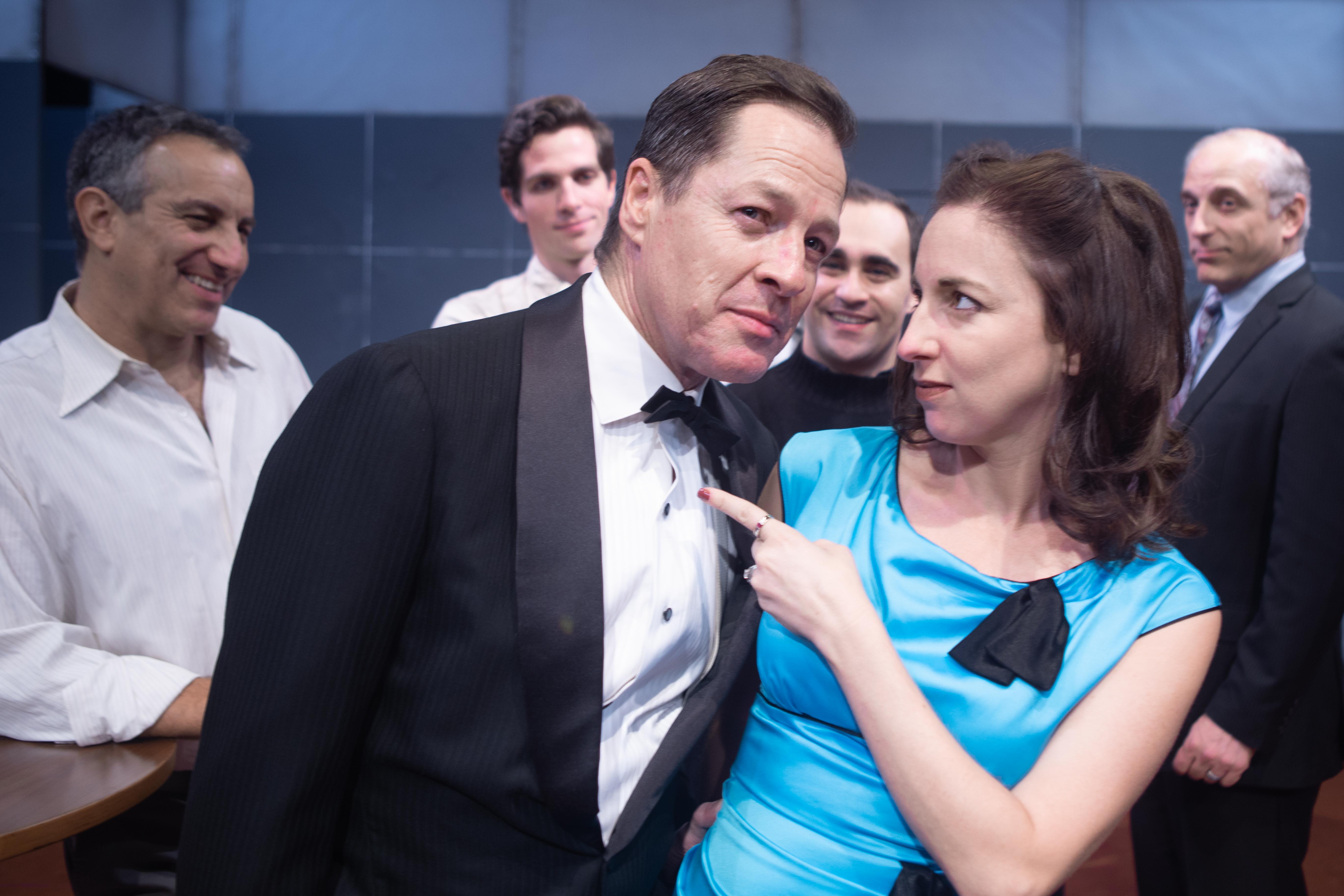 Finks
Playwright: Joe Gilford
Directed by: Michael Pressman
Produced by: John Perrin Flynn, Presented by: Rogue Machine Theatre
ROGUE MACHINE (in Electric Lodge)
1416 Electric Ave. Venice CA 90291
8pm Fridays,
3pm Saturdays,
7pm Sundays
(Exceptions:  12/1 & 12/8 at 8pm)
Pay-What-You-Can. There's a minimum for each PWYW performance: 11/23 $5 minimum; 12/7 $10 minimum. No advance sales. Tickets can be purchased at the box office starting one hour before performance. Availability is limited.
Runs through December 30, 2018
Running time: Approximately two hours, with an intermission.
Tickets: $40.00
Box Office:
For reservations call 855-585-5185 or www.roguemachinetheatre.com