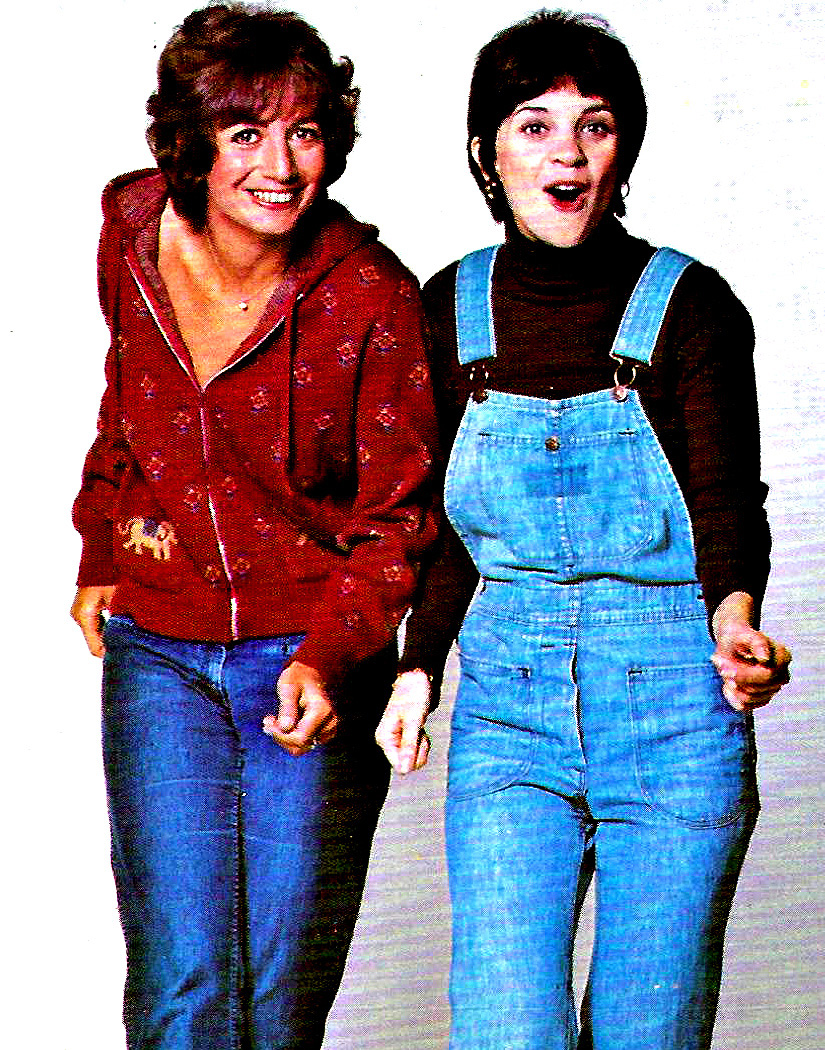 Free to the public!
As a salute to the late Penny Marshall and her iconic character Laverne, the
Garry Marshall Theatre
opens its doors and invites all ages to share in a 12-hour "Laverne & Shirley" marathon on
Sunday, January 27, 2019
from 10:00 am-10:00 pm.
Information can be found by visiting www.garrymarshalltheatre.org.
The open-house marathon celebrates Marshall, Cindy Williams, its all-star cast and the hilarious sitcom that still has families laughing around the world.   Ms. Williams will appear in person as a special guest during the marathon.
Penny Marshall, sister to Garry Marshall, will forever be remembered as the lovable tomboy 'Laverne DeFazio' playing opposite Williams' 'Shirley Feeney' in one of the most popular and memorable series in television history — about two blue collar friends in Milwaukee in the late 1950s.
It was 43 years ago on January 27, 1976 that "Laverne & Shirley" first aired and took America and the world by storm.  The Pepsi Milk-drinking duo began their on-screen antics as guest-stars on "Happy Days" before ABC ordered the infamous spin-off. "Laverne & Shirley" was created by Garry Marshall, Lowell Ganz and Mark Rothman, and premiered in 1976 running for eight seasons, becoming the most-watched TV series by 1977, surpassing "Happy Days."
"There were no blue-collar girls on television" when 'Laverne & Shirley' debuted," executive producer Garry Marshall said in an interview for the Archive of American Television. Viewers "were dying for somebody that didn't look like Mary Tyler Moore or all the pretty girls on TV. They wanted somebody who looked like a regular person. And my sister looks like a regular person — talks like a regular person — and Cindy Williams was brilliant as Shirley."
The series followed the lives of Laverne DeFazio (Marshall) and Shirley Feeney (Williams), who were friends and roommates working as bottle-cappers in the fictitious Shotz Brewery in late 1950s Milwaukee.  Later they moved to Burbank, California, current hometown of the Garry Marshall Theatre.
Michael McKean and David Lander played Lenny Kosnowski and Andrew "Squiggy" Squiggman, their friends and neighbors, and the cast included Eddie Mekka as Carmine Ragusa, Phil Foster as Laverne's father Frank DeFazio and Betty Garrett as Edna Babish, the girls' landlady.
By the third season "Laverne and Shirley" was the most watched American television program and was nominated for two Golden Globe Awards and a primetime Emmy Award in 1979.  Laverne and Shirley were first introduced as acquaintances of Fonzie (Henry Winkler) on "Happy Days" when the timeline of the series began in 1958, and continued through 1967, roughly when the series ended.
The first episode of "Laverne & Shirley" aired in January 27, 1976 and paired with "Happy Days," it quickly became a top ten hit – and eventually overtook "Happy Days" itself for the number one highest Nielsen rated series, a distinction it held for two seasons.  Original episodes continued to air through 1983.
The camera loved "Laverne & Shirley" – but Penny Marshall was later considered a visionary behind the camera.  She directed episodes of the series before becoming a renowned director.  After her film directorial debut, Whoopi Goldberg in "Jumpin' Jack Flash," Marshall directed "Big," starring Tom Hanks who was nominated for an Oscar, and became the first female director to make a film that grossed over $100 million.  That fantasy about a 12-year-old in an adult's body, who then has to live in an adult world, was beloved by audiences and hailed by critics; no one who saw the film ever forgot Hanks dancing on a life-sized keyboard at FAO Schwartz.
"Awakenings" (1990) followed.  Based on a book by Oliver Sacks, it starred Robert De Niro as a patient suffering from Encephalitis Lethargic and Robin Williams as his neurologist, garnering De Niro an Oscar nomination. Later she directed "Renaissance Man" starring Danny DeVito, Gregory Hines, James Remar and Cliff Roberston (1994), "The Preacher's Wife" starring Denzel Washington and Whitney Houston (1996), and "Riding in Cars with Boys" starring Drew Barrymore (2001).   She also produced "Cinderella Man" (2005) and "Bewitched" (2005) and directed episodes of "According to Jim" and "United States of Tara."
Carole Penny Marshall – named after her mother's favorite actress Carole Lombard – was a tomboy who loved sports, doing puzzles of any kind, drinking milk and Pepsi together and being with her family. She was a comedic natural with a photographic memory and an instinct for slapstick.
She grew up on the Bronx' Grand Concourse (3235) which was the childhood home of Neil Simon, Paddy Chayefsky, Calvin Klein and Ralph Lauren.
She began her career appearing in a commercial for Head and Shoulders shampoo opposite Farrah Fawcett.   Her big break was in 1970, when Garry, her brother, cast her to play Myrna in "The Odd Couple" series starring Jack Klugman and Tony Randall.  In her final appearance she married her boyfriend Sheldon, played by Rob Reiner, who at that time was her real-life husband.  Later she appeared on "The Bob Newhart Show" (1972-1973) and "Paul Sands in Friends and Lovers" (1974).
Garry Marshall always said that Penny was "a girl from the Bronx, who came out West, put a cursive 'L' on her sweater and transformed herself into a Hollywood success story."  Kathleen Marshall LaGambina, Penny Marshall's niece, said, "We hope her life continues to inspire others to spend time with family, work hard and make all of their dreams come true."
"I like something that tells a story or that tells me something I didn't know," Penny told the San Diego Union-Tribune in 1992. "It should have humor in it — or it should have heart.  And if it doesn't, I'll make it have heart."
In 1992 she directed "A League of Their Own" about a woman's baseball league during World War II, which starred Madonna, Geena Davis, Rosie O'Donnell and Tom Hanks – which grossed $132 million.  Justine Siegal, founder of Baseball for All, which organized girls baseball tournaments, told USA Today that her players have "memorized the movie."
Shirley Burkovich, one of the last surviving team members from the All American Girls Professional Baseball League (1943 to 1954) said in USA Today, "young girls come up to me to show their appreciation.   If it had not been for Penny Marshall, the All-American Girls Professional Baseball League would still be unknown.  We feel very grateful and a deep gratitude to Penny Marshall, for giving us the recognition that we now feel we deserved."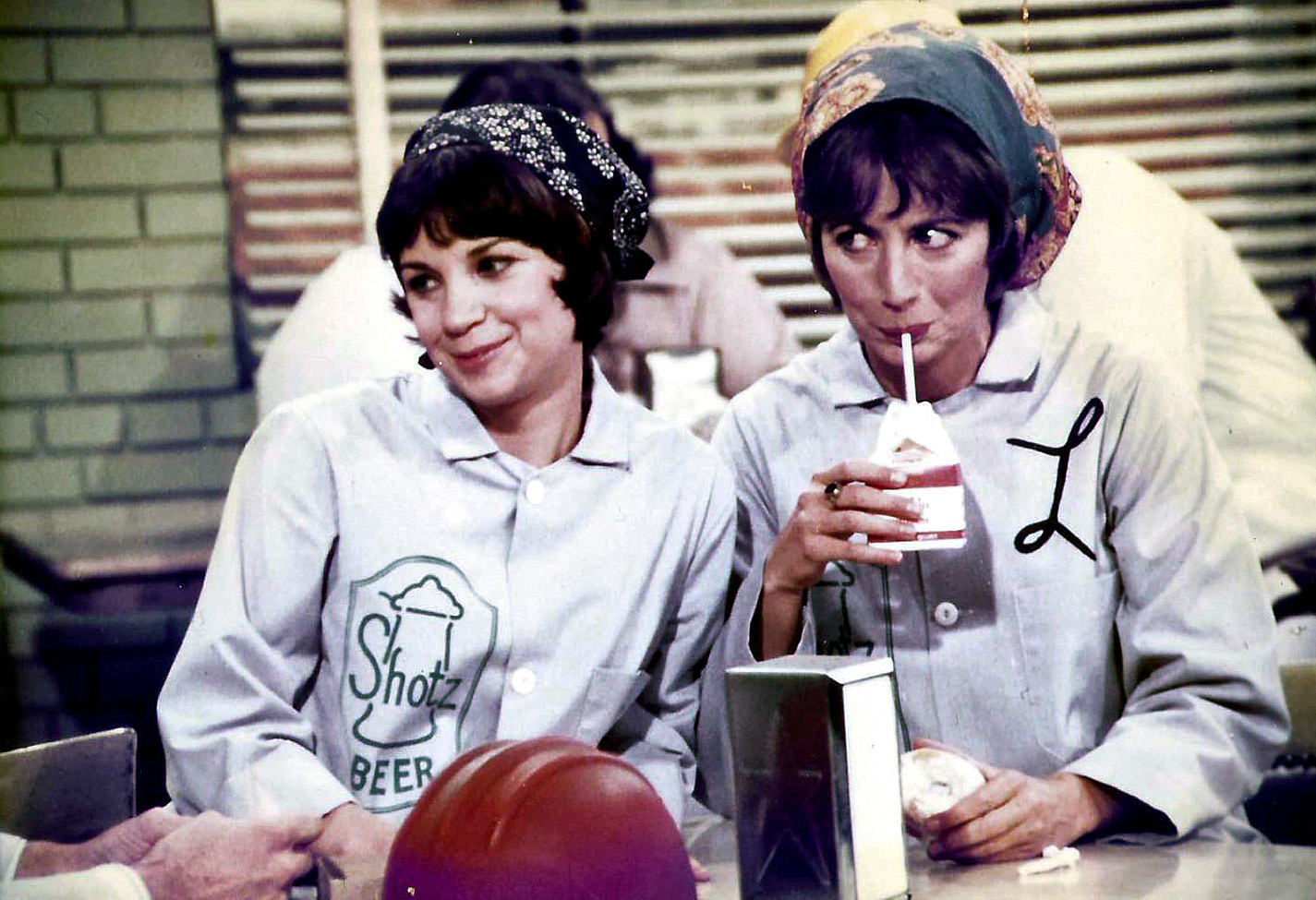 Some of Penny Marshall's Favorite Episodes shown during the "Laverne & Shirley" Marathon:
"Fakeout at the Stakeout" Episode 11
Laverne goes undercover as a decoy to help catch a thief, as the Milwaukee Police Department has no female officers. Bo Kaprall played Officer Norman Hughes, who would turn up in a handful of later episodes.
"Drive! She Said" Episode 16
In the season two premiere, Shirley has her eye on a $200 car (a 1952 Hudson Wasp convertible) owned by one of Carmine's pals. Only, she's a little short of cash and needs Laverne to pony up half the cost. One catch — Laverne can't really drive.
"Angels of Mercy"  Episode 17
Shirley talks Laverne into joining her at the hospital as a volunteer worker. But the two are truly looking for love, as Shirley angles for a doctor and Laverne crushes on a neighbor, Jerry (Charles Frank), undergoing knee surgery.
"Excuse Me, May I Cut In?" Episode 19
A visit from the Happy Days boys! The girls get Richie and Potsie as partners for a dance contest in this crossover episode. This also marked the first appearance of Betty Garret as Edna Babish, the landlady.
"Bridal Shower"  Episode 20
The girls receive an invitation to the wedding shower of Elinor Stephanick, the third-to-last unmarried member of their high school sorority. Old high school beefs make for one unpredictable shower.
"Dear Future Model"  Episode 22
The girls meet a model at the pizza joint. She's pretentious, but earning $60 per hour. So Laverne and Shirley enroll in the Famous Academy of American Modeling By Mail — at a mere $7.50 a pop — and end up posing for "Lovely Lady Lingerie."
"Guilty Until Proven Not Innocent"  Episode 26
Laverne accidentally stuffs a $75 scarf into her purse at an expensive clothing boutique. The theft lands her behind bars — with the bail set at $500!
"Guinea Pigs"  Episode 29
The girls need money, as usual, this time for a businessmen's cocktail party with a $20 entry fee. To get the cash, the two volunteer as paid subjects in scientific experiments at Institute of Behavioral Sciences. Laverne enters a sleep study; Shirley, a nutrition study. Harry Shearer guest stars, teaming up with his future Spinal Tap band member Michael McKean (Lenny).
"Call Me a Taxi"  Episode 30
Shotz Brewery lays off the bottlers for three weeks, so the girls find work as taxi dancers (a paid dance partner in a partner dance). The fee?  A skimpy 10¢ per dance.
"Steppin' Out"  Episode 31
Laverne and Shirley have a big date and want to look their best. A raging fire across the street has other plans.
"Airport '59"  Episode 39
In the season three premiere, Laverne and Shirley win the Shotz lottery and tickets to see the Packers play the Colts in Baltimore. This mean the first ever airplane ride for Laverne. Unfortunately, the pilot passes out, meaning one of them will have to take the controls!
"Supermarket Sweep" Episode 79
Much like the Supermarket Sweep game shows of the 1960s and 1990s, this episode centers around Laverne winning a manic grab-all in a grocery store. How much food can one possible fit into a cart — and a sweatsuit for that matter?
 "Laverne & Shirley" Marathon:
Garry Marshall Theatre
4252 West Riverside Dr.,
Burbank CA 91505
Date:                    Sunday, January 27, 2019 from 10:00am to 10:00pm
Tickets:                   Free to the public
Info:                        www.garrymarshalltheatre.org or call 818-955-8101