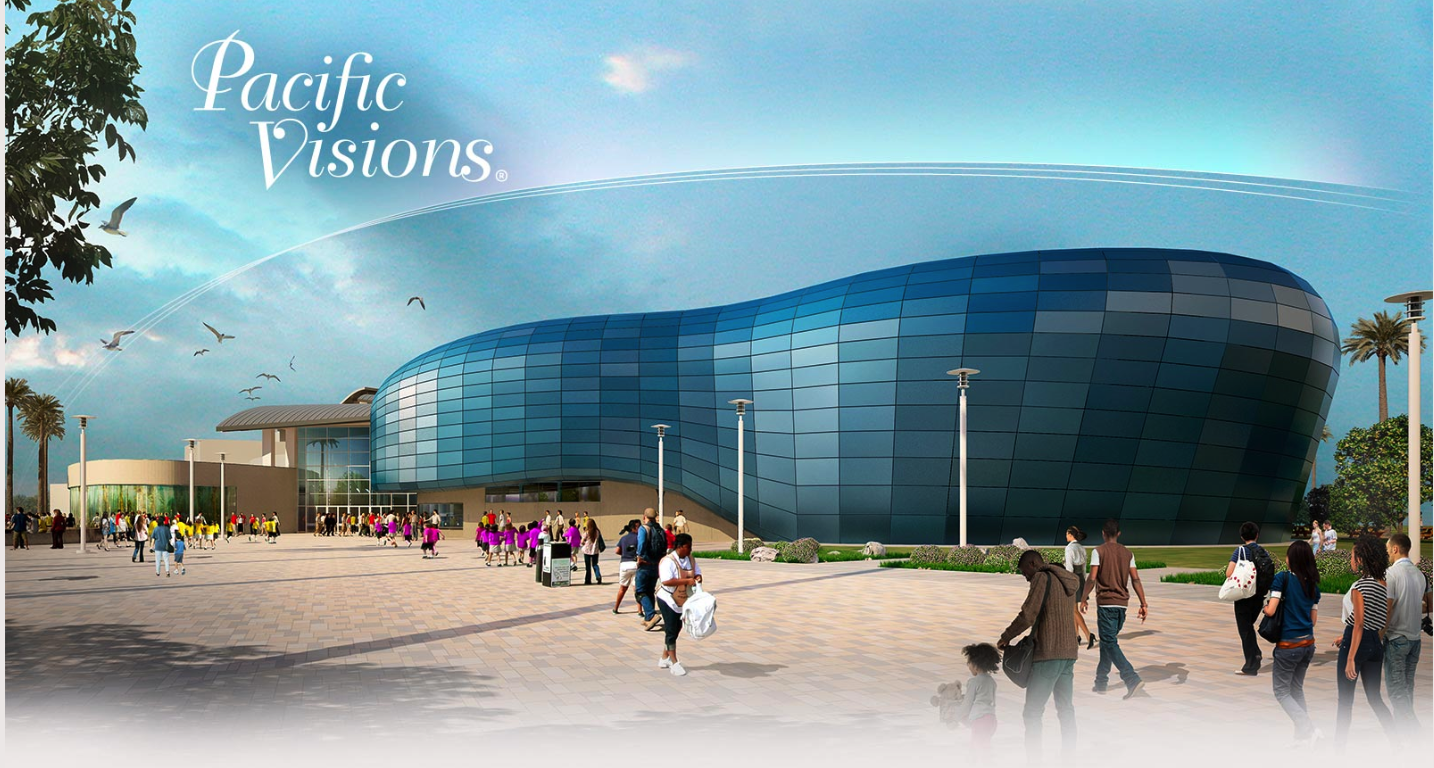 Pacific Visions is a new wing opening at the Aquarium of the Pacific on May 24, 2019, with inaugural exhibitions and programming. The venue will allow visitors to explore our relationship with our planet and alternative pathways to a better future. It will include an art gallery, immersive theater, multimedia interactive installations, and live animal exhibits.
Pacific Visions, a 29,000-square-foot, two-story, sustainable structure designed by the San Francisco-based architecture and design firm EHDD, will house a state-of-the-art immersive theater, exhibition space, an art gallery, and several new live animal exhibits. As the new focal point of the Aquarium, Pacific Visions will provide a platform to integrate the arts and sciences and will offer visitors innovative ways to explore their impact on planet Earth and the ocean and how to reduce it.
To learn more about Pacific Visions, visit aquariumofpacific.org.
"The Aquarium is taking a bold, unconventional path with Pacific Visions. Rather than focusing on bigger exhibits and more spectacular animals, the new wing will turn the spotlight on the one species on our planet that is changing the future for all others—humans," said Dr. Jerry R. Schubel, Aquarium of the Pacific president & CEO. "Pacific Visions is the culmination of more than a decade of planning. It will challenge our visitors to examine human impact on our ocean planet and engage in the choices that will reduce that impact."
With the new expansion, the Aquarium continues its quest to create the aquarium of the future—a combination of aquarium, science center, art gallery, performing arts space, and a think tank to explore solutions to some of our world's biggest environmental issues. Pacific Visions programs will tackle issues including: climate change, extreme weather, sea level rise, water shortages, and creating a food supply to feed an additional 2.5 billion people by farming the land and the sea.
Visitors enter Pacific Visions through a 2,800-square-foot art gallery. The inaugural art installation designed by Germany-based design company Convivial Studio immerses the visitor in sea life through a multi-channel video installation, spatial soundscapes, and sculptural relief walls enhanced with lighting.
The Aquarium and Convivial Studio have partnered with leading scientists and underwater photographers to capture the diversity of life that inhabits coral reefs in the Pacific Ocean and the microscopic world of plankton. The multimedia installation will comprise two three-minute projection sequences called Coral World and Plankton World, each created with generative systems behind the visuals to produce subtle changes in each film cycle. Using video of plankton specimens and a scientific database from biologist Christian Sardet, Convivial created a simulation with images of hundreds of planktonic species drifting and interacting in scaled-up compositions. Over recent years, Sardet and his team have developed new imaging techniques derived from medical applications to film the diverse types of plankton collected from the ocean. In addition, Convivial used high-resolution films of coral reefs filmed by diver Howard Hall to create panoramic seascapes.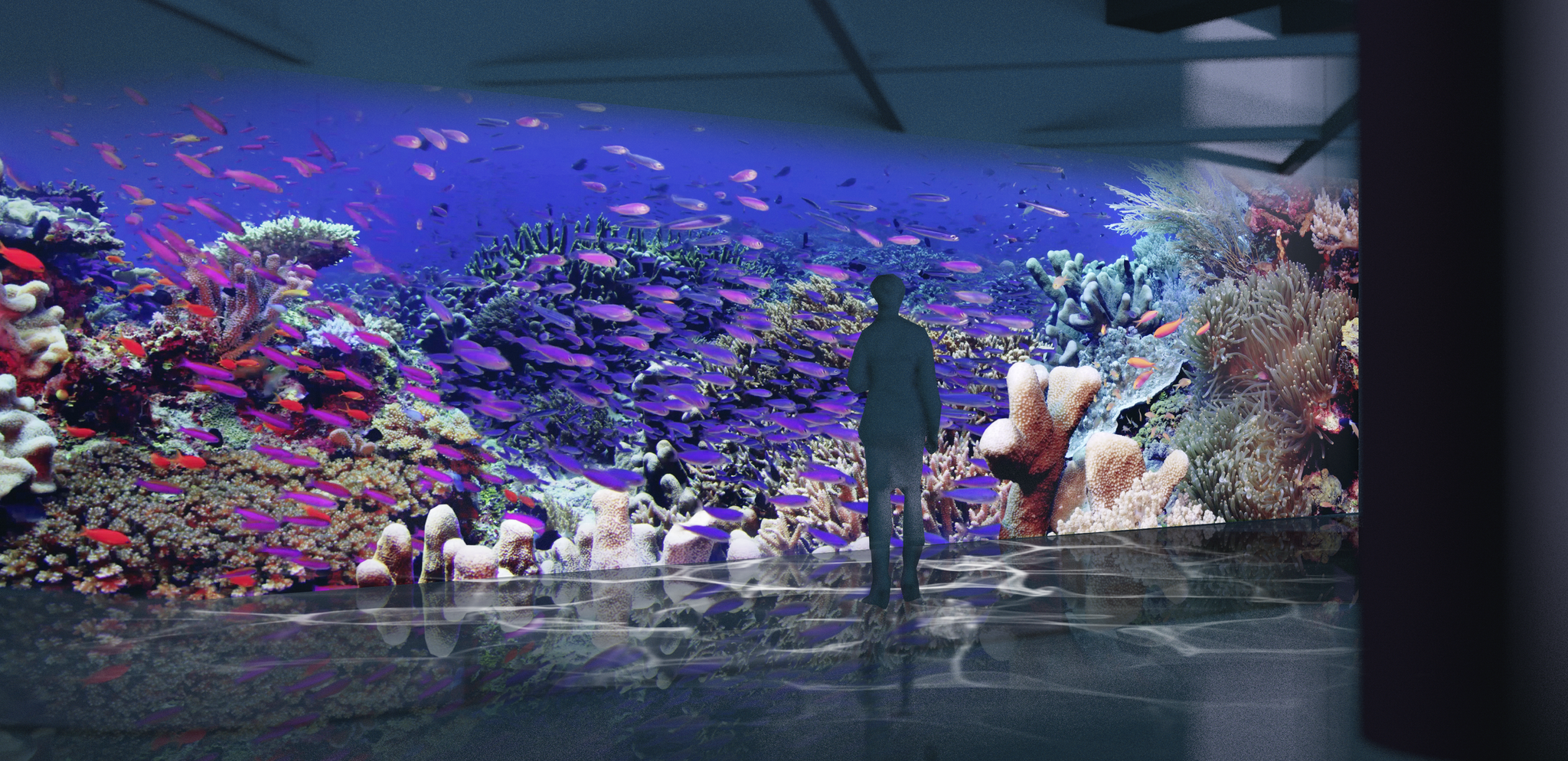 The gallery will also include large-scale relief walls made of silicon and polymer materials that imitate the different textures found on coral reefs, overlain with video projections. Through touch combined with an oceanic soundscape recorded by Tim Gordon and Dr. Stephen Simpson in the Coral Triangle Region, visitors are virtually immersed in a variety of underwater environments.
"It's been an honor to work with scientists around the world, learning more about their research and utilizing their data sets in our art installation for Pacific Visions," shared Paul Ferragut and Ann-Kristin Abel of Convivial Studio. "We were charged by the Aquarium to create an experience that would inspire visitors with wonder at the richness of marine life on our ocean planet, and we look forward to seeing how the public responds to the Coral World and to the Plankton World."
After passing through the art gallery, visitors will move into a 2,600-square-foot gallery, which will showcase an 18-foot-wide virtual waterfall with interactive elements that respond to movement. A 26-foot-wide by 8-foot-tall media wall features a film that introduces visitors to the history of life on Earth, the effects of humans on the planet's biodiversity, and opportunities to turn the tide as the world's population approaches 10 billion people in 2050. These resources will be further explored when visitors enter the two-story, 300-seat Honda Pacific Visions Theater.
The state-of-the-art theater houses a 130-foot-wide by 32-foot-tall screen that curves in a 180-degree arc. The theater also features a 30-foot-diameter floor projection disc, which will further immerse visitors in a virtual ocean environment in a space designed to host media-rich performances, panel discussions, community meetings, and educational seminars. The Honda Pacific Visions Theater content is being developed by the Aquarium and Cortina Productions in partnership with leading scientists, filmmakers, storytellers, and digital artists. The inaugural film will bring the ocean planet to life with stunning high-resolution imagery, and a variety of special effects. The film will investigate human production and use of food, energy, and water as resources that are essential to life and help viewers imagine what creative innovations will help manage these resources for the world's growing population in the future. The film presents opportunities for positive change and invites viewers to design a sustainable future for both humans and nature through personal and collective choices.
In Pacific Vision's final 5,000-square-foot culmination gallery designed by Bowman Change Inc. with Cortina Productions, visitors will have an opportunity to envision the steps we can take to create a better planet through interactive game tables, displays, and live animal exhibits. Three interactive tables exploring food, energy, and water will be set throughout the space. These large multiplayer interactive tables highlight California's ongoing efforts to create resource sustainability. A fast-paced cooperative game challenges visitors through a series of personal consumer choices and civic choices to make the resources supply sustainable and provide enough food, water, and energy for California's growing population. As time advances, players must work together to manage the resources to meet society's needs while protecting the environment.
In addition to the tables, the gallery features a 50-foot interactive wall, where an array of ocean imagery transports visitors beneath the waves. Marine life swims through the current of the oceanscape. Visitors engage with the content of the wall by gesturing, activating content to learn about stewardship of the ocean, climate change, and sustainability. The culmination gallery will also feature a tall population tower that shows the projected growth of California's population, records the global population in real time, and shows the projected population out to 2050. It also explores ways to stabilize and then reduce the global population.
Pacific Visions forms a natural extension of the Aquarium of the Pacific's existing facilities. Visitors move from Pacific Visions to the second floor of the main Aquarium building to continue to the educational exhibits and experiences well-known to Aquarium visitors since 1998. A Pacific Visions app designed by Artifact Technologies will enable visitors to remain connected and share the experience with friends and family.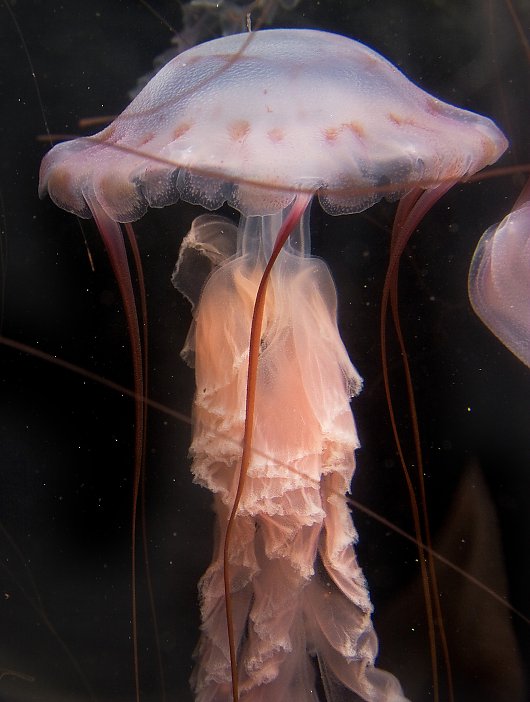 About the Pacific Visions Building:
The Pacific Visions building is designed as a biomorphic structure that evokes the size, depth, variability, luminosity, and biological diversity of the Pacific Ocean. Complementing the Aquarium's existing building, also designed by EHDD, Pacific Visions has a façade with over 800 individually shaped panels that respond to changing light and weather conditions throughout the day with varying colors to mirror the effect of sunlight rippling on the ocean's surface. Having recently earned the distinctive Two Green Globes certification from the Green Globes® building rating system for demonstrating leadership in best practices regarding environmental efficiency, Pacific Visions' sustainable design priorities include water and energy conservation, use of environmentally friendly materials, and greenhouse gas minimization.
About the Aquarium of the Pacific:
The Aquarium of the Pacific Board of Directors adopted the institution's Campus Master Plan in 2005. In 2008 the Aquarium opened its watershed exhibit, Premier Watershed classroom, and native garden area, now known as Our Water Future. In 2011 the Aquarium opened the Ocean Science Center, featuring the National Oceanic and Atmospheric Administration's (NOAA) Science on a Sphere® (SOS)—a 6-foot-diameter sphere representing Earth that displays animated images of the atmosphere, ocean, and continents using satellite and real-time NOAA and NASA system datasets for storytelling.
The nonprofit Aquarium of the Pacific is a community gathering place where diverse cultures and the arts are celebrated and where important challenges facing our planet are explored by scientists, policymakers, and stakeholders in search of sustainable solutions. The Aquarium is dedicated to conserving and building nature and nature's services by building the interactions between and among peoples. Home to more than 11,000 animals, Aquarium exhibits include the Tentacles and Ink and FROGS: Dazzling & Disappearing exhibits. Beyond its animal exhibits, the Aquarium offers educational programs for people of all ages, from hands-on activities to lectures by leading scientists. The Aquarium has won a 2015 Travelers' Choice Award for Aquariums, as awarded by TripAdvisor® travelers The Aquarium won a 2015 Travelers' Choice Award for Aquariums, as awarded by TripAdvisor® travelers, and the 2016 TripAdvisor® Certificate of Excellence. To learn more about Pacific Visions, visit aquariumofpacific.org.
Campaign & Project Background:
Pacific Visions is supported by the City of Long Beach with a $15 million matching grant, a $5 million matching grant from John, Michelle, Mario, and Therese Molina, and $5 million from American Honda Motor Co., Inc. Private donations and commitments of $1 million or more have been generously given by James and Marilyn Simons, Dr. Allen and Charlotte Ginsburg, Don Temple Family Charitable Foundation, PREMIER/SMG, Rivers and Mountains Conservancy, and one anonymous donor. Donations and commitments of $100,000 or more have been generously given by the following corporations, foundations, and individual donors: Chip Conley; Kenneth T. and Eileen L. Norris Foundation; The Ahmanson Foundation; The Rose Hills Foundation; John and Nancy Edwards Family Foundation, Don Knabe, Los Angeles County Supervisor, Fourth District;  Confidence Foundation; The Ralph M. Parsons Foundation; The Rudolph J. & Daphne A. Munzer Foundation;  Esther S. M. Chui Chao; LGA Family Foundation; Pacific Life Foundation; California Resources Corporation; Edison International; The Boeing Company; W. M. Keck Foundation; Lakeside Foundation; Schulzman-Neri Foundation; Betty White Ludden; California Natural Resources Agency; The Hearst Foundations; Johnny Carson Foundation; Farmers & Merchants Bank; Bob and Jennifer Hagle; King's Seafood Company; Tom Turney and Jill Boivin; Russ and Avalon Hill; the Quiksilver Foundation; Henry and Paulette Matson; Mark Paullin; Peter and Cathy Ridder; and two anonymous donors.
About Convivial Studio:
Convivial Studio is an experiential design studio creating artistic projects and installations utilizing innovative technology. Convivial believes in cross-disciplinary collaboration to suggest immersive experiences. Investigating the intersection between science, art, and technology, they project scenarios of a potential future. By merging the digital and the physical, the real and the imagined, Convivial creates emotionally engaging experiences with an element of wonder. Convivial Studio was co-founded by Paul Ferragut and Ann-Kristin Abel in London in 2014 and is currently based in Köln, Germany.
Convivial's work has been exhibited at the Victoria and Albert Museum and the Design Museum in London and Kuenstlerhaus in Vienna. The studio's past projects includeKinedioscope, a technique they invented to create animated depth effects on static photographs, which was used in a project developed at the Autodesk residency in San Francisco and shown at the Japan Media Arts Festival. The studio also created the Probable Universe, an interactive audio-visual installation with projected worlds in a physical environment using an industrial robotic arm, which was shown at the Circle of Lights International Festival in Moscow. A portfolio of past projects can be seen at convivial.studio/work/.
To see the latest updates, follow the hashtag #PacificVisions.