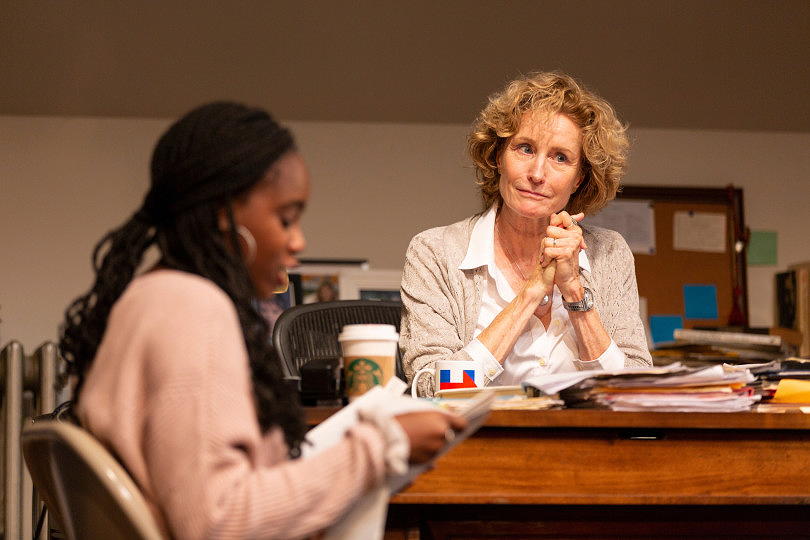 Last days to catch The Niceties by Eleanor Burgess, playing at the Geffen Playhouse until Sunday, May 12th.
The premise of this intelligent and powerful drama immediately recalls that of an earlier play: David Mamet's Oleanna from 1992.
Oleanna is a two-character play by David Mamet, about the power struggle between a university professor and one of his female students, who accuses him of sexual exploitation and, by doing so, spoils his chances of being accorded tenure.
Also a two-hander, in The Niceties an ambitious young black college junior (played well by Jordan Boatman) meets with her tenured white professor (an equally fine performance by Lisa Banes) to discuss a paper she is writing about the American Revolution. Soon, discussions of grammar and research turn to debates on race and reputation. Two brilliant minds from two generations clash with explosive force.
In both plays the shifting power struggle tips like a see-saw. Comparisons between the two plays are avoidable. Although the premises of each play overlap, it seems as if playwright Eleanor Burgess has used the former play as a springboard to explore topics that feel more nuanced, insightful and relevant. In her fiery drama, the dialogue exchanges crackle with combustible energy.
The play opens with the professor poring over her student's thesis paper, coaching her on the minutiae of grammar and pointing out her errors with condescension. Jovial and collegial, Janine (the professor) soon reveals herself to be tone deaf to the fruits of her white privilege. Zoe, her student, soon begins to challenge Janine's biased view of history, volleying back sophisticated arguments with aplomb. Eventually we witness a colossal battle of wits and intellect, with each combatant on opposite sides of age and race rather than the gender divide of Mamet's play. Circumstances dictate a shift in tone from Act One to Act Two that sees the professor's demeanor altering from patronizing to obsequious.
Directed by Kimberly Senior, the performances are well-orchestrated as the characters navigate some tricky terrain. The staging serves the play well, as does Cameron Anderson's single-set of the professor's attic office, with its white walls and slanting ceiling. Here white supremacy is indicated by the vast and oppressive expanse of the sloping white ceiling. Even the arch windows suggest religious colonialism. A painting is conspicuously absent for Act Two. But the play's brutal final line is clumsily underscored by a loud sound effect and a baffling (symbolic?) scenic transition. Despite this misstep, The Niceties is a riveting play and well worth seeing.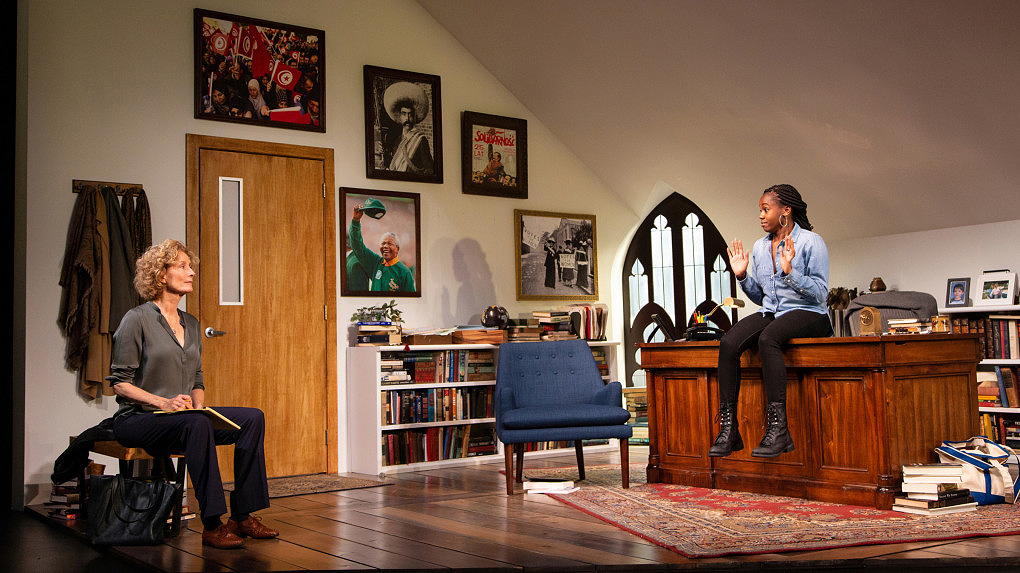 The Niceties by Eleanor Burgess
WEST COAST PREMIERE
Gil Cates Theater at the Geffen Playhouse,
in Westwood.
10886 Le Conte Avenue,
Los Angeles, CA 90024
Runs throughSunday, May 12, 2019.
PERFORMANCES:
Monday No performance
Tuesday – Friday 8:00 p.m.
Saturday 3:00 and 8:00 p.m.
Sunday 2:00 and 7:00 p.m.
Running time is 1 hour and 50 minutes, with one 15-minute intermission.
TICKETS:
Tickets currently priced at $30.00 – $120.00. Available in person at the Geffen Playhouse box office, by phone at 310.208.5454 or online atwww.geffenplayhouse.org. Fees may apply.
Rush tickets for each day's performance are made available to the general public 30 minutes before showtime at the box office. $35.00 General / $10.00 Student
COLLEGE AUDIENCES:
Through a variety of events and other opportunities, the Geffen Playhouse welcomes college students to experience the live storytelling presented on our stages. We are proud of our association with UCLA's School of Theater, Film, and Television, and open our doors to all college students throughout Los Angeles.
More information is available at www.geffenplayhouse.org/college.