Deborah Brockus, director of BrockusRED, has choreographed DUST: Permutations of the Unknown In collaboration with visual artist Richelle Gribble, and composers Peter Askrim and Zac Greenberg for three performances at Ivy Substation Theater, 9070 Venice Blvd., in Culver City 90232 for three performances only July 5 and 6 at 8:00p.m. and July 7 at 2:00p.m. Tickets are available at www.BrockusRED.org

The performances are accompanied by a Sustainability Plastic Replacement Fair with leading companies and organizations at the Ivy. Brockus follows performances on DUST with Women Rising: Choreography from the Female Perspective at Ford Theatres on August 16.

DUST is a dance multimedia work exploring the patterns in nature and humanity of our time with a focus on the monster of plastic of our own creation that is overtaking the ocean, and eventually our species. Annually, four to twelve million metric tons of plastic enter oceans enough to cover every foot of coastline. Every minute we make plastic one million bags; the amount of oil it takes to drive a car a mile, is the same amount to make just 14 bags. Americans alone use 100 billion bags per year: 12 million gallons of oil. Time Magazine said that "Americans eat and inhale over 70,000 plastic particles each year."

DUST starts as its base historical writing of ancient and past civilizations to create a different perspective on the current crisis of environmental loss. The work asks these questions: Are we the keepers or rulers of earth? Is our hubris is leading to our destruction? What and how quickly can we learn about our place in the ecology to change our fate?
"Inspiration and lessons from our natural environment have influenced mankind since our beginning," said Brockus. "In 1686 Isaac Newton presented this third law of motion: for every action (force) in nature there is an equal and opposite reaction. No system in the natural world works in isolation or is unique — energy and matter do not disappear but rather reform.

"I am creating DUST to be an uplifting journey through nature on earth and human thought with a focus of the laws and patterns found in nature and the ability to recover recycle and heal. We know that the earth will be fine in the long run – but if humans want to survive we will need to make some changes fast.

"This question hangs over my thoughts: When does plastic become dust?"

Deborah Brockus.

As dancer and choreographer, Deborah Brockus has worked nationally and internationally on stage, in film and television. Working in modern, jazz, musical theater and social dance styles.
She is the artistic director of Brockus Project Dance Company founded in 1991. The company is currently working under the undated name Brockus:RED. Her choreographic style blurs the line between modern and jazz techniques, reflecting both European influences and East and West Coast training. The dances are high energy and emotional reflections of the humanity. The company has tours internationally and across America.

This performance is made possible in part by the City of Culver City, in celebration of the 25th anniversary of the Performing Arts Grant Program, with support from Sony Pictures Entertainment.

Brockus Project Dance Company events are supported in part by the Los Angeles County Board of Supervisors through the Los Angeles County Arts Commission.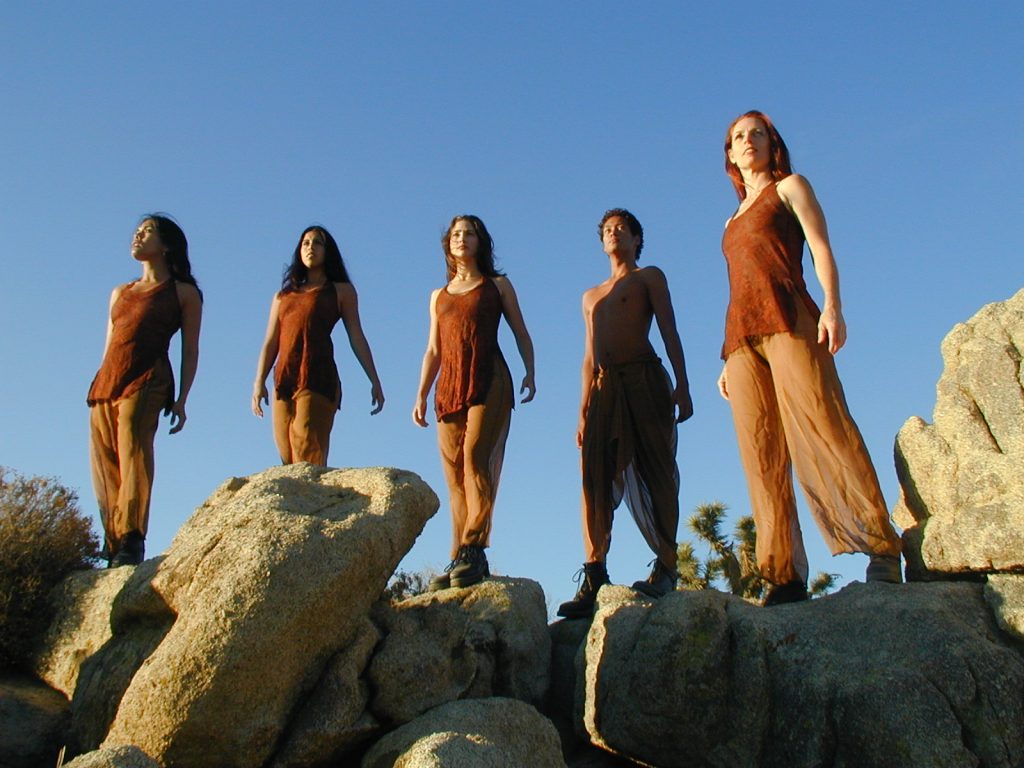 DUST: Permutations on the Unknown
Three performances + Sustainable Fair

Choreography by Deborah Brockus
In collaboration with visual artist Richelle Gribble and composers Peter Askrim and Zac Greenberg

When: Friday, July 5 at 8:00pm | Saturday, July 6 at 8:00pm| Sunday, July 7 at 2:00pm
Where: Ivy Substation Theater, 9070 Venice Blvd., Culver City 90232
Tickets: at $25.00 available here.
Priority reserved seating also available.

We are taught: waste not |want not
Patterns in nature: what we remember | what we forgot
Ocean: clouds | rain | river |oceans
Seasons: leaves | heartbeat | breathing | our veins | freeways
The earth: break down | no waste | recycling | repurpose | reconstruction
Stone: dirt |dust |rock

Deborah Brockus.

More About Deborah Brockus:

I get crazy creative ideas while stuck on freeways. I think "Big Picture" and long term. I love this city and love the dance that happens here..

"Curated by Deborah Brockus, these events are unmatched in assembling some of the best dancers and choreographers from a spectrum of dance styles and an unparalleled way to catch up with the local dance scene" LA Weekly.

Brockus is the director of the Los Angeles Dance Festival (LADF), which just celebrated its 7th year of bringing attention to the best contemporary dance, most recently at Luckman Fine Arts Complex at California State University, Los Angeles (Cal State LA) and the Diavolo Studio Black Box. It is an annual gathering place where the public can experience and sample curated programs featuring the wide range of concert dance that is produced here. LADF also offers ways for the public to participate directly with the creators who work in this vibrant art form.

LADF features top talent in the dance scene who are recognized locally, nationally and internationally. The dancers and choreographers in LADF work in both the concert and commercial, Hollywood industry. Their work is featured onstage around the world in theaters and in feature films, television shows, music videos, commercials and concert tours.

Brockus also produces Dance in LA showcases, which include Spectrum (local professionals), New Perspectives (High School Invitational), Split (mixing local and out of state companies), Caught Between (multi-media) and Why We Dance Series (dialogue between artists and audiences). The Spectrum Dance in LA series received a Lester Horton award for "Outstanding Production of a Festival or Series" in 2002 and was nominated again in 2003 for Split and in 2004 for Spectrum.
I moved here in the 1970 as a child with my family.I have been dancing my whole life. I was put into ballet to help me walk. I graduated with two degrees from University of California, Irvine's dance program. I am the only artist in a working class family.
I have a passion for dance, and for Los Angeles. Our dance in LA is big, bold and powered by year round sun. For much of our history we had a lot of space – with that sense of space, we could create and move larger in our dance, and our dances have a more positive vibe.

This land – Los Angeles – does not carry the established rules of how things are done – there is an absence of hierarchy or 'gate keepers.' There is great freedom here, there is also a lack of path, or maybe more a requirement to create a new and untrodden path, and it is a place where the spirit of the west exists — where anything you dream of, you are free to try.
Brockus is a dance educator working at many levels. She has been choreographing on her company Brockus Project Dance Company (BPDC) since 1989; BPDC has toured the US and in France, and is a 501-c3 non-profit company, receiving funding from the LA County Arts Commission, City of LA Cultural Affairs Department, California Arts Council, Culver City Arts Council, City of Long Beach Arts Council, The Miller Foundation, CCI and donors.

Visual Artist Richelle Gribble:

Richelle Gribble is a multidisciplinary artist exploring planetary connectivity. Her work examines networks and systems-based investigations to reflect the ways human impact, technology, and environment interact and evolve. She is a represented artist with Jonathan Ferrara Gallery exhibiting worldwide. She has had solo shows in Los Angeles, New York, Japan, and international orbit around Earth etched on satellites and aboard rockets. She has exhibited at renowned art fairs including Art Market San Francisco, Texas Contemporary, and Miami Project and had her artwork illuminated on a LED screen in Times Square NYC.

A strong advocate for bridging art and science, Gribble leads collaborations across industries with exhibitions at rocket companies, arboretums, bio-laboratories, hospitals, airports, and outer space. She founded The Nook Gallery, a gallery devoted to highlighting artists merging science, art, and technology. She is a curator and board member for FEMMEBIT, an art and technology festival celebrating women in video and new media as well as co-coordinates Byte of Science, a monthly lecture series uniting artists and scientists in Los Angeles, CA. Work presented in a TEDxTrousdale talk "What is our Role within a Networked Society?" and published in The Creator's Project, The Atlantic, Artillery Magazine, and VICE.


Composer Peter Askim:

Active as a composer, conductor and bassist, Peter Askim is the Artistic Director of the Next Festival of Emerging Artists and the conductor of the Raleigh Civic Symphony and Chamber Orchestra, as well as Director of Orchestral Activities at North Carolina State University. He was previously Music Director and Composer-in-Residence of the Idyllwild Arts Academy Orchestra. He has also been a member of the Honolulu Symphony Orchestra and served on the faculty of the University of Hawaii-Manoa, where he directed the Contemporary Music Ensemble and taught theory and composition.

A dedicated champion of the music of our time, he has premiered numerous works, including works by composers Richard Danielpour, Nico Muhly, Aaron Jay Kernis and Christopher Theofanidis, and has collaborated with such artists as the Miró String Quartet, Matt Haimovitz, Vijay Iyer, Jeffrey Zeigler, Nadia Sirota, and Sō Percussion. As a composer, he has been called a "Modern Master" by The Strad and has had commissions and performances from such groups as the Tokyo Symphony Orchestra, the Honolulu Symphony, Cantus Ansambl Zagreb and the American Viola Society, as well as by performers such as ETHEL, cellist Jeffrey Zeigler, flutist/conductor Ransom Wilson and violinist Timothy Fain.

Mr. Askim is the founder and Artistic Director of The Next Festival of Emerging Artists, a summer festival dedicated to cultivating the next generation of performers and composers. Focusing on the music of living composers, the festival artists frequently perform World Premieres and collaborate closely with prominent composers on performances of their works.
Led by Mr. Askim, The Next Festival has received numerous grants and awards for performances of American music, adventurous programming and educational outreach since its inception in 2013. In conjunction with Pulitzer Prize-winning composer Aaron Jay Kernis and Tony-nominated choreographer Christopher D'Amboise, Mr. Askim founded the Next Festival Composer and Composer/Choreographer workshops, connecting early-career performers, composers and choreographers in an innovative and highly collaborative laboratory for the creation of new works.


Composer Zac Greenberg:

Zac was born in Durango, CO after which he moved around the country. A large portion of his younger years were spent in New York City giving him opportunities and exposure to music unlike anywhere else. Out side of his enrollment in various music schools, Zac has studied with Jack Casady, Jorma Kaukonen, Fareed Haque, Bobby Vega, Marc Ribot, Chris Wood, John Patitucci, Larry Grenadiar, John Medeski, Billy Martin, Victor Wooten,and many others.
From 2006-2008 Zac attended Idyllwild Arts Academy. While in California he had the privilege to study with: Marshal Hawkins, Stanley Clarke, John Clayton,and Paul Carman. In 2008-2010 Zac enrolled in University of North Carolina Wilmington studying with Stevie Bailey and Joe Chambers.
In 2008 Zac and a group of friends started the Almost Holden Collective (AHC). AHC is a multi-media collective focused on cross media collaboration. In 2013 AHC opened a physical space at 2821 Ocean Park, Santa Monica, CA. With its store front, art gallery, music venue, movie theater, recording studio, post production films, dark room, and print in design lab for shirts cds, dvds, bluerays and more, the space is capable of catering to a variety of artistic endeavors and mediums.
From 2010-2013 Zac studied at NYU affording him the opportunity to study with: Drew Gress, Wayne Krantz, Joe Lavano, Stefon Harris, Kenny Werner, Chris Potter, Jean-Michel Pilc, Mike Richmond, Martin Wind, Ralph Alessi, Rich Shemaria, Dave Pietro, Brad Shepik, Billy Drewes, Tony Moreno, and Andy Milne.

In 2015 Zac co-founded the non-profit Musicians for Health (musiciansforhealth.org) with Joyce Elkus. The 501c3s mission is to create a platform for artists to help cure disease through awareness, fundraising, and sound. Since its founding it has become active across the country as well as international.

Greenberg has also opened Taste Sound Studio, a recording studio in Lower East Side NYC where he produces much of his own work as well as other artists. http://zacgreenberg.com/