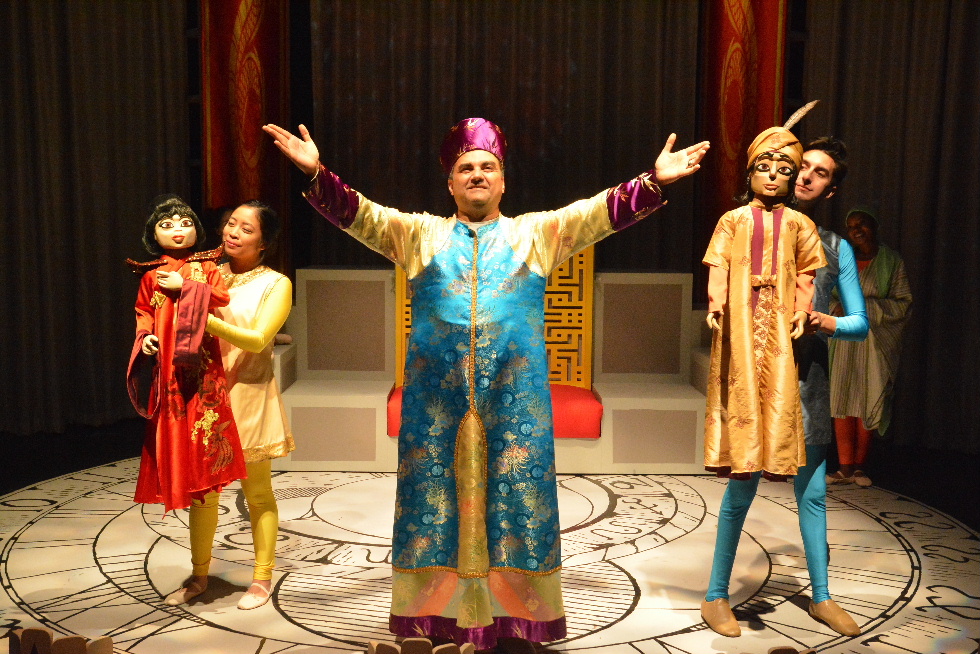 A sparkling star descends and sprays fairy dust (thanks to the magic of Lily Bartenstein's effective video projection design) to start this enchanting show.
Six gaily-costumed performers bound onto the stage and, after some amusing preamble, introduce themselves and promise to concoct a story for today's audience. Each character is derived from the tradition of commedia dell'arte, hence we meet Colombina (played with a bubbly personality by Aviva Pressman) and goofy Pantaloon (Mueen Jahan) and so on.
What follows is a powerful reimagining of the 15th century Peking tale of the Chinese Princess Turandot. Two gorgeously crafted Bunraku-style rod puppets are manipulated by the two main performers personifying Turandot and her suitor Calaf. Famously adapted by Puccini for his opera, we now hear the story as told from Turandot's perspective, as she advocates for her own independence and freedom to pursue her own interests rather than be married off as a possession of the court. Turandot sings a melancholy song with sophisticated lyrics about the night skies and her visionary star maps.
What stands out in this marvelous production is a clear message of feminism and female empowerment. Turandot's dreams eventually prevail despite the Emperor's sexist expectations. "Be the masters of your life" is an important theme.
The kids in the audience thoroughly enjoyed the silliness of the comedy, especially when the Emperor throws a temper tantrum and how King Andre kept knocking everybody unconscious with his overpowering body odor!
Thomas Buderwitz's ingenious scenic design features hand-raised cloths and backdrops suitable for the video projection as well as boxy cubes that were easily be repositioned by the performers to present various settings such as a throne room or a bridge across a river.
From the press notes:
Imagine Project is L.A.'s only equity theatre company dedicated exclusively to young audiences. The company is dedicated to telling stories that spotlight a diverse array of female heroes.
Its inaugural production, the World Premiere of The Tale of Turandot, is a modern theatrical puppetry experience for elementary school–aged children.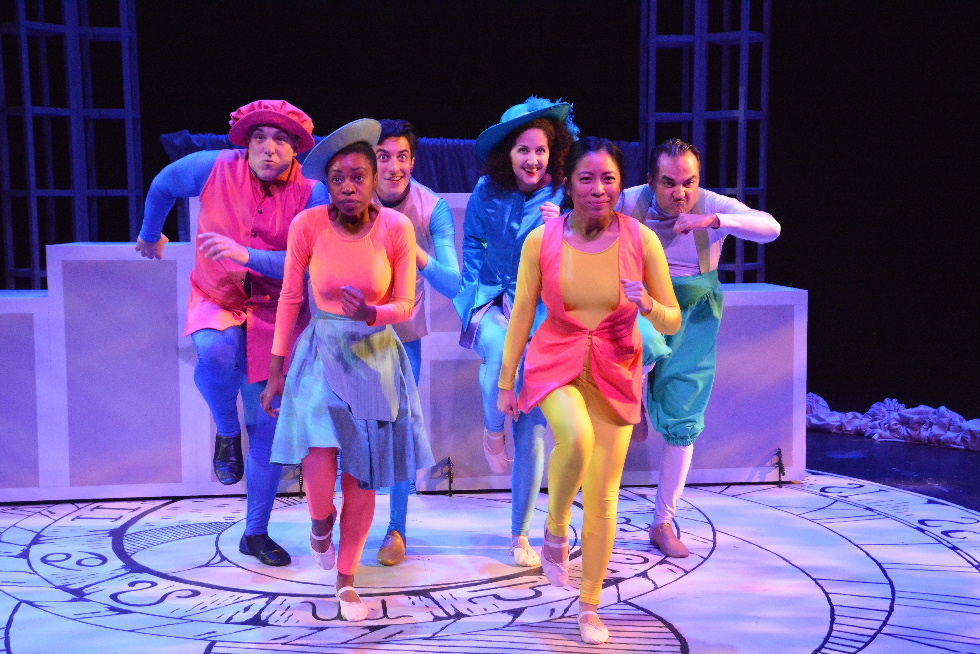 The Tale of Turandot by Armina LaManna.
Thu. Nov. 7 – Sun. Nov. 17
two weekends/9 shows
at The Colony Theatre in Burbank
CREATIVE TEAM:
Written and Directed by Armina LaManna
Set Design by Thomas Buderwitz
Lighting Design by Avery Reagan
Costume Design by Dianne Graebner
Video Projection Design by Lily Bartenstein
Puppet Design by Alexander "Jürgen" Ferguson
Music by Shahen Hagobian
Sound Design by Jon Steinmeier
Stage Managed by Elna Kordijan
Produced by Armina LaManna & Laura Hill
CAST:
• Joe DeSoto – Arlekino
• Matthew Henerson – Pedrolino
• Mueen Jahan – Pantaloon
• Makha Mthembu – Smeraldina
• Arianne Villareal – Isabella
• Aviva Pressman – Colombina
ABOUT IMAGINE PROJECT:
Founded in 2016, Imagine Project is committed to producing diverse and memorable theatrical experiences for kids. Armed with its mission statement, "Imagine Project strives to build an empathetic and inclusive society, across cultures, by immersing young people in theatre that celebrates gender equity, diversity and civic engagement," its founders Armina LaManna (Artistic Director) and Alex Zonin (Board Chairman) joined forces in 2016 to research and create a flagship professional theatre for young audiences in Los Angeles. Unlike most major cities in the United States, until the founding of Imagine Project, the entertainment capital of the world did not have an Equity theatre dedicated entirely to programming for young audiences.
"Children around the world, and in other metropolitan cities in the United States, grow up with access to professional children's theatre. There are 2.3 million kids under the age of eighteen in L.A. County, and, for most, a trip to an Imagine Project production would be their first visit to the theatre. One of IP's objectives is to create a new rite of passage for kids in our city—going to the theatre—building not only tomorrow's patrons, but also tomorrow's generation of leaders and innovators."

Co-founder Alex Zonin.
VISION:
The role of live theatre is indispensable to shaping the way our children connect to each other and the rest of society. Through the stories we tell and the communal experience of theatre, we imagine a future guided by kind and courageous people who have the motivation and inner resources to make the world a better place.
COMMITMENT:
We promise to tell relevant stories that spotlight female heroes.
We promise to champion kids, especially girls, and instill in them the courage to find their own voices.
We promise to create experiences accessible to kids from all economic backgrounds.
We promise to hire local artists and pay them real wages.
We promise to produce plays that are inclusive of stories from L.A.'s diverse cultural fabric.
We promise to be the vehicle for social change in a way that only professional theatre can be.
UPCOMING NEWS:
Imagine Project's second production is an original play, Anahit the Brave. The play is based on a fairy tale written by Ghazaros Aghayan. Anahit is a young peasant and master carpet weaver. When King Vachagan meets her, he falls in love with her wit and beauty and asks her to marry him. She refuses his proposal, because he doesn't have any skills, nor does he know any trade. She notes that he is a king today, but may not be tomorrow. Vachagan agrees with her, returns to his home, learns to weave carpets and finally wins her hand. But shortly after, he is kidnapped by dark forces. After learning of his captivity, Queen Anahit becomes a warrior and leads a battle, liberating the King and saving the entire kingdom.
Armina LaManna (Writer/Director):
Armina LaManna is a director, playwright and the Founding Artistic Director of Imagine Project – L.A.'s Professional Children's Theatre. Her stage career began at the age of six in the former USSR. Her U.S. theatre credits include work at The Fountain Theatre, Sacred Fools Theatre Company, ETC, OC-Centric New Play Festival, The Chance Theatre, Moving Arts Car Plays, Temple Theatres, Philly Fringe, The Colony Theatre, Interact Theatre (in Philadelphia & Los Angeles), The Groundlings, Grove Theatre Center and Pasadena Shakespeare Company. LaManna's playwriting credits include Pushkin at Boldino, Lost in LaPorte; translation and/or adaptation credits: Gogol's The Government Inspector (commissioned by The Lantern Theatre), Strindberg's The Ghost Sonata and Chekhov's The Cherry Orchard. LaManna is a recipient of a Dramaturgy Grant from the Samuel S. Felt Fund; she is a member of SDC, AEA and DG and is a member of the Adjunct Faculty at the GCC Theatre Department. LaManna holds a B.A. in Directing from CSU Fullerton and an MFA in Directing from Temple University. www.arminalamanna.com