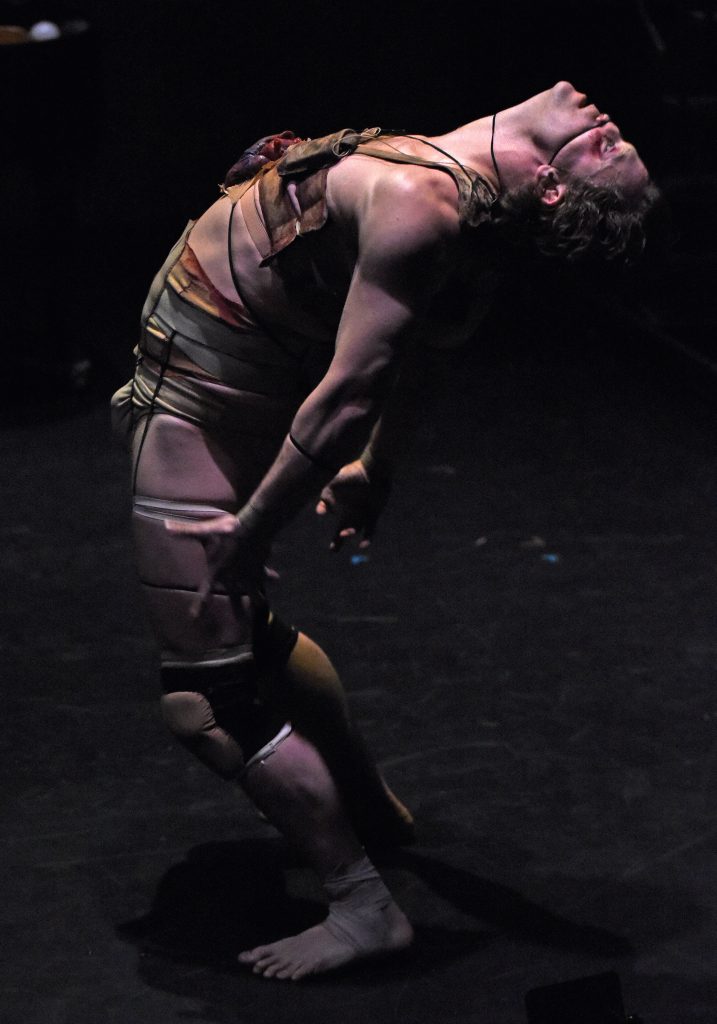 Four Larks' riveting one-act opera Frankenstein is a visual and aural treat that engages you from beginning to end with its marvelous staging, haunting music and mesmerizing performances.
Written just over 200 years ago, Mary Shelley's Gothic masterpiece remains almost as horrifying and fascinating as when the shocking story was first published. Faithfully adapted from the plot of Shelley's novel, this striking and original staged work is making its debut in Los Angeles. Frankenstein runs at the Wallis in Beverly Hills until Sunday March 7, 2020.
Every aspect of this production is superb—the staging, the scenic/lighting/sound design, the music, the libretto and, above all, the virtuosic performances from the actors and musicians.
Mat Sweeney's intricate concept and beautiful compositions are brilliantly realized by the company, and their collective hard work has resulted in a satisfyingly cerebral and viscerally spellbinding piece of entertainment.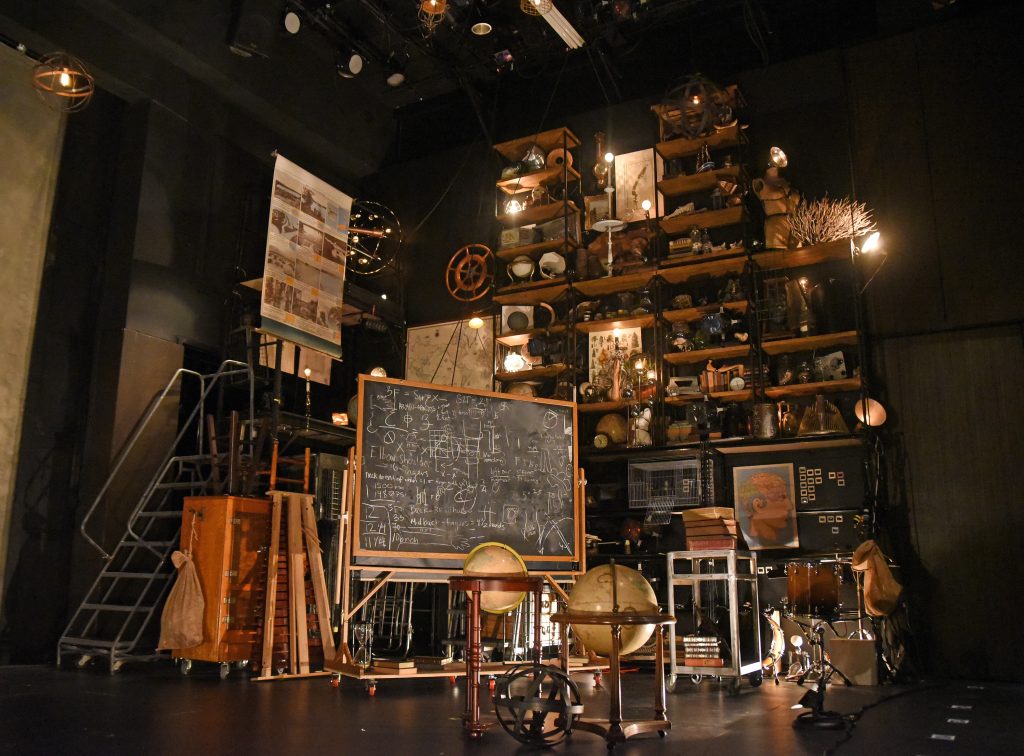 The show's staging is intricate and hypnotic in its flowing pace. Sebastian Peters-Lazaro's choreography navigates the performers though his scenic design of a painstakingly detailed and versatile set crammed with all sorts of collectibles and oddities such as phrenology busts, old world maps and globes, curious light fixtures, a large chalkboard, a human skeleton—the resulting impression is reminiscent of a crowded antique store. Many of the scenery elements are mobile and, thus, are deftly set and relocated throughout the show. Properties design and construction is by Regan Baumgarten.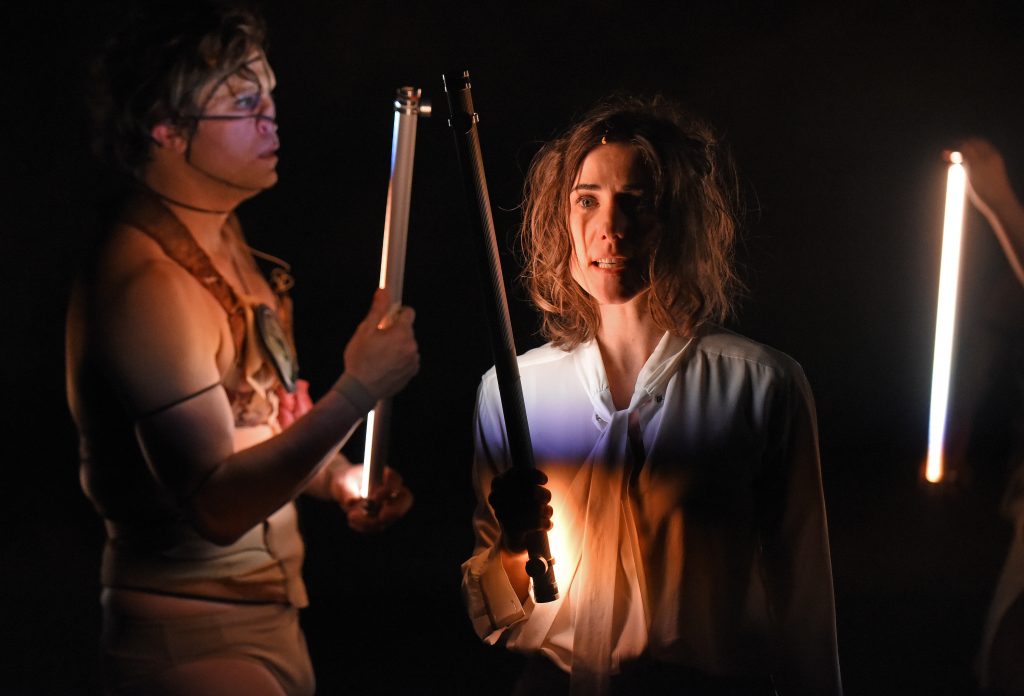 Brandon Baruch's lighting designs for Four Larks have always been inventive and dramatic, such as sometimes lighting the performers with an overhead projector. Creative light sources within a piano transform it into the electrical device used for Frankenstein's unholy experiments. This production also includes a mysterious portal created with bright LED light sticks with performers disappearing through the inky black space within.
From the press release: This unusual Frankenstein, commissioned by The Wallis, is an exuberant amalgamation of dynamic physical theatre, live music and experiential design that brings the tale to life in a modern take that spotlights the dangers of unregulated technology. Sourced predominantly from Shelley's novel in conjunction with its 200th anniversary, the production awakens new questions about moral responsibility for each generation. Featuring a cast of twelve, all doubling as musicians, the show is directed, created, staged and composed by Four Larks' Mat Sweeney with design and choreography by Sebastian Peters-Lazaro, the show's creative producer, both of whom created the adaptation with Jesse Rasmussen.
Sweeney's hallucinatory, dreamlike score combines traditional strings, woodwinds, bass and percussion with unexpected instrumentation such as toy piano, all underpinned by gorgeous harmonies. Frankenstein does feel like a theater/opera hybrid, with more narration than aria. Music isby Mat Sweeney, developed with Ellen Warkentine, arranged and scored with the Ensemble, with lyrics by Jesse Rasmussen.
As 'The Creature,' Max Baumgarten brings an extraordinary and dynamic physicality to his performance. Registering the life force flowing through his newly created form, he spasms wildly, often defying gravity with his startling gyrations. His narration, as he struggles to understand the world he has been born into, are mournful, conveying his patchwork humanity as it assembles painfully.
The fascinating video projection sequence that plays onto Elizabeth (a brilliant vocal and physical performance from Joanna Lynn-Jacobs) during her transformation was a highlight of the show. Projection Design is by Gavin Gamboa.
Backstory: When English author Mary Shelley (1797–1851) was 18, she journeyed to the region of Geneva, Switzerland, where much of the story takes place. The topic of galvanism and occult ideas were themes of conversation among her companions, particularly her future husband Percy B. Shelley. Mary, Percy and Lord Byron had a competition to see who could write the best horror story. After thinking for days, Shelley dreamt about a scientist who created life and was horrified by what he had made, inspiring her novel. The first edition of Frankenstein; or, The Modern Prometheus was published anonymously in London on 1 January 1818, when she was 20. Still regarded as one of the greatest, and most imaginative stories ever told, Shelly's chilling novel tells the tale of Victor Frankenstein, a young scientist who creates a hideous sapient creature in an unorthodox scientific experiment.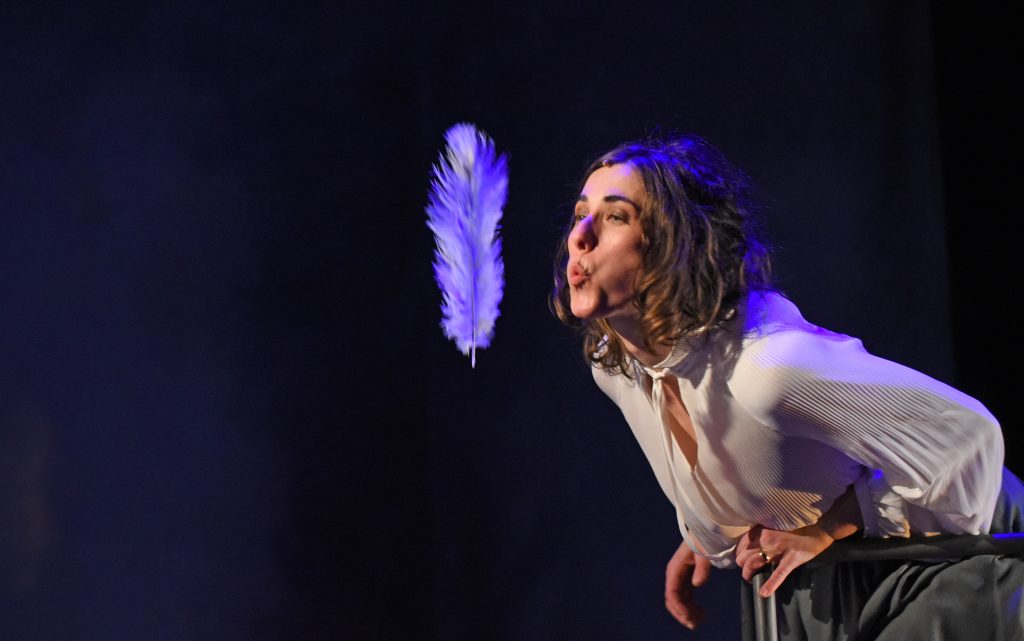 The Wallis Annenberg Center for the Performing Arts and Four Larks
World Premiere Production of
FRANKENSTEIN
Created by Four Larks after Mary Shelley
Wallis Annenberg Center for the Performing Arts
Lovelace Studio Theater
9390 N. Santa Monica Boulevard
Beverly Hills, CA 90210
EXTENDED: Now through Saturday, March 7, 2020
Weekdays 8 pm; Saturdays, 2:30 pm and 8 pm Sundays, 2:30 pm and 7:30 pm
RUN TIME:
Running time is 70 minutes with no intermission
AUDIENCES ARE ASKED TO NOTE THIS WARNING:
This production utilizes a strobe light effect, flashing lights, theatrical haze and contains partial nudity.
TICKET PRICES AND INFORMATION:
$60.00 (subject to change)
310.746.4000
Box Office – Wallis Annenberg Center for the Performing Arts Ticket Services
9390 N. Santa Monica Blvd, Beverly Hills, CA, 90210