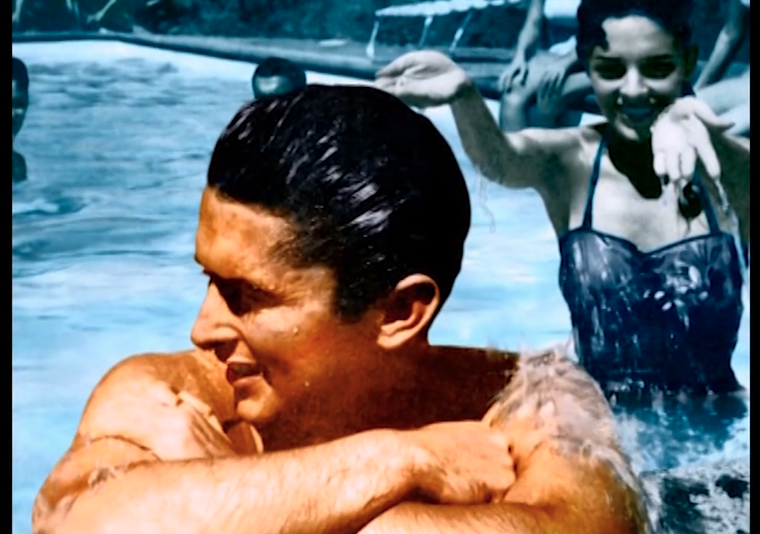 From the archives!
Here is my interview with the late, great legendary producer Robert Evans for The Kid Stays in the Picture, interviewed in Los Angeles in 2002.
Everyone loves a rags-to-riches story in Hollywood and nobody epitomizes the spectacular rise, fall and renaissance fable better than the highly colorful film producer Robert Evans.
His Hollywood tell-all autobiography, The Kid Stays in the Picture, was published by Hyperion in 1994 and printed in 12 languages. But the book became famous mainly through the sharing of the hard-to-come-by audio taped version of the book, narrated by Evans himself in his deep, Stallone-like voice.
Such was the impact of the audio version that controversial director Roman Polanski literally totalled his Mercedes while listening to it.
"Roman called me from Paris and said, 'I was listening to your fucking book on audio and I was laughing so hard I crashed my new car into a tree on the Champs Elysees!'" recalls Evans who, back in 1968, hired Polanski as a relative unknown to direct the still-chilling psychological drama Rosemary's Baby.
With such a response, it was only a matter of time before Evans' book would be adapted for the silver screen, tracing the legendary producer's meteoric rise, fall and rise again. Speaking to me in 2002, marking his 45 years in Hollywood, I learned that Evans has lived the glamorous life that many only dream about. The gorgeously crafted documentary contains archival and new footage, visual effects, animated stills, film-clips from his productions, from the sets and red-carpet arrivals–all combined to form a revealing portrait of Tinseltown's tarnished golden boy.
Evans himself intones the narration, which is at times comedic, even profane. An opening title card displays a quote from Evans and sets the mood of the documentary:
"There are three sides to every story: my side, your side and the truth.

And no one is lying. Memories shared serve each one differently."
In fact, it's only Evans' version that we hear.
His film career officially started in 1956, when he was discovered poolside at the Beverly Hills Hotel by Norma Shearer, who offered him the bit-role of playing her late husband, movie mogul Irving Thalberg, in Man of a Thousand Faces. Evans was again discovered, this time at the El Morocco nightclub in New York, and offered a role as a bullfighter in the 1957 screen adaptation of Hemingway's novel The Sun Also Rises.
"Darryl Zanuck saw me dancing a tango and said, 'That kid should play Pedro Romero opposite Ava Gardner in The Sun Also Rises.' I tested for the part, I get it, I go down to the Mexico location." According to the documentary, the power players on the production — including cast members Ava Gardner, Tyrone Power, Eddie Albert, also Ernest Hemingway — all signed a telegram insisting that Evans be sacked (all except good old Errol Flynn, who just laughed). Zanuck's response, 'The kid stays in the picture, and anybody who doesn't like it can quit!'
It was the stuff of legends.
Yet Evans' acting career proved short-lived. Pretty soon Evans realized he'd rather be the guy with that kind of power – someone like Darryl Zanuck – and strove to make the virtually impossible move from beefcake actor to big-time Hollywood producer.
Somehow, at the age of 34, with no producing credits to his name, Evans landed a job as Chief of Production at Paramount Pictures. While running the studio from 1966 to 1974, he was responsible for bringing some of the most memorable movies of the '70s to the screen. Evans supervised such box-office hits as Barefoot in the Park (1967), Rosemary's Baby (1968), Goodbye, Columbus (1969), Love Story (1970) and the first two installments of the Godfather saga before becoming an independent producer in 1974.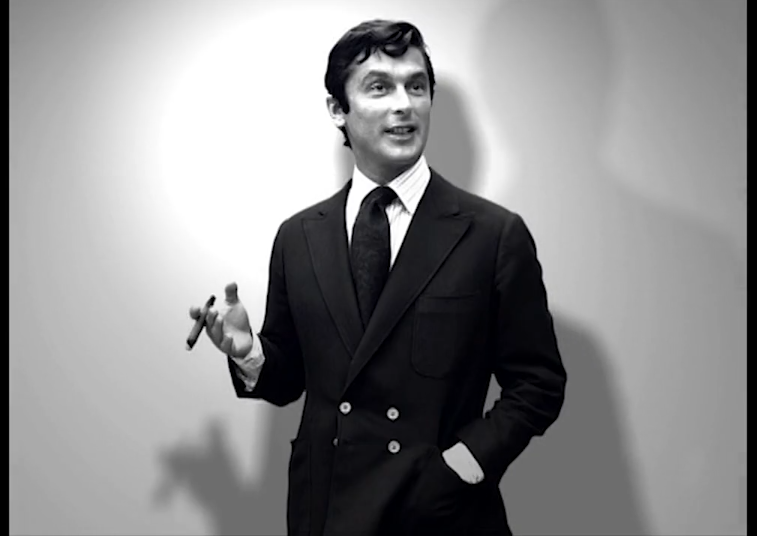 In the 70's, Evans saw his dream marriage to movie star Ali McGraw fall apart. In the early 80's he was busted for cocaine and toughed out accusations of involvement in a murder case. According to Evans, "This film [The Kid Stays in the Picture] is not a documentary—it's perseverance. This doesn't have to do with Hollywood, it has to do with life, with simple survival."
When asked if the movie, perhaps, presents a rather rosy version of certain events, Evans levels his gaze at me over his sunglasses, pausing dramatically.
"Let me tell you this. It's a lot easier to watch it than to live it."
Now 71 [in 2002], he appears to have fully recovered from a paralyzing stroke that struck four years earlier with classic Evans-flair while he was delivering a toast to horror-maestro Wes Craven, an incident that nearly scared Craven to death.
In person, Evans is every bit the aging Lothario personified. It's as if he decided on his "look" during the seventies and hasn't altered it since. Who knows how many pairs of brown, Chanel two-tone, wrap around shades he owns, as he is seldom seen without them. Then there is the ubiquitous turtleneck and linen suit combination; today it's navy with cream suit, teamed with black loafers and white socks. He even sports one of those Country and Western lariat-style bolo ties. His longish hair, inexplicably more black than silver, is side-parted and combed straight back. Heavy, bronze pancake makeup on his face and the backs of his hands completes the slightly ridiculous image.
Formerly a child actor, Evans was born in 1930 in New York as Robert Shapera. At age 21 he became a successful clothing manufacturer alongside his brother in a women's sportswear company. By time he turned 25, Robert Evans was a self-made millionaire, having ascended to Vice President of Evan-Piccone. But his eye soon turned from fashion to film, first as an actor, then as a producer, where he really made his mark.
"I've had everything going against me – it only made me resolve more." It's his drive and determination that has seen him weather so many public pitfalls. Ever the optimist, Evans declares, "I'm the luckiest guy you've ever met, because I love what I do."
With its classic rise and fall elements, and its cast of big-name movie stars, young documentarians Brett Morgen and Nanette Burstein were drawn to telling the story of such a maverick Hollywood player on the big screen.
Morgen claims that in spite of various obstacles, the subject matter was too appealing to turn down. "Bob Evans is a man who has made some of the most memorable movies of recent cinema history, but he is also a man who has had a flair for drama since he was a child. Not only is this the man who made brilliant movies like Rosemary's Baby, Love Story and Chinatown, but he lived an extraordinarily wild life – the women, the politics, the drugs, the dramas were endless."
One of the greatest obstacles in the filmmaking process was Evans' flat refusal to appear onscreen, arguing over every spoken line. The filmmakers were compelled to find creative ways to tell their obstreperous subject's story and employed old film clips and digitally altered photographs to illustrate his tumultuous career in the movie industry.
Notably, the directors came up with a new technique that would allow them to create spatial planes within the existing photographs to create a three-dimensional space. They chose to distort the imagery, not only as a comment on Evans' warped version of reality but also to provide a sublime, almost hallucinogenic experience for the audience. Narrated by Evans, this autobiographical documentary doesn't include any outside perspective nor additional interviews with his peers. Really it's just Robert Evans' one-sided version of events.
Counters Nanette Burstein, "It is and it isn't. On the one hand we do have Robert Evans narrating and we're very up-front about that. His mythology of himself is fascinating, so why include interviews from other people? Every movie is subjective, so why not admit that from the beginning? What makes it not just his story is the subtext. That's where we come in, as filmmakers. From the way it's done, with the whole style of the film being over-the-top and decadent. It's all about the fact that this is a man who got everything he did in life because of his public image, and also this is the man who lost everything because of his image. He lived by the press and he died by the press, so it is a quintessential Hollywood tale. If Bob Evans were making this film, I don't think he'd have that reflection of it all. That's where we come in, as interpreters."
Evans' fall from grace began in the eighties when he was arrested for cocaine possession. Although ultimately cleared of any involvement, his reputation was tarnished further when he was linked in the press to a high-profile murder case dubbed "The Cotton Club Murder" due to the victim's potential connection as an investor in Evans' movie. This 1984 box-office disaster, starring Richard Gere, Gregory Hines and Diane Lane, was his first film as an independent producer. It's these sensational elements of Evans' life that the filmmakers say were in danger of not making the movie's final cut.
Adds Burstein, "Bob did not want his story told beyond 1980. He did not want the fall, he just wanted the rise!" she laughs. "We had some really ugly arguments about that. In fact, up until a couple of weeks before we finished the movie, Brett was narrating the second half of Bob's story."
Paramount strived to put some distance between their studio and the scandals by disowning Evans, stating to the press in 1983 that he was merely a former employee who was an independent contractor, producing films for their studio. Evans claims he went from royalty to infamy in a single day. A Hollywood pariah, he slipped into near-obscurity only to re-emerge in 1991 to make Val Kilmer flop, The Saint. He says the highlight of his life was the fifteen-minute standing ovation he received at the Sundance Film Festival when this documentary was presented earlier this year. More thrilling than winning a Golden Globe or getting an Oscar nomination? "Oh yeah!" Evans exclaims, "This is my life."The film was also well-received at Cannes in May 2002 and in the same month Evans received his own star on the Hollywood Walk of fame. Ali MacGraw and their son Josh were present to share the festivities. As famous as Evans is for being an actor and producer, he's just as well known for the women he's courted. The woman of the hour was usually dubbed his 'lady fair.'
"The three things I enjoyed most were sun, sports and sex," Evans growls, suggestively. Photographed squiring various leading ladies all over town, his steamy exploits and public divorces were a fixture in the gossip columns. In his hey-day Evans was linked to various luminaries such as Ava Gardner, Grace Kelly, Lana Turner, Cheryl Tiegs, Raquel Welch, and Margaux Hemingway.
His book and documentary is chock-full of candid and hilarious tales of personal turmoil and insider film making anecdotes. While he has never escaped criticism, the harshest and funniest observations on Evans come from his own mouth. He recounts friendships and feuds with notables like Jack Nicholson, Henry Kissinger and Francis Ford Coppola. He speaks frankly of pushing wife McGraw to star with Steve McQueen in The Getaway only to have her fall in love with her leading man. Although surely heartbreaking, this event also scored Evans a degree of bragging rights.
Formerly married to actresses Sharon Hugueny, Camilla Sparv, MacGraw and former Miss America and sports commentator Phyllis George. His son (by MacGraw) is actor Josh Evans. Camilla Sparv called him "The sampler. He samples girls. He's a very busy bee." Evans response is predictably frank, "Well, I am a sampler. Why not sample until you find a dish you really want to eat?"
He claims he was only married 4 ½ times as the most recent one, to Catherine Oxenburg, was annulled after ten days. "I've remained friendly with every one of my former wives. They always call me for advice on things. I'm friendly with all of them. Phyllis George gave me a beautiful piano as a divorce gift. She is a very wonderful girl. I pay no alimony to any of them, for a very good reason," he pauses dramatically. "They all ended up making more money than me!"
He adds, "I've always been a very good husband, even though it was never the girl's fault, it was always my fault. I have one big problem. I'm not proud to say it. There's one word that rhymes with monogamy but is the opposite of it – mahogany!"
Ew.
As if to prove he's still going strong, Evans spoke his wedding vows for a sixth time last November. The lucky bride, Leslie Ann Woodward, is 38 years his junior and a former Versace model. Though Evans had declared he would never remarry, he allegedly wooed his new bride with lavish gifts, including sapphire and diamond earrings, a diamond crucifix, and a pearl-and- diamond necklace. The beach ceremony in Mexico featured fifty mariachi on horseback, celebrity guests including Matthew McConaughey and director Brett Ratner and Evans' son Josh as a groomsman.
The newlyweds retired to his luxurious home, Woodland, notorious as the setting for most of his trysts with its deluxe screening room. "More deals have been made in my screening room – the idea for The Godfather came up in that room. Love Story, the script for Chinatown – the list goes on. Watching films, inventing stories, working with writers and a little romance or two, I can't deny that. A little matinee here or there, sometimes. I've never partaken in any orgy in my life of any kind. I mean, with six people – nothing. That's how square I am. Let God be my judge. Never. Six? Four!"
The Kid Stays in the Picture is a stylishly made documentary on what many perceive as being the ultimate Tinseltown autobiography.