Poet Brian Sonia-Wallace was named West Hollywood's new Poet Laureate last October, and he's already off and running with the prestigious moniker. Newly launched is his first book of essays, The Poetry of Strangers (Harper Collins 2020), which tracks his journey with a typewriter to find humanity at the margins of America.
Event review by Victor Yates:
"A dapper clown, some unexpected glamour, and a multitude of performers made Brian Sonia-Wallace's drive-in book launch less of an event and more of an experience. Beyond Baroque, a theatre space in Venice, CA, hosted the rare, live literary event during the coronavirus pandemic to launch Wallace's new book, The Poetry of Strangers. His book is a collection of essays centered around creating typewriter poetry across the country including for customers at Amtrak and The Mall of America.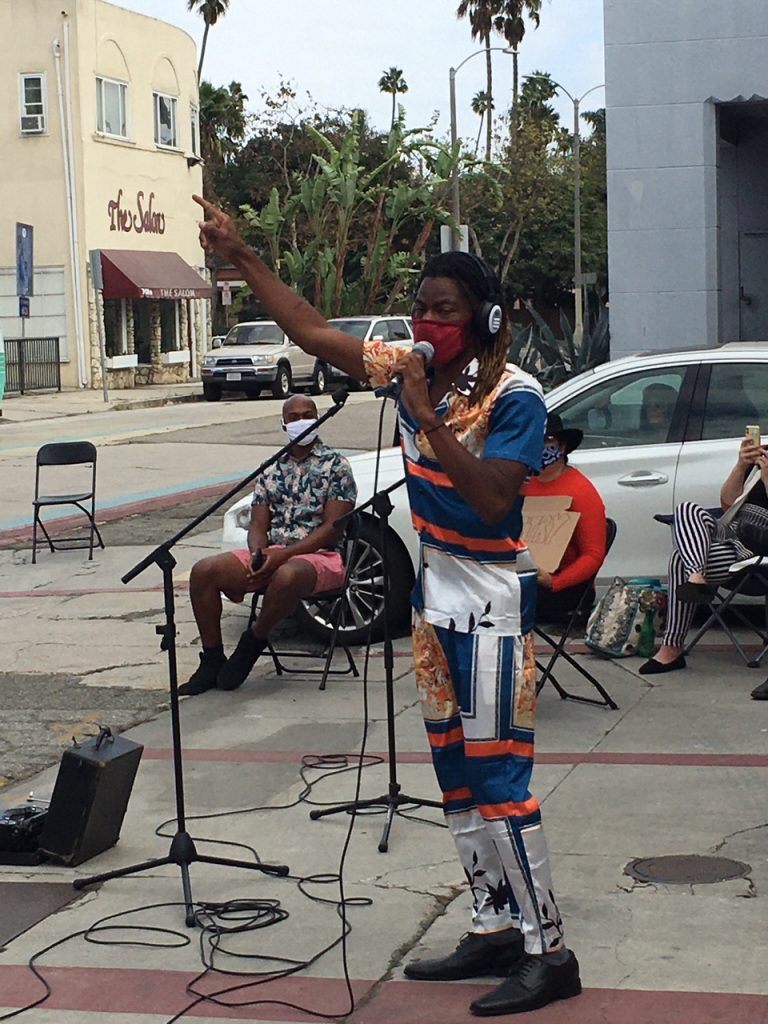 For the event, guests parked their cars in the back lot of the theatre, and tuned into 88.3 (shortwave radio), to listen along to storytelling, music, and poetry—all while abiding by CDC coronavirus guidelines.
This marriage between drive-in entertainment and poetry reading was like watching two reserved lovers unable to touch and then once together, create a new language only they know. In short, a dazzling spectacle.
One highlight of the event included Kim Dower, the former poet laureate for the city of West Hollywood reading a coronavirus poem from the inside of her car. The event also served as an unofficial passing of the baton from the former poet laureate to the current poet laureate, seeing as now Wallace is West Hollywood's new poet laureate.
Another highlight included Chilean poet, Diego de los Andes juggling, creating balloon art, and reading a poem while in full clown makeup and wearing a sad face covid mask. The other readers included Danny Bealo, DeShaun Ingram, Linda Ravenswood, and Sammy Ginsberg.
Some much-needed funds were raised for Spanish Sin Pena's organization #learningkits4migrantkids, to help to buy bilingual books and learning supplies for central valley families struggling with COVID and fires.
Wallace partnered with a nonprofit to auction off a lunch with him, and the proceeds went to support three families in need. The reading included just the right amount of curated campiness to satisfy my voracious appetite for in-person readings and art. It blended the two worlds tastefully."
Be sure to pick up a copy of The Poetry of Strangers at Book Soup in West Hollywood or purchase via HarperCollins.com.
About the book—The Poetry of Strangers:
Before he became an award-winning writer and poet, Brian Sonia-Wallace set up a typewriter on the street with a sign that said "Poetry Store" and discovered something surprising: all over America, people want poems. An amateur busker at first, Brian asked countless strangers, "What do you need a poem about?" To his surprise, passersby opened up to share their deepest yearnings, loves, and heartbreaks. Hundreds of them. Then thousands. Around the nation, Brian's poetry crusade drew countless converts from all walks of life.
In The Poetry of Strangers, Brian tells the story of his cross-country journey in a series of heartfelt and insightful essays. From Minnesota to Tennessee, California to North Dakota, Brian discovered that people aren't so afraid of poetry when it's telling their stories. In "dying" towns flourish vibrant artistic spirits and fascinating American characters who often pass under the radar, from the Mall of America's mall walkers to retirees on Amtrak to self-proclaimed witches in Salem.
In a time of unprecedented loneliness and isolation, Brian's journey shows how art can be a vital bridge to community in surprising places. Conventional wisdom says Americans don't want to talk to each other, but according to this poet-for-hire, everyone is just dying to be heard.
Thought-provoking, moving, and eye-opening, The Poetry of Strangers is an unforgettable portrait of America told through the hidden longings of one person at a time, by one of our most important voices today. The fault lines and conflicts which divide us fall away when we remember to look, in every stranger, for poetry.
About the Poet:
Brian Sonia-Wallace is the Manager of Education at Get Lit, building on 12 years of experience as a teaching artist and poet. Brian started off writing poems on a typewriter for strangers on the street, and accidentally started his own company, RENT Poet, as featured on NPR's How I Built This. Brian has been hired as a poet by tech companies and governments, written for The Guardian and Rolling Stone, and been the Poet-in-Residence for Mall of America, Amtrak Trains, and the National Parks.
His first book of essays, The Poetry of Strangers. (Harper Collins 2020), tracks his journey with a typewriter to find humanity at the margins of America. A native Angeleno, Brian regularly lectures on poetry and performance at UCLA, and teaches as a guest artist at 50+ K-12 schools throughout LA County.