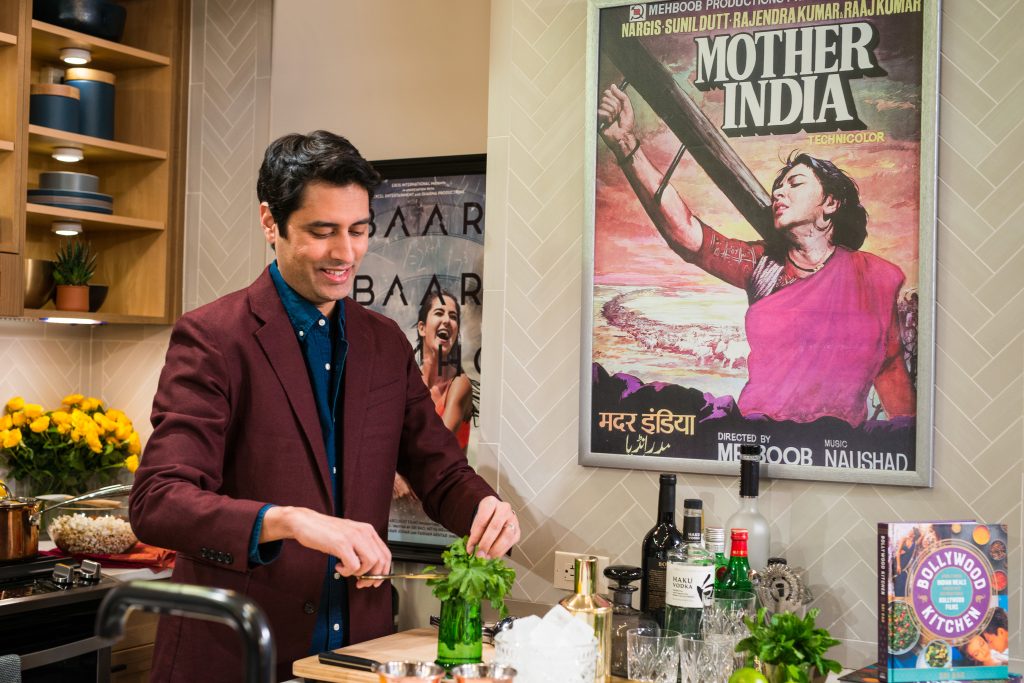 Last Saturday night, a solo theater show with a difference made its debut as part of the Geffen Playhouse's virtual Geffen Stayhouse series.
Directed by Arpita Mukherjee, Bollywood Kitchen is a live, virtual and interactive event, now playing on weekends through March 6, 2021. The show beautifully blends culture with cuisine to provide an unusual theatrical experience.
Part cooking show, part memoir, audience members cook a fragrant curry dinner alongside our host, Sri Rao—a cookbook author and television writer—as he transmits from his home kitchen in his Hell's Kitchen-based New York apartment.
Broadcasting from his kitchen, for the live show's one-act, 75-minute duration, Rao delivers a monologue as he shares some of his favorite curry and chai recipes. Delving into his own past as the first-generation American-born son of Indian immigrants, Rao also shares his recollections of encountering his rich culture as a child, but with the perspective of an outsider. He begins with a vivid recounting of how entranced he became the first time he watched a Bollywood musical on videotape.
His intimate stories and personal recollections are like treasures. "Your cookbook gave me my identity," Rao tells us of his Mom's praise. Another time, when he demonstrates how to eat curry and rice with your digits, he observes, "the rice between my fingers is where I am from."
Rao's published cookbook got its start with a concept as a "dinner and a movie" book of personal memories, Bollywood films and Indian cuisine. This theatrical creation feels like it's ostensibly been crafted as a savvy cookbook promotion, but the show itself is highly enjoyable and unusual.
One of the most exciting parts of the whole event is receiving (in advance) a handsome box of dry ingredients and gorgeous spices as part of the (mid or top range) ticket price. Of course, for practical purposes you need to supply some of the ingredients yourself, such as chicken thighs or chickpeas and anything else perishable.
The show begins with Rao welcoming us all to the show. Some participants in the top ticket price range appear on camera and can interact with our host. A few luminaries were participating from their own kitchens on opening night, including director Mira Nair (Mississippi Masala, Salaam Bombay!) and gorgeous Miss America 2014 Nina Davuluri.
I opted for "Here for the Party & Bollywood Foodie" – the watch, cook and eat version of the experience, which meant I was never on camera.
Rao kicks off the one-act show by creating an unusual version of a Moscow Mule cocktail, showing us how to prepare a "Mumbai Mule" – vodka, ginger beer plus a sprinkling of a special masala aka spice blend provided in your box of goodies. We also make some Indian-style popcorn—spiced with seasonings and lemon juice—to enjoy with our cocktail.
As Rao reminisces about his U.S. upbringing, he presents clips of scenes from some of the colorful Bollywood musicals that he grew up watching. He shares stories about his parents' emigration from India to the US. Some of the show's script is based on stories within his 2017 cookbook of the same name.
A highlight of the event is the main course, where we cook is Rao's Signature Chicken curry dish which is a dry kind of curry that combines a perfect blend of spices with coconut powder.
Whether you opt to cook along with Sri, cook the meal beforehand (with provided recipes and spices mailed prior to the show), or simply view the cooking lesson by this connoisseur of India cuisine, Rao will teach you his signature dish chicken curry, (vegan substitution: chana masala), as well as an appetizer, cocktail and a dessert.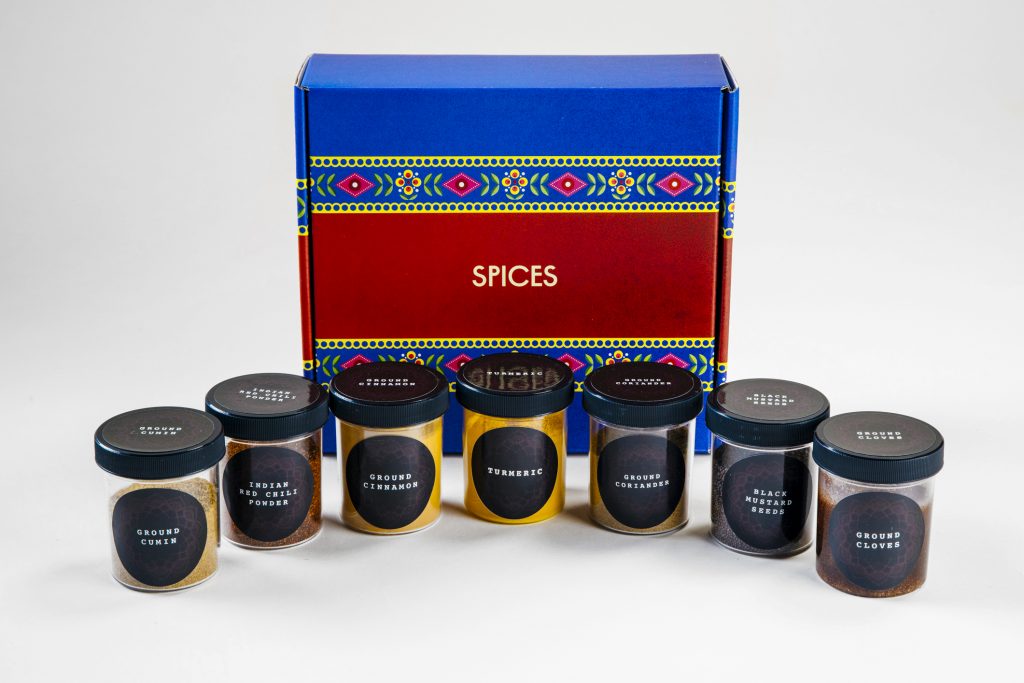 HOW IT WORKS:
Bollywood Kitchen offers multiple tiers of ticketing options that allows the audience to choose their own unique level of participation, including a livestream viewing-only option.
For audience members who prefer an interactive experience, a special "Bollywood Box" will be delivered to their doorstep in advance of the performance. Each box will include an assortment of specially curated Indian spices, recipe cards and other items they'll need for the show. A shopping list of perishable items that are easy to find in a local grocery store will also be included to complete the dinner menu.
Interactive ticket tiers include a limited number of a premium "Chef's Table" option, as well as a "Bollywood Foodie" option, which will not have a maximum audience capacity. A "Here for the Party" option is available for a viewing-only experience, also with no maximum audience capacity.
Ticket prices range from:
$40.00–Here for the Party – where you simply watch the show:
This option is available to audience members who prefer a viewing-only experience.
Includes:
Streaming-only ticket for the show
Digital recipes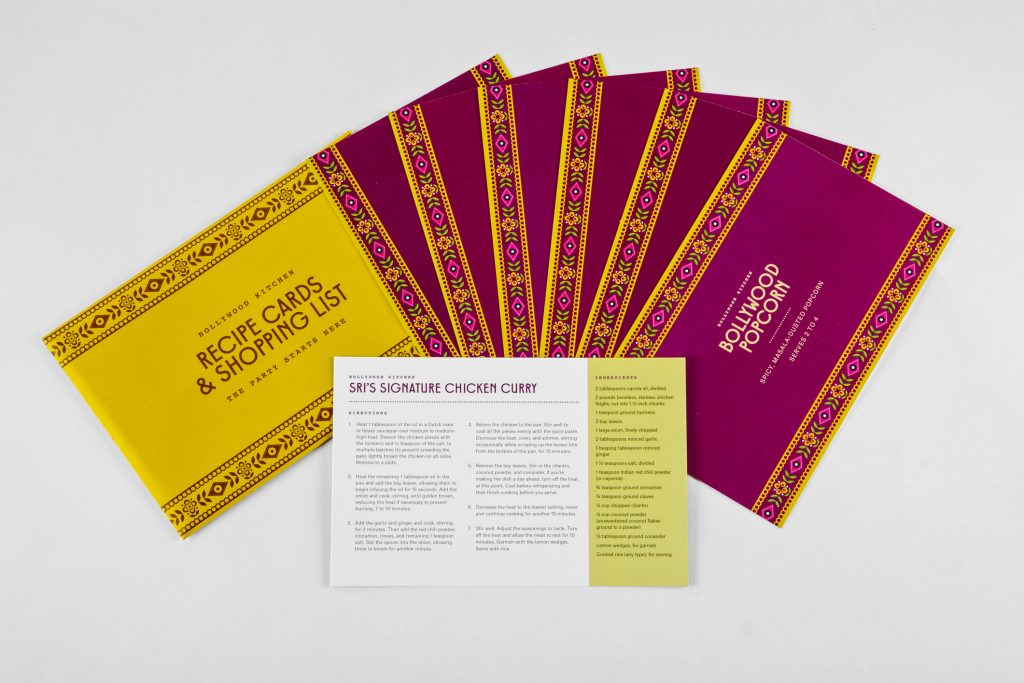 $90.00–"Here for the Party & Bollywood Foodie" – where you are sent a box of dry foods and spices and you cook alongside and watch the show:
Audience members can choose to prepare their meal in advance with the Bollywood Box ingredients and enjoy it during the performance, or they can virtually cook with Sri in real time as they watch the show.
Includes:
Streaming-only ticket for the show
Bollywood Box (by mail)
Recipe Cards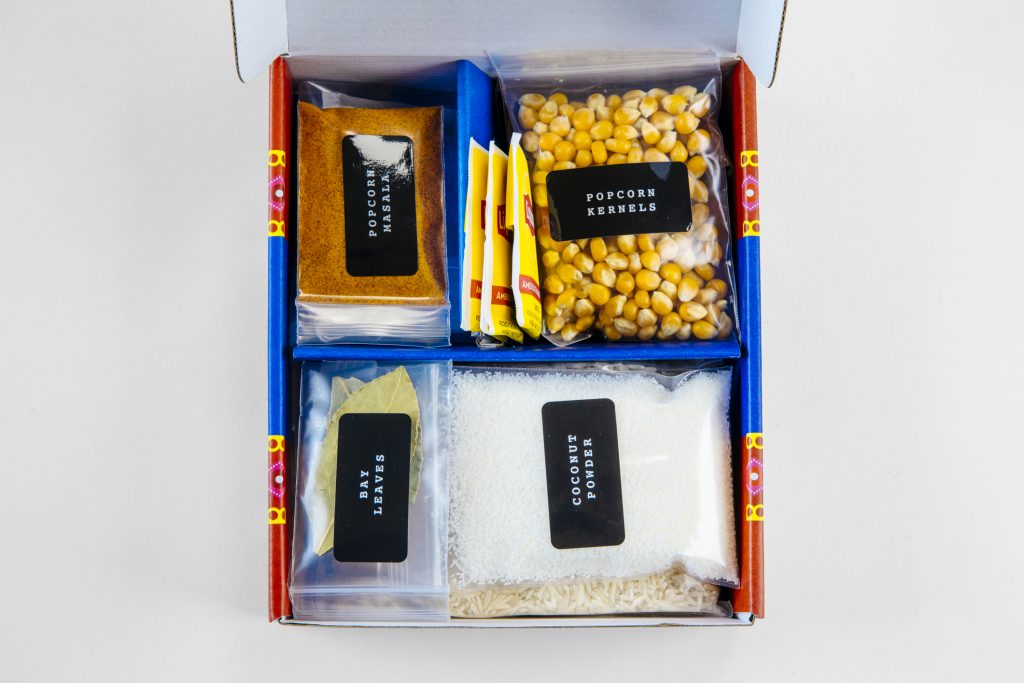 $175.00–Interactive Chef's Table – where you are sent a box of dry foods and spices and are on the screen and can interact with Sri Rao as you cook alongside and watch the show.
A limited number of audience members will virtually cook alongside and interact with Sri throughout the show, providing them with an opportunity to ask Sri questions and get tips along the way.
Includes:
Interactive Zoom ticket for the show
Bollywood Box (by mail)
Recipe Cards
Autographed Bollywood Kitchen cookbook by Sri Rao
Limited-time private Vimeo link after the show to re-watch the performance
TICKET INFORMATION:
Tickets are currently priced at $40.00 – $175.00 per household. Available by phone at 310.208.2028 or online at www.geffenplayhouse.org. Fees may apply.

BOLLYWOOD KITCHEN
WORLD PREMIERE
Written and Performed by Sri Rao
Directed by Arpita Mukherjee
Produced in Association with Hypokrit Theatre Company
Opening Night: Saturday, January 23
Closing Night: Saturday, March 6, 2021

PERFORMANCE SCHEDULE:
Friday 4:00 p.m. and 7:00 p.m. PST
Saturday 4:00 p.m. and 7:00 p.m. PST
Running Time: 75 minutes with no intermission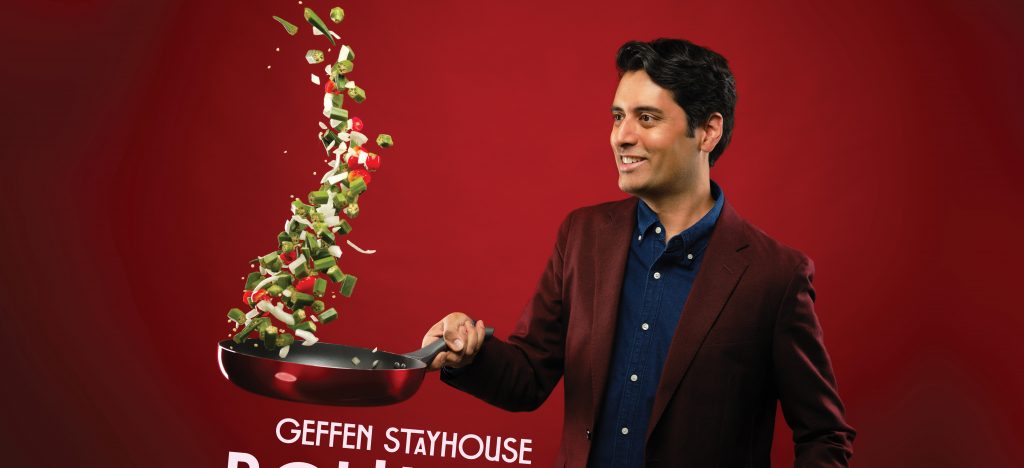 ABOUT SRI RAO
Sri Rao is a filmmaker based in New York City. He stands uniquely positioned at the intersection of Hollywood & Bollywood, as one of the few American-born screenwriters to have worked in the mainstream Indian film industry. He is currently making a series for Netflix titled The Actress, as well as developing several other series for Netflix and HBO Max. His production company is focused on creating content by and about South Asian Americans. In his book Bollywood Kitchen (Houghton Mifflin Harcourt), Sri combines his passion for Indian food and films by pairing Bollywood musicals with home-cooked recipes. www.newyorksri.com
ABOUT HYPOKRIT THEATRE COMPANY:
Hypokrit Theatre Company's mission is to disrupt the pedagogy of American theater, in order to create a more equitable and relevant theater. Based in New York City, Hypokrit exclusively develops work by artists of color and is led and supported by minority communities, who across ethnicities, genders, and sexualities are united in their commitment to elevate multicultural talent and stories.
ABOUT GEFFEN PLAYHOUSE:
Geffen Playhouse has been a hub of the Los Angeles theater scene since opening its doors in 1995. Noted for its intimacy and celebrated for its world-renowned mix of classic and contemporary plays, provocative new works and second productions, the not-for-profit organization continues to present a body of work that has garnered national recognition. Named in honor of entertainment mogul and philanthropist David Geffen, who made the initial donation to the theater, the company was founded by Gilbert Cates and is currently helmed by Executive Director Gil Cates, Jr., Artistic Director Matt Shakman and Board Chair Howard Tenenbaum. Proudly associated with UCLA, the Geffen maintains extensive education and community engagement programs, designed to involve young people and the community at large in the arts. www.geffenplayhouse.org