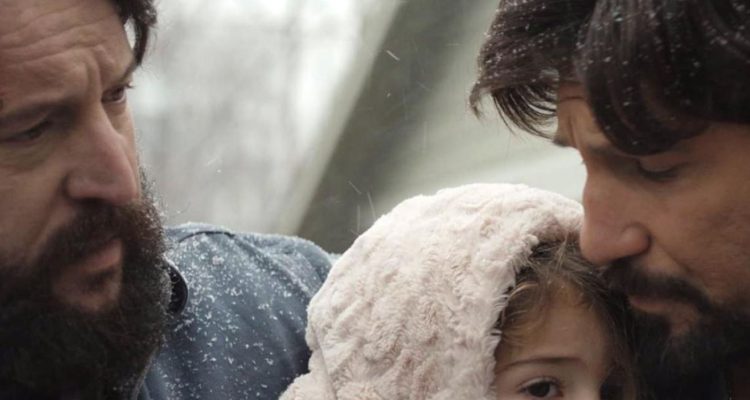 Laced with casual expletives, John Pollono's Small Engine Repair packs a powerful punch.
Pictured above, left-right: Packie (Shea Whigham), Swaino (Jon Bernthal) and Frank Romanoski (John Pollono) also Ciara Bravo as Crystal Romanoski.
When a trio of longtime mates from Manchester, New Hampshire get together for some heavy drinking in Frank's workshop, they reminisce about old times and chat about women, the internet and the virtues of social networking. The pals, confident Frank (John Pollono), ladies' man Swaino (Jon Bernthal) and nervy guy Packie (Shea Whigham) indulge in trading insults and mocking digs as they chew the fat. Inappropriate comments, harsh words and hasty apologies are exchanged, but nobody's sure why Frank is busting out the good whiskey. A young college kid arrives to do a quiet drug deal with Frank and all of a sudden the scene erupts into terrifying violence.
Pollono's script is an exquisitely modulated gem, gripping the viewer with a storyline that is both shocking and sobering with its commentary on the ramifications of modern interactions in the technological age.
As a taut stage drama, Pollono's play, Small Engine Repair was remarkable for its intensity and claustrophobia, as well as its stripped-down focus on masculine toxicity and the role of social media when used to exacerbate bullying.
As a film, however, the material develops into a different experience for the viewer—one that offers far more complexity and depth in its social commentary.
Pollono proves an assured director, skillfully navigating the transfer of his play from stage to screen. Taking full advantage of the cinematic medium, we see his story open up in all directions, adding layers and greater dimensions as well as authenticity in the characterization.
Of note is his expansion of focus to make room for the female characters who were alluded to in the play. You can see the author took great pains to round out his story, to make it less of a 'dude' movie—essentially enriching his male-centric story with this inclusion of female energy and presence. The linchpin of the drama, Frank's daughter (Ciara Bravo plays Crystal Romanoski), is given ample screen time, and as viewers we gain insight into this tight unit of friends. We understand their protective impulse.
The result is a vivid sense of immersion, of authenticity of location and local types supported by credible dialogue and actions. The drama briefly and unexpectedly takes a detour into Grand Guignol territory before settling into more of an edgy thriller.
Pollono deftly subverts our expectations revealing that beneath the cultural macho posturing lies a surprising tenderness and intimate insights. His confident writing and direction strikes a balance between timelessness and specificity.
The story's dilemma is cleverly resolved, providing not only a convincing conclusion based on sound decisions but also a poetic and satisfying catharsis that feels hopeful and gratifying.