Calling all cultural aficionadi and scholars! You're invited to experience a rare opportunity for a deep dive into Persian culture—one that is rich with antiquity and mythology. Bearing a complicated history, today Persia is officially known as the Islamic Republic of Iran, and home to one of the world's oldest civilizations.
Granting an interpretation of one of Persia's ancient texts is this magnificent ballet entitled The Scarlet Stone – now freely available for viewing during this month. Combining dance with animation and music, this performance piece is a theatrical retelling of a tragic Persian myth about a heroic father and his son.
Tirgan, North America's preeminent hub for Persian arts and culture, is responsible for the virtual presentation of The Scarlet Stone, a multidisciplinary and collaborative music/dance/animation work that merges expressive modern aesthetics with Persian traditions.
A beautiful work, it's important to note that The Scarlet Stone could not be performed in present day Iran; due to the dictates of the state religion, modern dance is banned.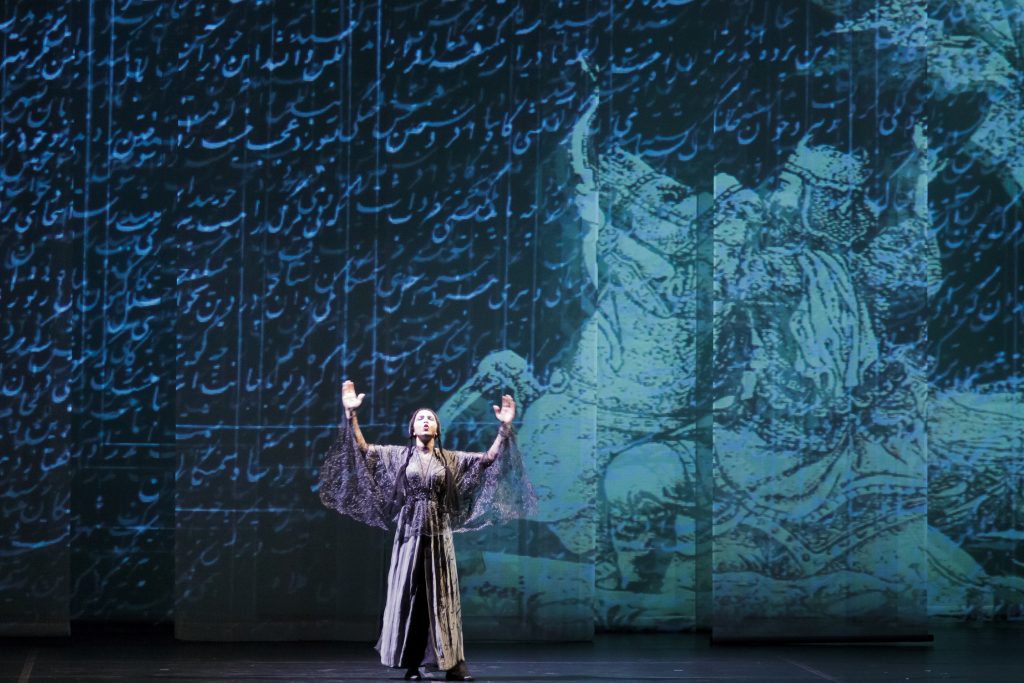 Fortunately this ambitiously-staged performance piece has been filmed and is being made available by Tirgan for free viewing throughout the month of October. View here.
The Scarlet Stone features stunning performances by acclaimed artists Gordafarid, Afshin Mofid, Ida Saki, Miriam Peretz, and Shahrokh Moshkin Ghalam as Sohrab.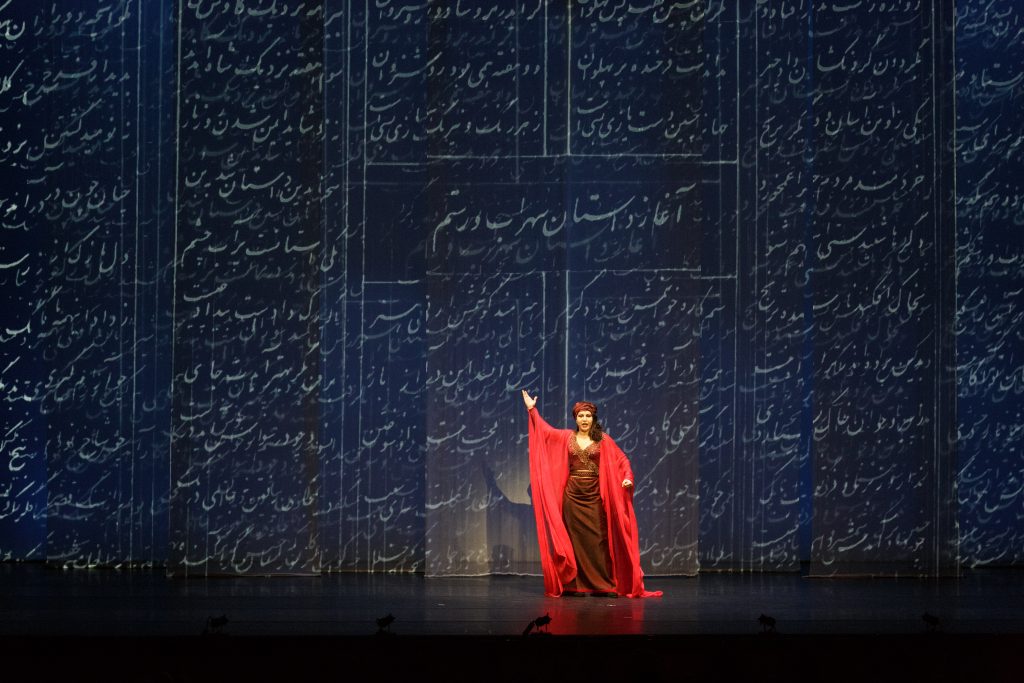 About this remarkable work:
Composer/Director Shahrokh Yadegari created The Scarlet Stone dance piece by combining the ancient poem Shahnameh with a modern poem written by (the late) Siavash Kasrai when he was in exile, entitled Moher-ye Sorkh (The Scarlet Stone).
The ancient source for Yadegari's contemporary creation is the 1,000-year-old Shahnameh or Book of Persian Kings by Abdqasem Ferdowsi, an epic poem said to be the longest poem ever written by one person. Ferdowsi struggled for 30 years to write his masterwork, defying the Islamic takeover of Iran and its repression of the Iranian language and culture. It is the Shahnameh that revived Persian culture and prevented its extinction.
The resulting piece uses a contemporary rendition of ancient Persian mythology by Ferdowsi and Kasrai to reflect on the 1979 Iranian Revolution aftermath.
The Scarlet Stone has an 80-minute running time and is presented in Persian with projected English subtitles. The piece was performed live in 2015 when it debuted on stages in San Diego, Toronto, and Los Angeles. Filmed at UCLA's Royce Hall and designed to reach a global audience, the online presentation will be available this month through October 31, 2021, and will be free to watch.
A trailer can be viewed here.
To learn more about The Scarlet Stone, please visit the official site here: http://scarletstone.com
PANEL DISCUSSION Information:
Additionally, a discussion panel is being hosted by Tirgan, North America's preeminent hub for Persian arts and culture.
This coming Sunday (October 10, 2021) a very special online presentation will take place live at 2:00pm PST (5:00pm EST). Composer/DirectorShahrokh Yadegari will be joined by Moshkin Ghalam and Persian scholar Ahmad Karimi-Hakkak for a literary and artistic discussion about the material, moderated by acclaimed theatre director Peter Sellars. Expected to run 90 minutes, the presenters have intentionally situated the Q&A event ten days into the screenings to give fans a chance to view the film before this interactive deep dive. Audience members will be able to pose questions for the speakers and artists and hear their personal commentary on the work.
The month-long screenings and one-time live discussion will be available for free at — https://tirgan.scarletstone.com.
The roundtable will be followed by a Q&A you can participate in and ask your questions regarding the play from the panel members. This roundtable will be moderated by the acclaimed theatre director Peter Sellars, who will be joined by Dr. Ahmad Karimi-Hakkak and the crew.
Panel members:
Peter Sellars (Moderator)
Ahmad Karimi-Hakkak (Scholar)
Shahrokh Yadegari (Scarlet Stone Director)
Shahrokh Moshkin Ghalam (Dancer and Choreographer)
To join the live panel event, please use this link: https://us02web.zoom.us/j/88973771004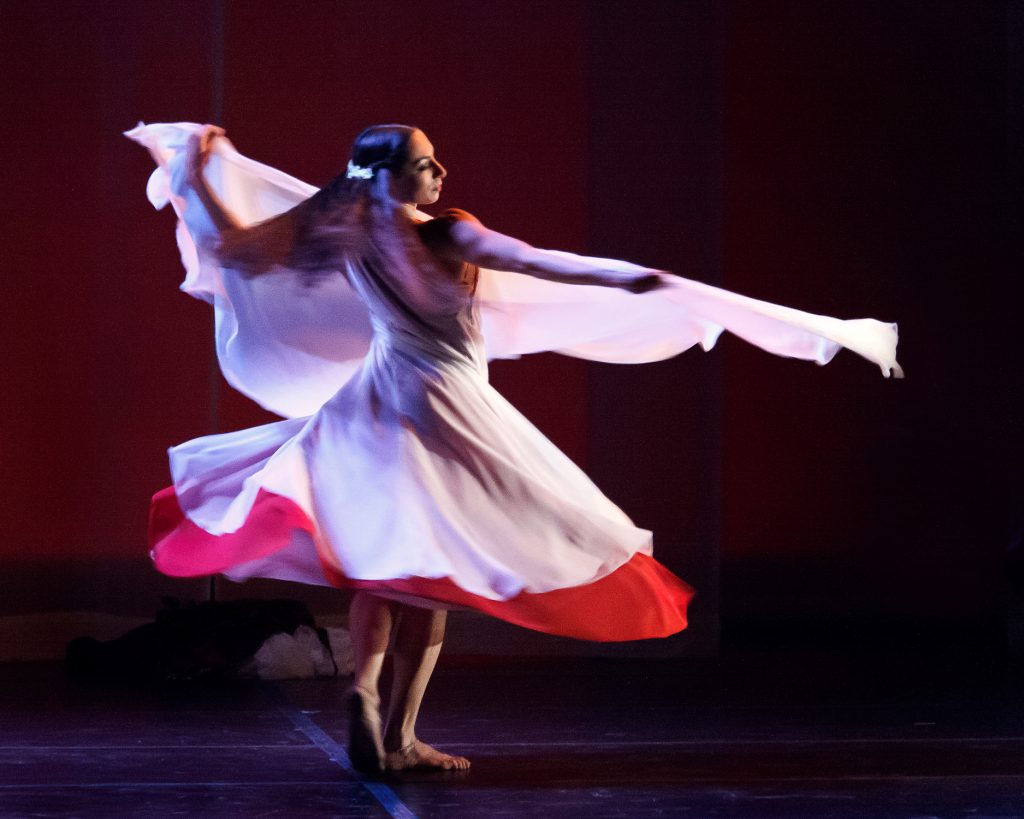 Context:
The 1979 Iranian Revolution is widely considered one of the most popular revolutions in history. Many groups from different political inclinations came together to oust Mohammad Reza Shah Pahlavi and, by December 1978, individual protests on the streets of Iran drew close to 10 million anti-Shah demonstrators. Historians have identified these events as potentially the largest protests of their kind in world history. After the consolidation of power by the fundamentalists shortly after the revolution, many groups who fought for the revolution, among them also the leftists who supported the theocratic regime, found themselves in a precarious position. Belonging to one such group, Siavash Kasrai had to flee the country and wrote The Scarlet Stone years later during his time in exile. This adaptation of The Scarlet Stone draws a parallel between the current sociopolitical climate of Iran and Arab rule in the region a thousand years ago, weaving old and new narratives, politics, as well as modern and postmodern aesthetics, all while maintaining a deep commitment to the traditional values of Persian poetry (the most cherished art form in Iran).
Poetry in Iran:
Poetry is widely considered the most powerful form of artistic expression in Iran. Ferdowsi, author of the famous 10th-century epic Shahnameh (the "Book of Kings"), is celebrated as one of the most influential Persian poets of all time. Written over a thousand years ago, Shahnameh revived the Persian language by bringing the ancient oral mythology of the region into poetic form and documenting Persian history before the Arab invasion. Siavash Kasrai, one of the pioneers of 20th century poetry in Iran, conducted a politically active life with specific Marxist political inclinations. In his last major work, The Scarlet Stone, Kasrai portrays the struggles of his own life, the movement of the left, and what he believed to be an heroic act based on infatuation and righteousness, in the context of the most famous mythological story of Iran, Rostam and Sohrab.
Rostam is the most beloved and strongest hero of Iran, and Sohrab is his love child, whom Rostam kills in the battlefield in ignorance. The story of "Rostam and Sohrab" was originally preserved in the epic Shahnameh. In Kasrai's work, the mythological character Sohrab confronts the author of Shahnameh, Ferdowsi, regarding his premature and tragic death, and ponders the meaning (or meaninglessness) of his futile quest for peace and justice. This question resonates with many who fought for the 1979 revolution.