It's a Wonderful Life is now an undisputed holiday classic, but its road to perennial status was as long and difficult as its hero's journey to happiness. It began as a short story called "The Greatest Gift" that its author, Philip Van Doren Stern, couldn't sell and so he self-published it as a pamphlet and sent it out as a Christmas card to his friends in 1943. Frank Capra directed the beloved film version in 1946, but it flopped at the box office and fell into public domain where it remained for decades afterwards. Ironically, this is what turned the film's fortunes around. Television networks frequently used it as free Yuletide programming, and generations of people were exposed to it that might never have seen it otherwise and saw what a masterpiece it actually was. It's also a gift that keeps on giving, with the excellent new Rogue Machine production of This Wonderful Life, in which playwright Steve Murray reconfigures the story into a one-man show that Leo Marks runs with in a delightful, tour-de-force performance.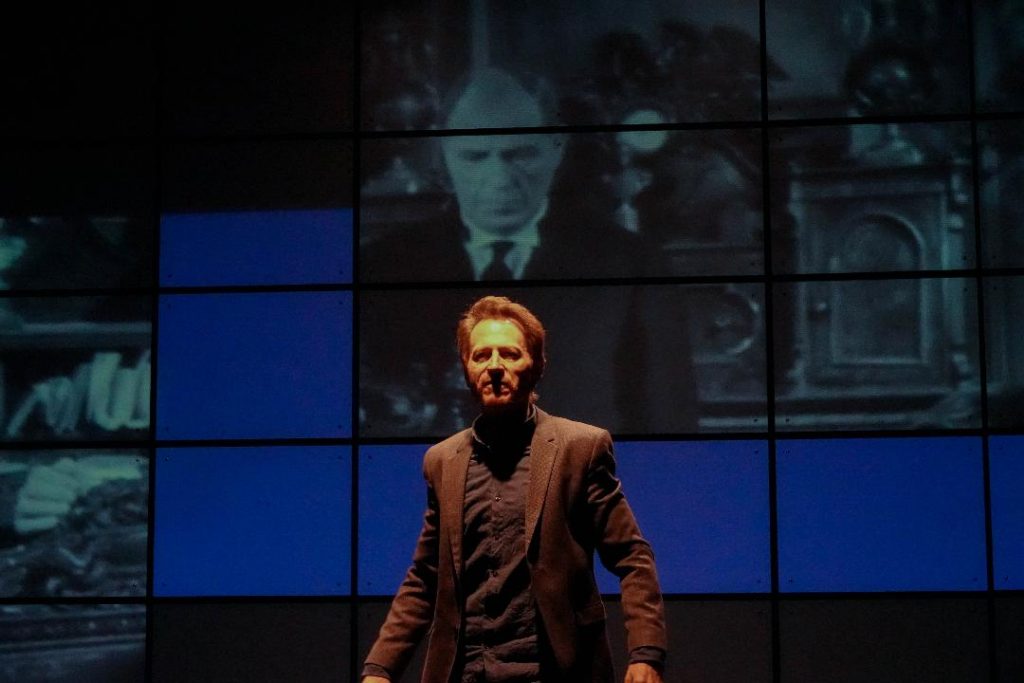 As the vast majority of you are likely familiar with the tale of George Bailey (Marks), a good man eventually driven to despair but saved via angelic intervention, I won't recap it again here. I will say that it would initially have been a very unlikely candidate to be a feel-good Xmas filmic tradition – it's a Christmas movie about narrowly averted suicide! But I think in a strange way, it's that serious core in an otherwise charming story that provides the sense of redemptive power in its glorious conclusion. If we didn't viscerally feel George's suffering, the joy of the ending wouldn't resonate quite as deeply as it does.
It's been well known to local theater audiences for years now that Leo Marks is one of the best, most talented actors in town, but for anybody who hasn't been lucky enough to see him onstage before (and anyone who has), they're in for a treat with This Wonderful Life. Marks' versatility isn't a surprise, but seeing him portray what seems like thirty to forty characters, all different but each clearly delineated via a plethora of old-timey movie voices and stylized mannerisms, is undeniably impressive. His Jimmy Stewart is impeccable, capturing both George's decency and irascibility, but his Lionel Barrymore is even better, drawling and wheedling as that "scurvy little spider" Mr. Potter. Finally, the energy of Marks' performance is admirable – he leaves it all on the stage in terms of energy, leaping over a chair, doing the Charleston and most impressively running the circumference of the theater as he wishes Bedford Falls a merry Christmas. At the end of the show, the cast credits from the film are projected on a screen, and every actor's name is replaced by that of Leo Marks – an appropriate tribute for a herculean feat of performance.
Director Drew Barr's staging is ambitious for a solo actor show, requiring Marks to move from spot to spot to spot constantly, but it works brilliantly, making each scene feel specific and credible. Rick Martin's projection design, featuring moments from the film displayed upon a wall behind Marks, brings a lot of the nostalgic atmosphere from the movie, and his expert lighting design fluidly helps create any number of story settings in an instant. Murray's script works both as an effective adaptation of the movie but also fondly comments upon it from time to time, adding a sense of affection for the piece that is tangible.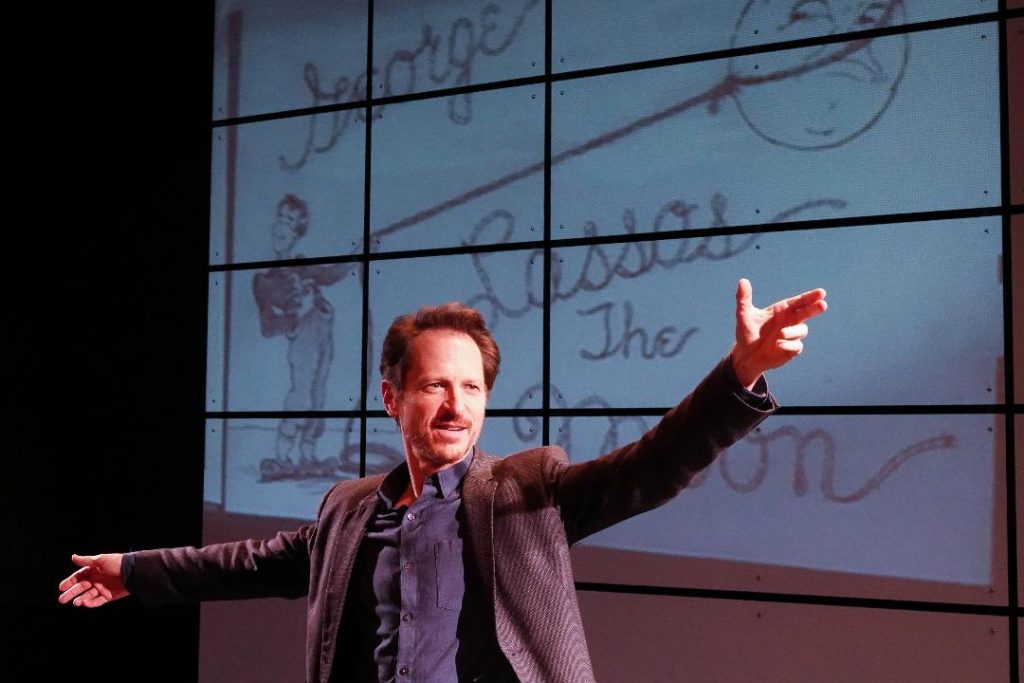 Forgive the digression, but I have my own history with It's a Wonderful Life that causes it to have a particular meaning for me, and I'd like to share it. In 1999, when I was 33, I came down with SARS. I got very sick, was hospitalized and was put on a ventilator for two weeks. I wasn't expected to survive, according to my doctors, but due to the intervention of an ER doctor friend of mine, I did. I was supposed to go home on the morning of Christmas Eve, but due to bureaucratic complications, I didn't get to leave until that evening, and it felt like I was just barely getting out, like it was a prison break. I got home, so weak I could barely walk, and turned on the tv. And there was It's a Wonderful Life. Jimmy Stewart in luminous black and white running around Bedford Falls, delirious with happiness. "Remember, no man is a failure who has friends." "To my brother George – the richest man in town!" "Attaboy, Clarence!" It felt like some sort of message, like I'd been given a second chance and was being reminded of it in a gentle way. I've never forgotten it.
And so I highly recommend This Wonderful Life for both professional and personal reasons. It's very entertaining and superbly acted, and I think especially that any fans of the film will love it, as I did.
This Wonderful Life, presented by Rogue Machine, plays at The Matrix Theatre through January 3rd. Tickets are available online at www.roguemachinetheatre.net.