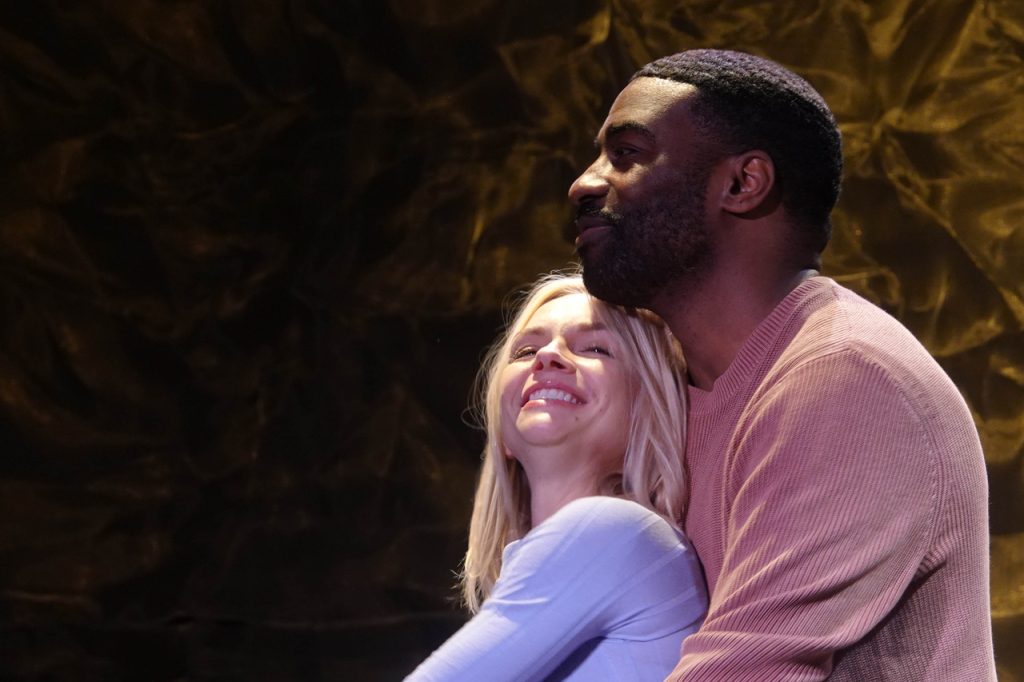 Some theater locations seem to be blessed, and in Los Angeles, one of those lucky places is The Matrix Theatre on Melrose. It's been producing and presenting high-quality shows for more than forty years, either under the auspices of Joe Stern and The Matrix Theatre Company or as a rental space. Whereas in most venues the artistic success rate fluctuates precipitously, in my experience The Matrix is almost always dependable. It's a happy circumstance, then, that Rogue Machine has taken up residence at the theater – one of the most respected companies in town in one of the most beloved theatrical spaces. RM's new show, On the Other Hand, We're Happy, keeps that great theater mojo going with an excellent and moving production of Welsh playwright Daf James' adoption drama, featuring some of the best acting you'll see onstage this year.
Josh (Christian Telesmar) and Abbie (Rori Flynn) met when they were six, stayed friends and ultimately got married. When they decide they want to have kids and discover they can't biologically, they decide to adopt. This process is more difficult than they initially imagine, and when tragedy strikes, it becomes exponentially trickier. Eventually a match is made with a six-year-old girl who has been removed from a home situation where she was exposed to substance abuse and violence. However, before the adoption can be made official, birth mother Kelly (Alexandra Hellquist) wants to meet, and she has questions.
Flynn is funny and charming and convincingly emotional as the heart-on-her-sleeve Abbie, and she displays an easy chemistry with Telesmar that makes them credible as a couple. Telesmar is quite good as Josh, anchoring the show with his strong and sympathetic performance as a decent man who worries he may be out of his depth. Hellquist, however, is magnificent as Kelly, in a galvanizing portrayal so full of detail and energy and surprise that it astonishes. Her long interview scene with Josh is the beating heart of the play, and her performance is the most impressive I've seen this year so far.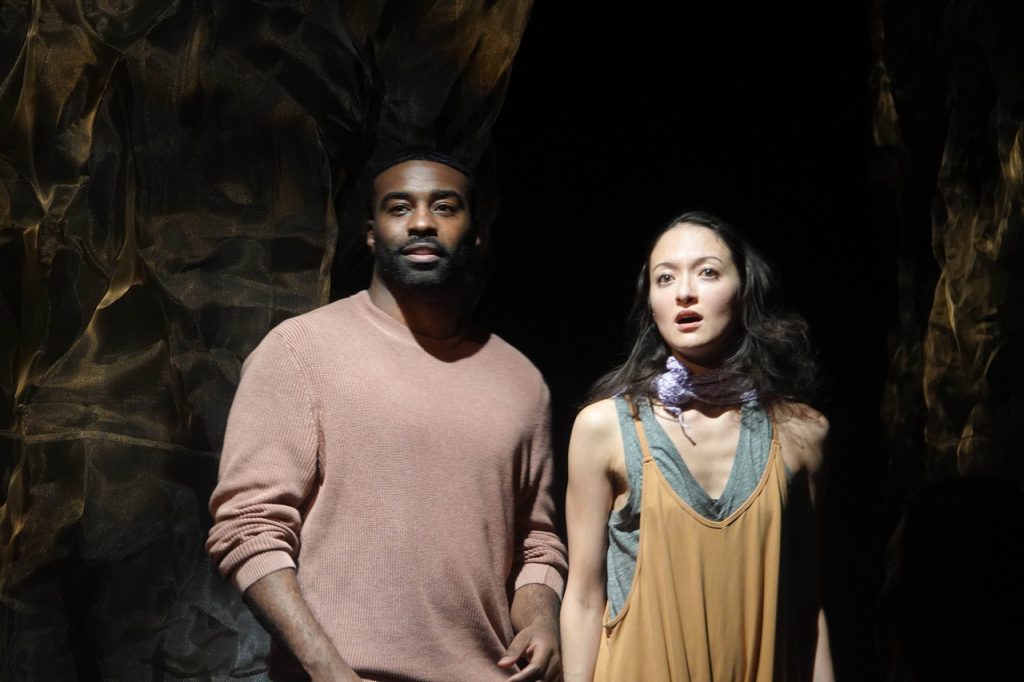 Director Cameron Watson is often lauded for being an "actor's director," and he proves it yet again with the superb work he gets from his cast, but he also excels in the staging and pacing of the piece, serving its quicksilver structure of constantly leaping forward in time with admirable dexterity. Stephanie Kerley Schwartz's scenic design is somewhat unusual – a crumpled mesh fabric covering all the walls – but in combination with Jared A. Sayeg's lighting design, it effectively creates a liminal space that suits this show perfectly. James' writing is both humorous and heart-tugging, and if it feels a bit generic in the early going it becomes engrossing and powerful by the conclusion. His decision to include direct address to the audience mostly seems like a gimmick, but the final use of it, requiring members of the audience to read questions from a card to the characters onstage, paid dividends as the heightened emotions of the chosen speakers added palpably to the power of the show.
I'm not certain what the title of the play is referring to exactly, but with a show this accomplished and resonant, that doesn't matter at all.
On the Other Hand, We're Happy, presented by Rogue Machine, plays at The Matrix Theatre through April 10th. Tickets are available at www.roguemachinetheatre.net.