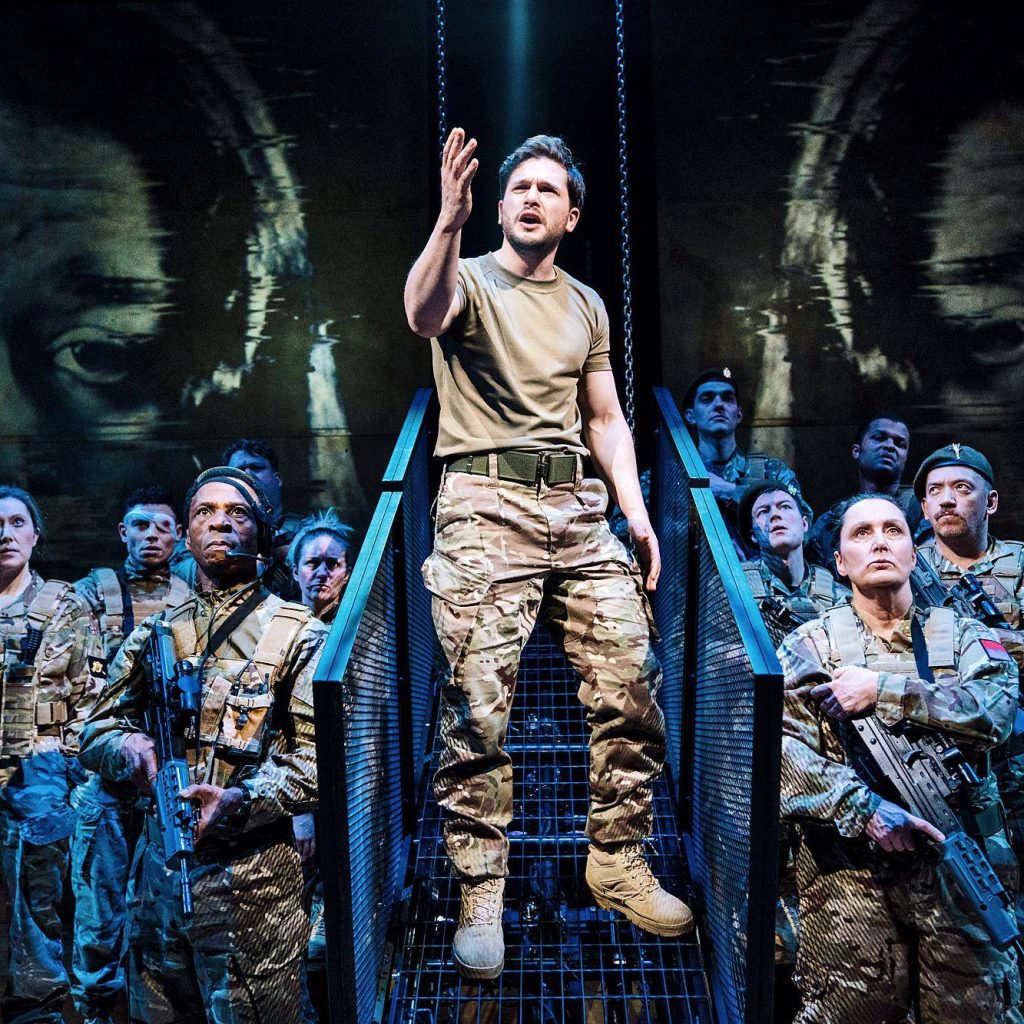 Club music, flashing lights and illicit drug use – it's not your typical opening to a Shakespearian play, by any means. This is the National Theatre's Henry V, staged at the Donmar Warehouse in London's West End, and initially presented as a live broadcast. If you're gonna watch a film of a live-staged play, then make it one of the National Theatre's shows because they do it extremely well.
Shakespeare's epic history play was written circa 1599 and covers events during the Hundred Years' War, immediately before and after the legendary battle of Agincourt in 1415. This theatrical production, thrillingly directed by Max Webster, sets the action in the modern day, emphasizing how the play's themes remain relevant to a contemporary audience. Here, Shakespeare explores ideas of nationalism, power and war, and examines the psychology of modern leadership.
This bi-lingual filmed version captures the intimacy of the 250-seat thrust theater experience. The completely bare stage, with its four ascending risers, proves a versatile 'blank slate' for the play's numerous locations, with backdrops illustrated by visual projections.
During the play's prologue, the Chorus asks "can this cockpit hold the vast fields of France?" (referring, of course, to the London Globe Theatre's original venue) before imploring the audience to "Let us actors on your imaginary forces work…" Following this play's bare-stage prologue, we are plunged into the cacophony of a cheesy dance club as we witness the last hurrah of Hal partying with his rowdy mates as a carefree Prince.
The scene's bawdy mood abruptly alters with the news of his father's demise and then, with an abrupt lighting change, some choral singing, and video-projected rain, we are immediately transported to the gloomy funeral of the King.
Kit Harington (Game of Thrones) plays the title role excellently, with appropriate passion and gravitas. During a pre-show interview, Harington explains his version of the iconic role of Henry the Fifth, claiming the character is open to interpretation. "He's either a hero or a villain. But I wasn't interested in playing the heroic, patriotic version of Henry for a couple of reasons." What emerges is a portrait of a questionable and ruthless leader, one who becomes as addicted to power as he previously was to hard partying. With an additional inserted scene from Henry IV Part 2 at the top of the play, we are reminded of Hal's pals Falstaff and Pistol, Mistress Quickly as well as Nym and Bardolph and their carousing ways.
Webster stages the rampant action with confidence and masterful fluidity, escorting us from the royal courts to Southampton to the dynamic battlefields of France with ease. The contemporary setting permits some gender-swapping of several roles, and diversity is always welcome. Performances are uniformly solid from the classically trained cast, who imbue the text with emotion and clarity of expression.
The story goes as follows: King Henry V has ascended the throne after the death of his father, Henry IV. France poses an offensive, and Henry V must rally the troops to block an invasion. We also learn of plans to assassinate Henry V, arranged by the French who pay an English nobleman to handle the hit. Despite numerous obstacles in his way, Henry V invades France, claims victory at the Battle of Agincourt and returns home a worthy King. Henry returns to France to work on the Peace Treaty with King Charles. Despite her evident reluctance, he forces a betrothal to Catherine in order to unite England and France.
Highlights of this production are the haunting choral musical interludes, a military training montage, Harry's speech at Harfleur, "Once more unto the breach, dear friends, once more; or close the wall up with our English dead!" and, of course, Henry's rousing and poetic pre-battle speech (aka the "Eve of Saint Crispin's Day"rally) which defines this lion-hearted ruler leading his outnumbered men in battle.
At three hours plus, which includes the pre-show interviews and intermission, any of the historical Shakespeare plays are going to be a bit hard going… But if you're prepared for that, then this production is a real treat.