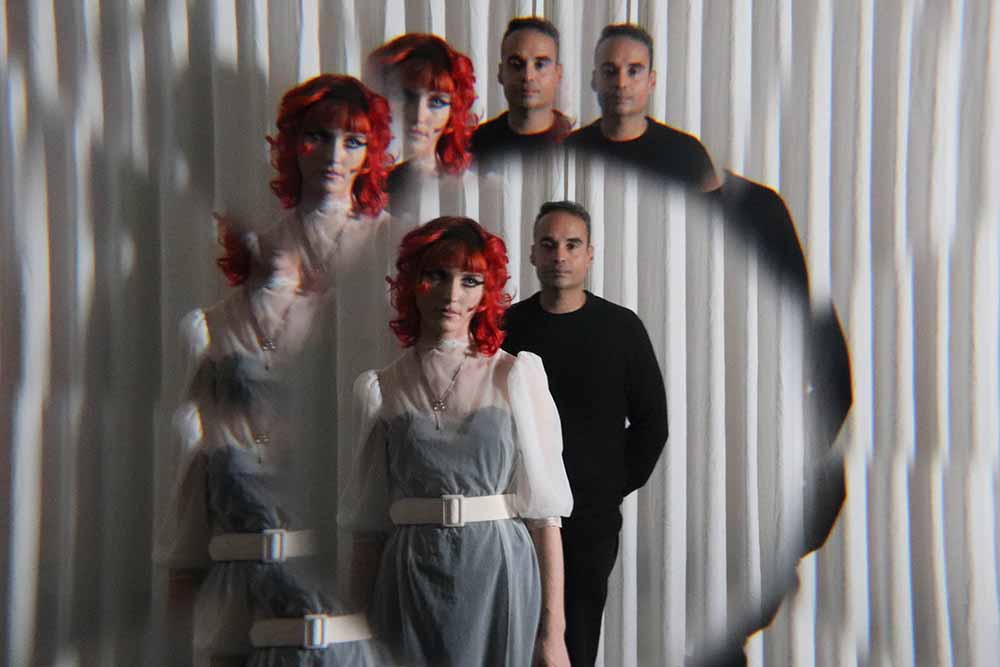 John Tejada and March Adstrum unveil their new band: Optometry. Pictured above – album art by Simone Ling.
The duo are performing at The Lodge Room on March 18, 2023.
Lodge Room and Decibel presents the return of legendary producer Luke Vibert (Warp Records, Rephlex Records, Ninja Tune, Planet Mu) who will be making a stop in Los Angeles as part of his U.S. tour. Known for his many guises and vast back catalog, Vibert has been forging his path in electronic music for nearly three decades. 
Optometry, the Los Angeles-based music duo comprised of John Tejada and March Adstrum, will provide support to Vibert with the World premiere of its live audio/visual show in celebration of the release of its debut album, After-Image. 
Nordic Soul and DJ WARP will be on opening duties, setting the vibe for the night.
DOORS 9PM | SHOW 9PM. ALL AGES.
$25 advance tickets ($30 at door).
104 N Ave 56 2nd floor
Los Angeles, CA 90042.
From the press release:
Optometry is a new Los Angeles-based music duo comprised of John Tejada and March Adstrum. Tejada, known for many years as an electronic artist, handles the production duties while Adstrum takes care of vocals and guitars. The band focuses on themes of life, love and loss, weaving seductively melancholic textures together with synths, drum machines, guitars and bass. Adstrum's ethereal voice and guitar work bring the electronics to life with heartfelt expression and emotion, while Tejada's use of vintage rhythm boxes, synths and effects provide a solid sense of authenticity. Palette Recordings will release Optometry's debut album, After-Image, on March 3, 2023, with lead single, "Chameleon" dropping on February 3rd and a second single, "Not What You Expected," out on February 17th. The band will open for renowned UK duo Plaid in Los Angeles on Friday, July 28th at Lodge Room. Visit the band's Instagram for updates and Bandcamp for music, optometry.bandcamp.com.
About the artists:
John Tejada
John Tejada is a Vienna-born, Los Angeles-based electronic music composer, DJ, and professor at CalArts. Tejada's professional output of music began in 1994 and has never let up, including five albums for the revered label Kompakt, plus releases on Pokerflat, Cocoon, Plug Research, Seventh City, Playhouse, Defected, and his own label since 1996, Palette Recordings. Tejada has also been responsible for remixing more than 100 songs for acts including Orbital, Plaid, The Postal Service, Télépopmusic, The Field, Bomb the Bass, Way Out West, Kevin Saunderson, Darren Emerson, Gui Boratto, Simian Mobile Disco and many others. Tejada's recent venture as Wajatta is a musical collaboration with international star Reggie Watts. They released their debut album, Casual High Technology, in 2018 and Don't Let Get You Down in 2020 on Brainfeeder.
March Adstrum
March Adstrum, raised by two Baroque violinists, was first influenced by the orchestral works of J.S. Bach, Antonio Vivaldi, and George Friedrich Handel, among others. From the age of 6 months she traveled backstage with the Philharmonia Baroque Orchestra, Musica Angelica, and Portland Baroque Orchestra. At the same time she was being raised in a fishing village located in a temperate rainforest in the Pacific Northwest. Her family taught her to value human connection, nature, and kindness. As she learned about the state of the world, she realized that she wanted to bring something with a good heart into being that could maybe help others feel less alone. At the age of 18, she moved to Los Angeles to study at California Institute of the Arts, where she discovered a great love for punk music, electronics, indie rock, and the D.I.Y. community. Her first official record, an EP, was released in 2021, entitled Veins, Vines, Cables.