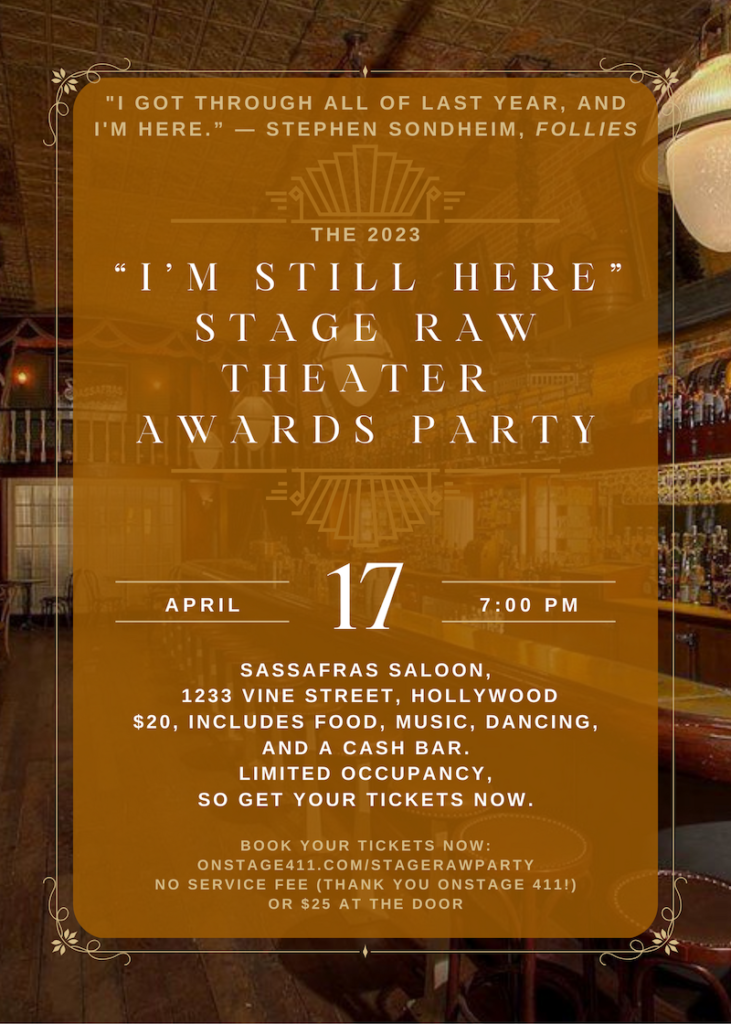 The Awards (Recognizing Excellence in Calendar Year 2022)
From the Stage Raw site:
"On Monday night, April 17, 2023 from 7-10 pm, Stage Raw will likely host its first awards/community party since 2019. It will probably look different from anything we've done before. But we are in a new era.
First, it will be at what's for us, a new venue, the Sassafras Saloon at 1233 N. Vine Street in Hollywood. The 1930s New Orleans-style saloon includes a bar; the living room of a house built in 1800 and relocated from Savannah, Georgia; an elevated stage for a live band and an awards ceremony; and an outdoor courtyard — a euphemism for what's actually a decorated alley between the Saloon and the four-story apartment building next door.
It's called the "I'm Still Here" party, channeling Stephen Sondheim's ditty from Follies, made famous by Elaine Stritch.
Our stage community has been through what, a decade ago, would have seemed unimaginable impediments — from misguided legislation that has pummeled the field to a public health crisis. In that same decade, we've seen the number of local productions drop by 50%, the greatest pain being felt by the smallest companies — which have gone out of business in droves. The cost of putting on a play in a theater that holds only 50 seats has double, tripled and quadrupled, depending on the size of the cast. Small, veteran companies, such as Boston Court Performing Arts Center and Playwrights Arena, theaters that used to present a season of five plays each are now partnering to co-produce a single play in calendar year 2023.
And yet, we're still here. Our party is a recognition of just that: tenacity and survival. The point is getting to know each other again, to meet and re-meet, and start to reimagine who we are and who we can be as a community.
A $20 ticket, which can be purchased online here, will get you in the door, plus complimentary food, a cash bar, live music, dancing, and an awards ceremony lasting no longer than an hour. If you buy a ticket online, please use the discount code StageRaw, and all ticketing fees will be waved. (Your $20 ticket will cost you $20, not $22.50, thanks to the generosity of onstage411.com. $25 tickets can be purchased at the door, but the capacity of the Saloon is only 250 people at one time, so for public safety reasons, we won't be over-booking pre-purchased tickets, and we'll be candid about space availability closer to the date.
For theater owners, there's a discounted sponsorship level. All businesses and theaters, feel free to review our sponsorship levels for this party.
All proceeds will go to support Stage Raw and the ability of its journalists to continue covering the L.A. area stage scene."
About Stage Raw:
"Using multimedia and the written word, Stage Raw is a digital journal dedicated to discovering, discussing and honoring L.A.-based arts and culture. The site offers complimentary searchable event listings, reviews (in written and podcast formats), features, profiles, humor and essays. Stage Raw will focus on the many voices and visions across the globe, in order to strive for a better understanding of local stresses and joys. We stand behind the actor on the unadorned stage; the director forging undiscovered meanings in a classic; the dramatist, painter, comedian and composer who may not have an agent, but who have something authentic to say. Stage Raw is here to provoke, and to serve artists and their audiences in the larger struggle to discern the purpose of our lives, and the meaning of our city."