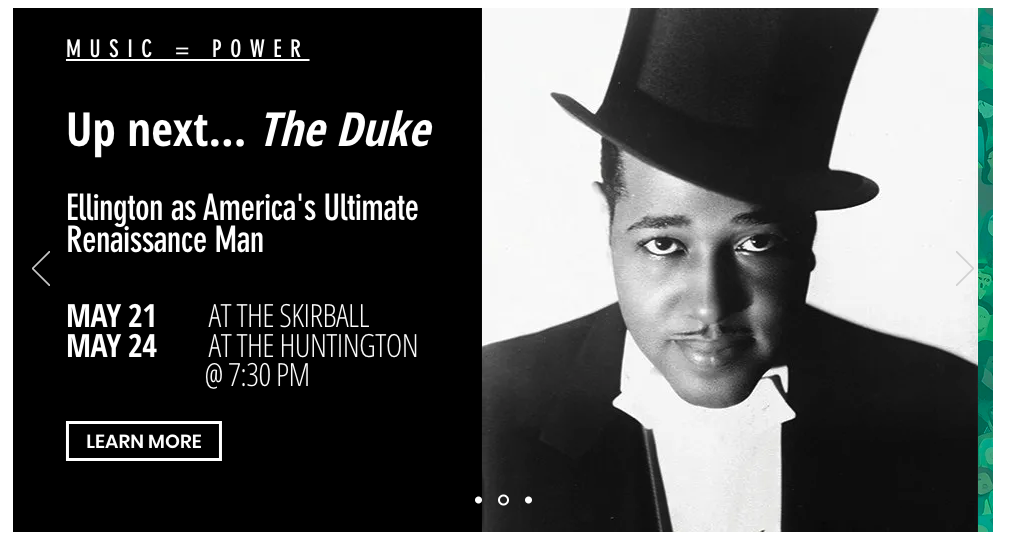 MUSE/IQUE 2023 MUSIC = POWER
Duke Ellington, byname of Edward Kennedy Ellington, (born April 29, 1899, Washington, D.C., U.S.—died May 24, 1974, New York, N.Y.), was an American pianist and the greatest jazz composer and bandleader of his time. One of the originators of big-band jazz, Ellington led his eponymous jazz orchestra from 1923 through the rest of his life. For more than half a century, the accomplished musician composed thousands of scores, and created one of the most distinctive ensemble sounds in all of Western music.
From the press release:
MUSE/IQUE honors Duke Ellington in performances entitled THE DUKE: Ellington as America's Ultimate Renaissance Man, conducted by Artistic and Music Director Rachael Worby, Sunday, May 21, 7:30 pm at the Skirball Cultural Center in West Los Angeles and Wednesday, May 24, 7:30 pm at the Huntington Library in San Marino.

With rousing performances of Ellington classics such as "Sophisticated Lady" and "Take The 'A' Train", the superlative Sy Smith (2022's Central Avenue, 2021's Tapestry at 50) and Myron McKinley (Central Avenue, Quincy At 90) and the soaring MUSE/IQUE orchestra will have you moving your feet and imagining new possibilities.

Also on the bill is a magical performance from Ellington's The Nutcracker Suite, an arrangement of the original by Tchaikovsky, by Herman Cornejo, Principal Dancer American Ballet Theatre, and Skylar Brandt, Principal Dancer American Ballet Theatre. Cornejo very recently wowed audiences and critics dancing the lead in ABT's new Like Water For Chocolate at Segerstrom Center for the Arts.

Through his music, Duke Ellington made our old world new. The man known for his revolutionary fusion of jazz and classical not only gave America its signature sound, but he also lifted countless voices into our shared cultural conversation. Through his thousands of compositions, Duke Ellington created a cohesive image of America, unifying different aspects of American life previously separated by race or class. Ellington was able to present America how it was, how he wanted to see it, and its endless possibilities. Through song and dance, we illuminate Ellington's ingenuity that shines in our lives, even today.
​
MUSE/IQUE's show THE DUKE: Ellington as America's Ultimate Renaissance Man will delve into Ellington's astute ability to reflect the realities surrounding him and his power to defy them. Ellington was able to observe and absorb his reality and, through his music, present an abstract and nuanced rendering of the world. This unique quality of Ellington has made "Sir Duke," an enduring figure whose music has touched millions of people across generations and defined American music.

The concert includes many of Ellington's most famous and popular songs — Take The 'A' Train, It Don't Mean a Thing, Things Ain't What They Used To Be, Sophisticated Lady, I Got It Bad and That Ain't Good, Don't Get Around Much Anymore, Satin Doll, and Prelude To A Kiss, as well as less known material — Heaven from The Second Sacred Concert and MLK from the Three Black Kings Suite.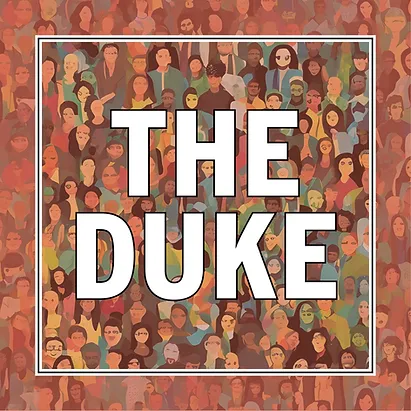 MUSE/IQUE honors Duke Ellington
THE DUKE
Ellington as America's Ultimate Renaissance Man

Led by Artistic and Music Director Rachael Worby
With guest vocalist Sy Smith,
Herman Cornejo, Principal Dancer American Ballet Theatre
Skylar Brandt, Principal Dancer American Ballet Theatre
Myron McKinley, music director & pianist, Earth, Wind and Fire

Sunday May 21, 2023 7:30 pm at The Skirball
Indoors at The Skirball Cultural Center
2701 N Sepulveda Blvd, Los Angeles, CA 90049

Wednesday May 24, 2023 7:30 pm at The Huntington Library
Outside at The Huntington Library, Art Museum and Botanical Gardens
1151 Oxford Rd, San Marino, CA 91108
To learn more about membership and attendance please visit http://www.muse-ique.com/membership.
MUSE/IQUE membership begins at $225 and MUSE/IQUE members receive complimentary admission to all MUSE/IQUE events.
Admission for non-members starts with a trial membership of $100, which includes three consecutive performances.
About the Artists:

Multi-talented and gifted pianist, producer, songwriter, programmer and film scorer, Myron McKinley is the current music director and keyboardist of the legendary R&B Jazz Funk group "Earth, Wind & Fire" that holds a record of winning 7 GRAMMY® Awards, including the GRAMMY® Lifetime Achievement Award in 2016. Upon graduating from USC, McKinley quickly began performing with award winning artists such as Chaka Khan, Mary J. Blige, Faith Evans, CeCe Winans, Harry Connick Jr., Jodeci, Yolanda Adams, Chicago, Puff Daddy, Dr. Dre, Brandy, Stevie Wonder, Whitney Houston, Stanley Clarke, Gerald Albright, Karen Clark-Shears, Chante Moore, Tupac Shakur, Doc Powell, Vesta, Backstreet Boys, Regina Bell, Tyrese, Hanson, James Ingram, Brian McKnight, Patti LaBelle, Monica, Dru Hill, Keith Sweat, Morris Day, Jermaine Dupri, Da Brat, Gerald Levert, Ashford & Simpson, Deborah Cox, Tamia, Emotions, Gloria Gaynor, Christina Aguilera, En Vogue and Earth Wind & Fire to name a few.
Myron also heads the Myron McKinley Trio with Ian Martin and Stacy Lamont Sydnor and has recently released a remake of Michael Jackson's hit song "Man In the Mirror" in collaboration with bass legend Stanley Clarke.
Sy Smith has long since solidified her place in the world of underground soul music (she's often called "the hardest working woman in underground soul"). This Los Angeles-based singer, songwriter and producer helped cultivate the nu-soul scene in that city more than 10 years ago, a scene which now easily boasts some of the most progressive artists of that genre to date, some of whom came directly from Smith's own band line-ups (including Thundercat and Kamasi Washington). Her catalog includes 5 studio albums, with contributions from a who's who of producers (James Poyser of The Roots, Ali Shaheed Muhammad of A Tribe Called Quest and Nicolay of The Foreign Exchange). All 5 of her albums, including her brand new project "Sometimes A Rose Will Grow In Concrete" have been heralded by critics around the world for Smith's lyrical dexterity, her vocal whimsy (often colored with a very distinctive rhythmic swing that's all her own) and her ability to spin a story like few others in soul music. Listeners often remark on Smith's vocal range, which moves effortlessly from a speakeasy, gritty alto all the way to a stratospheric soprano whistle register reminiscent of the late Minnie Riperton.
Smith's career began as a backing vocalist on some of the music industry's most coveted gigs. She has provided supporting vocals for Whitney Houston, Sheila E., Meshell Ndegeocello, Chaka Khan, Usher, Macy Gray and The Rickey Minor Band (as seen on American Idol for six seasons and The Tonight Show with Jay Leno). Most recently though, she's caught the ear of jazz aficionados as a featured guest with GRAMMY®-winning trumpeter Chris Botti. Audiences around the world are often astounded to see Smith's voice and Botti's trumpet go note-for-note in playful competition on stage, and her performance of "The Look Of Love" on his GRAMMY®-nominated DVD "Live In Boston" is an audience favorite. Jazz critics have also taken note of Smith's solo performances in her genre-bending presentations (e.g. "SySingsJanet!", her jazz-reworking of classic Janet Jackson songs), which include her often sitting in on piano, synth bass and manipulating her own vocal effects on with an on-stage processor.
Smith has received two NAACP Theater Award nominations, both for best supporting actress in a comedy/musical, for her theater work in Los Angeles (Michael Ajakwe's If You Don't Believe: A Love Story, Body Language), and she has numerous television acting credits (Ally McBeal, How I Met Your Mother, American Dad). Her voice can be heard as the character of Aisha on the popular video game franchise Saint's Row (she also wrote/produced some of the music for this game!). She has an Emmy nomination for her songwriting (Best Music/Lyrics for "Welcome Back All My Soulmates" for HBO's Dancing In September). This NYC-born/Washington DC-raised woman is a proud graduate of Howard University where she earned a bachelor of science in psychology.

Herman Cornejo was born in Mercedes, San Luis, Argentina and began his ballet studies at the age of eight at the Instituto Superior de Arte at Teatro Colón, Buenos Aires. In 1995, when he was 14, he earned a scholarship from the School of American Ballet. Upon his return to Buenos Aires, he was invited to join Julio Bocca's Ballet Argentino. At the age of 16, Cornejo was the Gold Medal winner of the VIII International Dance Competition in Moscow (1997), the youngest dancer ever in the history of the competition. He was then promoted to principal dancer with Ballet Argentino, alternating with Julio Bocca in all the main roles during the company's worldwide tours.

In 1999 he joined American Ballet Theatre, was promoted to Soloist in 2000 and to Principal Dancer in 2003. His roles with the Company include the title role in Apollo, Solor and the Bronze Idol in La Bayadère, the Red Cowboy in Billy the Kid, Pyotr in The Bright Stream, the fourth movement in Bruch Violin Concerto No. 1, the Jester in Ben Stevenson's Cinderella, Franz in Coppélia, Conrad, Ali, Lankendem, and Birbanto in Le Corsaire, Bryaxis in Daphnis and Chloe, It Was Spring in Dim Lustre, Basilio and the lead gypsy in Don Quixote, Puck in The Dream, the first sailor in Fancy Free, Colas and Alain in La Fille mal gardée, Ivan in Alexei Ratmansky's Firebird, Peruvian in Gaîté Parisienne, Albrecht and the peasant pas de deux in Giselle, Le Grand Pas de Deux, Profiteer in The Green Table, The Man in HereAfter (Heaven), the Joker in Jeu de Cartes, Des Grieux and Lescaut in Manon, the Lead Pontevedrian Dancer and the Maitre D' in The Merry Widow, the Nutcracker Prince and the Cavalier in Kevin McKenzie's TheNutcracker, the Nutcracker Prince in Alexei Ratmansky's The Nutcracker, Cassio in Othello, Other Dances, Petrouchka in Petrouchka, the Piper in The Pied Piper, the Son in Prodigal Son, Abderakman and Bernard in Raymonda, Romeo and Mercutio in Romeo and Juliet, Sinatra Suite, Prince Désiré and the Bluebird in The Sleeping Beauty, the Rose in Le Spectre de la Rose, Prince Siegfried, Benno and the Neapolitan dance in Swan Lake, James and Gurn in La Sylphide, Aminta and Eros in Sylvia, the third movement in Symphony in C, Hortensio in The Taming of the Shrew, Tchaikovsky Pas de Deux, The Boy in Whipped Cream, leading roles in AfterEffect, Ballo della Regina, The Brahms-Haydn Variations, Brief Fling, Clear, Diversion of Angels, Mozartiana, Single Eye, and Theme and Variations, and featured roles in Amazed in Burning Dreams, Baroque Game, Black Tuesday, Company B, Drink to Me Only With Thine Eyes, Gong,In the Upper Room, Jabula, Marimba, Overgrown Path, Petite Mort, Sinfonietta, and workwithinwork.

Cornejo created the Host in A Gathering of Ghosts, Fortune in HereAfter, Rabbit in Rabbit and Rogue, Caliban in The Tempest, "I Dig Love" in Within You Without You: A Tribute to George Harrison, and roles in AFTERITE, The Brahms-Haydn Variations, C. to C. (Close to Chuck), Concerto No. 1 for Piano and Orchestra, Garden Blue,Glow – Stop,I Feel The Earth Move,Pretty Good Year, Serenade After Plato's Symposium, Seven Sonatas, and Symphony #9. Cornejo has performed as a guest artist with numerous companies around the world, including Ballet Estable del Teatro Colón, La Scala Ballet, Universal Ballet of Korea, National Ballet of Japan, Kremlin Ballet, Dortmund Ballett, New York City Ballet, Boston Ballet, Pennsylvania Ballet, Martha Graham Company, Ballet Hispánico, Ballet Contemporáneo de Cuba and Corella Ballet Castilla y León. He has participated in charity events for several organizations, including performing alongside Sting at The Rainforest Fund Benefit Concert at Carnegie Hall, and at events raising funds for medical research for cancer, Down syndrome and poliomyelitis.

In 2012, he began an artistic collaboration with Alessandra Ferri, including the new productions Chéri, Evolution, and Trio ConcertDance. In 2015, he acted as artistic director of the Latin American Stars Gala, part of BalletNOW at the Los Angeles Music Center.

Cornejo has received multiple nominations, awards and distinctions. He has been named a Peace Messenger by UNESCO, Dancer of the Year by The New York Times and Latin Idol by Hispanic Magazine. He won the Star of the 21st Century international ballet competition in 2005 and the Mr. Expressivity prize at the Dance Open Festival in St Petersburg in 2010 and 2013. He received the Argentinian Pride Award from the Argentinian Culture Center (2013), The Bessie Award for Outstanding Performer (2013), the Prix Benois de la Danse for Outstanding Male Dancer (2014), the Konex Platinum Award for Best Male Dancer (2019), and a Dance Magazine Award (2022).
Skylar Brandt was born in Purchase, New York and began her training at age six with teachers Diana White and Christian Claessens at Scarsdale Ballet Studio. She also studied with Valentina Kozlova, Fabrice Herrault, Susan Jaffe, Irina Dvorovenko, and Maxim Beloserkovsky. She attended the American Ballet Theatre Jacqueline Kennedy Onassis School from 2005-2009 under the direction of Franco De Vita. Brandt spent five summers at ABT's New York Summer Intensive, was a National Training Scholar from 2006-2009 and also received the Bender Foundation Scholarship in 2009. Brandt was a silver medalist at Youth America Grand Prix in 2004 and 2008.
Brandt joined ABT II (now ABT Studio Company) in 2009, became an apprentice with the main Company in November 2010, and joined the corps de ballet in June 2011. She was appointed a Soloist in August 2015 and a Principal Dancer in September 2020. Her roles with the Company include Polyhymnia in Apollo, Gamzatti in La Bayadére, Medora in Le Corsaire, Lycenion in Daphnis and Chloe, Kitri in Don Quixote, Lead Maiden in Firebird, Giselle in Giselle, Golden Cockerel in The Golden Cockerel, Young Girl in The Green Table, Columbine in Harlequinade, Young Jane in Jane Eyre, Clara, the Princess in Alexei Ratmansky's The Nutcracker, Olga in Onegin, Younger Sister in Pillar of Fire, the Rose Adagio and Princess Florine in Ratmansky's The Sleeping Beauty, Odette/Odile in Swan Lake, Princess Praline in Whipped Cream, and leading roles in AFTERITE, The Brahms-Haydn Variations, Piano Concerto #1, Symphonic Variations, Theme and Variations, Thirteen Diversions, Bach Partita, Drink to Me Only With Thine Eyes, Gong, In the Upper Room, Raymonda Divertissements, and Sinfonietta.

She created a Consort in A Gathering of Ghosts, The Swallow in The Seasons, the Fairy Canari qui chante (Canary) in Ratmansky's The Sleeping Beauty, leading roles in Her Notes and Single Eye, and featured roles in AfterEffect, After You, Bernstein in a Bubble, and Praedicere.

Brandt was awarded a 2013 Princess Grace Foundation-USA Dance Fellowship. That same year, she was featured in the film Ballet's Greatest Hits. In 2018, Brandt was the recipient of an unprecedented Special Jury Award for her performances on the Russian television show, "Big Ballet." In 2022, Brandt was named to the Forbes "30 Under 30" list of influential leaders and entrepreneurs.
The MUSE/IQUE 2023 Event Schedule


Join MUSE/IQUE for an invigorating new season that explores the artists whose music propelled social change and made us feel like we could take on the world.
​
THE UNAMERICANS: Free Expression and the Undoing of the Hollywood Blacklist
June 21 and 22 at The Huntington | June 25 at The Skirball — In the mid-20th century, many of our great film and music makers were censored but they could not be silenced. This is the fascinating story of the infamous Hollywood blacklist of the 1940s and 1950s, and how music rose above scandalous propaganda to define the true American sound. In connection with Blacklist: The Hollywood Red Scare presented at The Skirball Cultural Center, we delve into the intersection of politics, art, and social dynamics.

CENTRAL AVENUE: Songs and Stories of Los Angeles' Central Avenue,
July 12 at the Beehive | July 15 and 16 at Memorial Park, Pasadena –From the 1920's-1950's Central Avenue was the heart of African American cultural life: LA's answer to the Harlem Renaissance, and the epicenter of the West Coast jazz scene. Louis Armstrong, Ella Fitzgerald, Lena Horne, Duke Ellington, and Billie Holiday were regulars in the local clubs. Quincy Jones has famously said, when he moved to LA as a young man he didn't know about the music on the Sunset Strip, but he sure knew Central Ave. In this performance, MUSE/IQUE honors and celebrates the legacy of Central Avenue and its impact on our city and beyond.
BERNSTEIN AT HEART: Learning is Living
August 3 at The Huntington | August 6 at The Skirball — Leonard Bernstein's legendary "Young People's Concerts" helped define our modern imagination. One year after the Broadway debut of West Side Story, Leonard Bernstein's groundbreaking educational series with the New York Philharmonic was delivered to audiences worldwide via television. Inspired by Artistic Director Rachael Worby's idol, we learn how these famed telecasts became a blueprint for learning and a lesson in the power of knowledge that still resonates today.

RESPECT: The Electrifying Music of the Women's Movement
September 8 and 9 | Wilshire Ebell Theatre — Anthems and iconic artists have long energized our national struggle for women's equity. Legions of legendary artists have raised their voices to move humanity forward. From Marian Anderson to Lady Gaga, this show highlights the singers and songwriters who fought for women's rights and recognition of their power and agency through song. Performed in partnership with Los Angeles Unified School District and Pasadena area schools.
​
GOSPEL AND THE KING: Elvis Presley and the Music of Salvation
October 19 and 21 | First Congregational Church of Los Angeles — The King of Rock and Roll owes his crown to a life-saving musical tradition that dates back hundreds of years. Gospel music empowered people long before Elvis Presley introduced millions to its sound. We trace the deepest roots of rock and roll and discover the history of American music that you never knew you never knew.
​
THE POWER OF ONE: Featuring a Musical Celebration of Abraham Lincoln
November 12 | The historic Millennium Biltmore Hotel
This event benefits MUSE/IQUE'S efforts to share the music and imagination of our seasons with the most vulnerable people in our communities. The evening features Rachael Worby and the MUSE/IQUE orchestra in stirring performances of the music that inspired Abraham Lincoln during his lifetime, as well as modern American classics that pay tribute to his brave leadership. Celebrity guests from the worlds of stage, screen, arts, and literature will give voice to Lincoln's words in readings of landmark speeches from the Gettysburg Address to the second inaugural address and more. This intimate, elegant evening is open to members at the $5000 Chamber Circle and higher. Your elevated support helps make life changing music accessible to all! If you would like to attend this once-in-a-lifetime experience and similar events in the future, upgrade your membership today! Join us as we celebrate the extraordinary difference one person can make to change the world.

About MUSE/IQUE:
Over the past decade, MUSE/IQUE has curated and presented unexpected live music adventures that shake loose the customs, norms and barriers of the traditional concert-going experience. MUSE/IQUE has never had a formal concert hall – the city is the venue – and no set genres or styles of performance are emphasized. Instead, cross-genre, multidisciplinary performances are placed in iconic community locales.

Led by Founder and Artistic and Music Director Rachael Worby, MUSE/IQUE is a member-supported, nonprofit performing arts organization making radically engaging live music experiences accessible for all. Built on a tradition of community and collaboration, we create events that feature an eclectic mix of artists and artistic disciplines in unconventional locations – spaces where art typically does not happen. MUSE/IQUE was founded by Artistic Director Rachael Worby to upend the misconception that the performing arts are elitist, unapproachable, and, frankly, dull! MUSE/IQUE's mission is to build empathy and expand imaginations through transformative live events and strong partnerships with fellow nonprofit organizations in Pasadena and the greater Los Angeles area.

In addition to its live public performances, MUSE/IQUE'S OFF STAGE brings intimate, interactive events for 18 community partner organizations. Each on-site event gives participants a curated experience based on programmatic themes of our upcoming performances, and features guest artists direct from the MUSE/IQUE stage. Led by MUSE/IQUE staff, these events explore self-expression, encourage self-confidence and engage imaginations through music. Partners include Ability First, Academy of Music for the Blind, California School of the Arts – San Gabriel Valley, Five Acres, Hathaway/Sycamores, Hillsides, Jazz Hands for Autism, Learning Works, Mindful Veterans Project, Pasadena Senior Center, Performing Arts For All, Professional Child Development Center, Rose Bowl Aquatics Center, Union Station Homeless Services, Urban Compass, Villa Esperanza School, Villa Esperanza Adult Day Program, and Youth Emerging Stronger.

Presenting performances at landmark locations, MUSE/IQUE goes beyond the concert hall and into the community with spectacularly intimate performances that combine music, movement, and ideas from a diverse range of genres. MUSE/IQUE's artistic collective consists of top musicians from the worlds of jazz, rock, blues, gospel, and more, along with today's best singers, dancers, and thinkers. Together with an enthusiastic and growing audience base, these artists reimagine the possibilities for the live music experience. Founded in 2011, MUSE/IQUE is a membership driven organization presenting nine major public events each year as well as a wide range of education and community engagement programs. Please visit http://www.muse-ique.com/ for more information