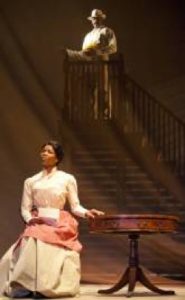 A persuasive melodrama, Intimate Apparel is perhaps Lynn Nottage's best known play, although she won the Pulitzer Prize for Drama for Ruined in 2009.
Written and first staged at Center Stage in Baltimore almost ten years ago, Intimate Apparel has a pleasing contemporary relevance. Although Nottage's drama is set in New York City in 1905, in the love letter romance there are parallels with the perils of contemporary online dating, as well as a slight nod to the pretext of Cyrano de Bergerac.
Intimate Apparel focuses on an African-American woman who has travelled to New York to pursue her dreams, becoming an independent woman by laboring as a seamstress. Esther (Vanessa Williams) makes exquisite corsets and fine lace undergarments for wealthier women, notably a dancer and prostitute who works at a saloon, Mayme (Kristy Johnson) and a white socialite, Mrs. Van Buren (Angel Reda). We learn Esther works tirelessly and is saving up to open her own beauty parlor.
Esther rooms with a number of other single young black women in the home of a widowed landlady, the lively and witty Mrs. Dickson (Dawnn Lewis). As yet another one of Mrs. Dickson's house guests celebrates their impending marriage, Esther rebuff's Mrs. Dickson's exhortations to mingle with the guests and seek out eligible bachelors. Esther is plain and she knows it. Now in her mid-thirties, she's also very much an unwanted old maid. She's resigned to her lot until out of the blue a letter arrives from Panama. It seems a Caribbean construction worker learned about her from a fellow who attended Esther's church, and he has taken the bold step of corresponding with her. The letters from George (David St. Louis) are full of poetic imagery describing the monumental undertaking to carve a passage through the Isthmus of Panama in order to link the Atlantic and Pacific oceans. Esther is flattered by the attention and writes back. Her illiterate state means she seeks the confidence and assistance of her two closest clients.
Pretty soon George's letters become more and more insistently romantic. Director Sheldon Epps stages the early sequences extremely effectively, with George narrating his own letters in his exotic Caribbean accent. At first he's a shadowy, far away presence, but as his letters become increasing insistent and persuasive, his hulking, macho presence looms larger both on stage and in Esther's mind's eye.
Esther eventually agrees to his proposal of marriage before they have even met. Upon meeting and marrying her romantic swain, Esther soon learns his motives are far from honorable. It all seems pretty fishy to a cynical eye, but Nottage's story unfolds well. A clever device by which Esther discovers her man's duplicitous nature is handled extremely well.
Intimate Apparel is a fine play and a convincing melodrama.
Production photos by Jim Cox.
Intimate Apparel
39 S. El Molino Avenue,
Pasadena
Performances:

Runs through December 2, 2012
Tuesday–Saturday, 8pm
Saturday matinee, 4pm
Sundays 2pm and 7pm.
Running time:
Approximately 2 and a half hours, including a 15 minute intermission
TICKETS:
$22–62.00
Box Office:
Purchase tickets here or call (626) 356-7529.
Rush tickets are available for $20.00 one hour prior to the performance time and are subject to availability. Rush tickets must be purchased at The Pasadena Playhouse Box Office.