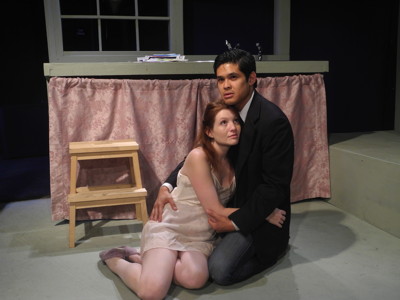 Gentle readers! This week my theater review for the LA Weekly is of the drama Their Eyes Saw Rain, written by and starring West Liang, and directed by Justin Huen.
A Company of Angels production, Their Eyes Saw Rain is now playing Downtown at their space in the Alexandria Hotel.
Click here to go to the LA Weekly's theater page and scroll down to read it.
~ OR ~
You can just read it here!!
Happy reading!
Their Eyes Saw Rain
Playwright West Liang also stars in his astonishingly intense ensemble drama, set in a fictitious small country town. The specter of tragedy hangs over the townspeople of Castle, emblematized by an ever-present decay caused by months of relentless rain. Or is that really the cause?
Stern and unyielding, Terrance (Liang) bullies his two younger brothers Joanus (Kavin Panmeechao) and Billy (Marc Pelina) into community service, dropping books off at the homes of their neighbors and assisting where they can. With this goodwill mission, Terrance (as active reformer) struggles to fill their recently deceased father's shoes, even as the mental illness that took him begins to crowd Terrance's consciousness. Meanwhile a blossoming romance between Joanus and a young single mother Peach (Samantha Klein) provokes an eruption from her wanna-be sheriff boyfriend Jake (James Thomas Gilbert).
Director Justin Huen's staging and direction is beautifully rendered. Performances from the cast of eight are all good, especially the precision and detail of Liang's somewhat one-note paranoid paternal figure. A brief scene where the true extent of Terrance's psychosis is revealed is breathtaking in its intensity, courtesy of Gregory Niebel's teeth-rattlingly powerful performance. Their Eyes Saw Rain may have an all too predictable and tragic trajectory, but it's a trip worth taking.
Their Eyes Saw Rain
Fridays, Saturdays, 8 p.m.; Sundays, 7 p.m.; Fridays, Saturdays, 8 p.m.; Sundays, 7 p.m.
Continues through Dec. 16, 2012.
Company of Angels at the Alexandria Hotel,
501 S. Spring St., Third Floor,
Los Angeles,
323-489-3703.