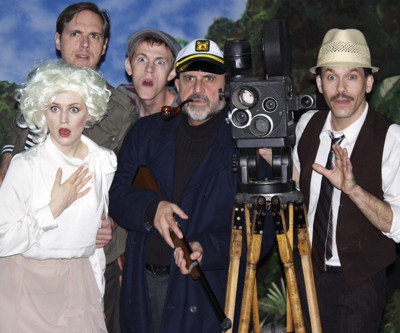 ::STOP PRESS::
KONG: A Goddamn Thirty-Foot Gorilla
has been extended through SUNDAY, DECEMBER 9, 2012
My recent theater review for the LA Weekly is of KONG: A Goddamn Thirty-Foot Gorilla by Adam Hahn, and directed by Jaime Robledo.
A SkyPilot Theatre production, KONG is now playing at the T.U. Studios in North Hollywood.
Click here to go to the LA Weekly's theater page and scroll down to read it.
~ OR ~
You can just read it here!!
Happy reading!
KONG: A Goddamn Thirty-Foot Gorilla
Adam Hahn's spoofy homage to King Kong, the 1933 creature feature about a colossal gorilla that is captured and runs amok in New York City, is an ambitious undertaking. Just how do you depict a giant ape on stage without stop-motion animation trickery and cinema magic?
Director Jaime Robledo's brand of creative staging and low-tech gimmickry include trompe l'oeil shifts in perspective and scale. Hence when platinum blonde bewigged scream queen Anne (Sara Kubida) is in the grip of Kong's giant paw, the actor playing Kong (all snuffles and primal bellowing, Germaine De Leon) can also be seen clutching a Barbie doll.
Cast members tilt and sway in unison to suggest the passage of a ship. Tifanie McQueen's scenic and prop designs are minimal and effective, and curiously less complicated to re-set than the lengthy scenes in front of the curtain should warrant. Yet some of these odd scenes, including shipman Jack Driscoll's (Eric Curtis Johnson) confessions to an AA meeting and Skull Island Native Chief (Arden Haywood) shedding his headdress to instruct us about "race" movies from the 1930s, offer some deliciously amusing rewards.
Audience members are enlisted to the air squadron for Kong's Empire State Building climactic demise by the supply of do-it-yourself paper airplanes.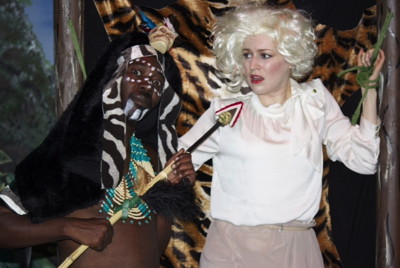 KONG: A Goddamn Thirty-Foot Gorilla
at T.U. Studios
10943 Camarillo St.,
North Hollywood.
Performances:
Saturdays, Sundays, at 8PM.
Continues through November 25, 2012
Box Office:
(800) 838-3006