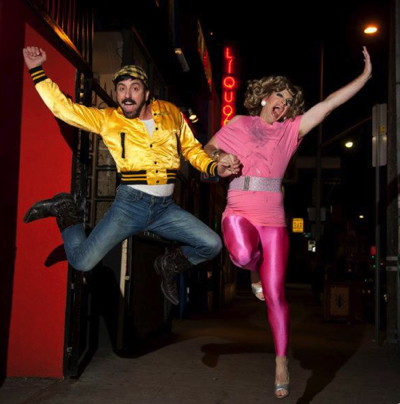 80s dance tunes and dazzling choreography that features plenty of sky-high kicks and ball-busting splits – Connie Loves Juice is John Cantwell's hilarious multimedia dance-drag-comedy show about teen angst and true love.
Writer/performer John Cantwell slips on his high heels and glittery mini skirt (and less…) to once again present the comedic tribulations of love-struck Connie Slocum, a flash-dancing disco queen. The show finds our loveably hirsute heroine Connie Slocum (Cantwell) looking for love at the local roller disco. Connie's got a crush on hunky skating stud Juice (dreamy Mario Diaz), but mean girl Gianelli (Nadya Ginsburg) and her wild crew of dancing maniacs (Kristin Campbell-Taylor and Lou Becker) threaten to shove poor Connie out of the picture. Will Connie and her sweet kitty companion Vickie (Katie Malia) each find true love?
Expertly directed by Jim Fall (Trick, The Lizzie McGuire Movie, Holiday Engagement), this fast-paced, toe-tapping, spoofy, high-camp, clever show will have you grinning from ear to ear and bopping away loving every minute. With so many smart storylines and dramatic twists and turns crammed into a high-energy production that runs for less than an hour, Connie Loves Juice proves utterly disarming and a feast of pure entertainment.
Every so often a brief and funny animated slide show is projected upstage, charting the romance of Connie and Juice. (Glam photos by Dusti Cunningham and video editing by David Kittredge.) Meanwhile the hard-working cast of six is furiously quick-changing backstage to re-emerge in yet another fabulous costume. Connie's fashion parade knows no boundaries including her sheer lace wedding gown that is every bride's dream!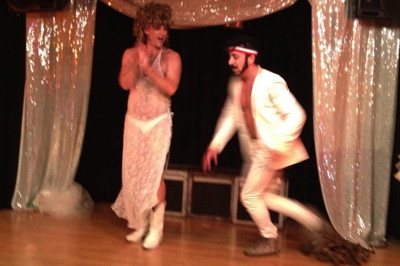 The dozen or so raucously fun dance numbers are backed by wall-to-wall dance tunes, everything from the afro-stylings of "I Zimbra" by Talking Heads, to a cool mashup of Salt-N-Pepa's "Push It" to Rhianna's "Only Girl (In The World)."
Significantly, Cantwell ingeniously uses the backing tunes as narrative to drive his romance-horror-soap opera that's underpinned by comedy throughout. He manages to pay homage to everything from Brian de Palma's Carrie, the disco classic Saturday Night Fever and John Waters' Dreamlanders to Dancing with the Stars and beyond.
Conceived by Cantwell, he and his director Jim Fall have assembled a fantastic support cast of talented performers.  The whole cast consists of superb dancers, and this show features some of the most intricate choreography I have seen for a very long time, all executed flawlessly on a stage the size of a pocket handkerchief. The choreography is timed to the split second and everyone is in perfect sync. Their hard work really shows. Choreography was definitely a group effort, with credit going to Benjamin Allen along with Lou Becker, Kristin Campbell-Taylor, John Cantwell and Mario Diaz.
In talent and charisma, Mario Diaz as gorgeous boyfriend Juice is a perfect foil for our protagonist Connie. Personifying Connie's pretty white pussycat Vickie, Katie Malia is superbly detailed in her performance. What an astoundingly gifted dancer and mime artist.
Cantwell's previous show was Love, Connie (2010) and this new production shows a development of ideas and themes to a sophisticated level. Above all, Connie Loves Juice is pitch perfect; not one false note. Pure entertainment.
Do not miss this brilliant show!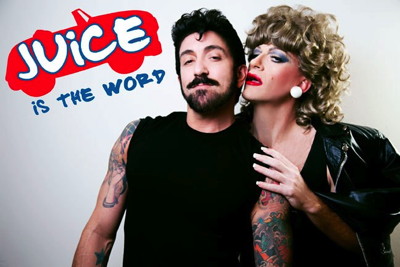 Connie Loves Juice
Cavern Club Celebrity Theater
Casita Del Campo Restaurant
1920 Hyperion Ave.,
Silverlake, CA 90027
(Restaurant Phone – 323-662-4255)
TWO PERFORMANCES REMAINING:
Thursday February 21, 2013 at 8PM
Friday February 22, 2013 at 9PM.
$20.00 Pre-Sale
$25.00 Cash At The Door
Box Office Opens one hour before the show.
Pre-purchase highly recommended (Show will sell out.)