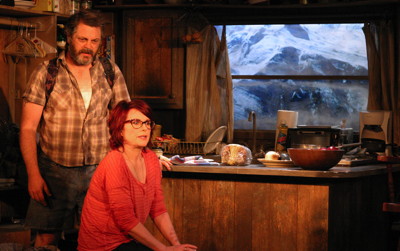 In playwright Sharr White's quirky two-person drama, directed by Bart DeLorenzo, a formerly married couple reunites and tries to make sense of their estrangement. Married in real-life actors Nick Offerman and Megan Mullally face off in this odd-ball drama of lost love and recriminations.
The first thing that hits you when you enter the theater space (before the play starts) is Thomas A. Walsh's impressive set. It's a junky old mobile home with a trashed interior, torn curtains, a broken wall phone etc Trash is everywhere. Grimy windows obscure the spectacular snow-capped mountain peak view. Soon we learn we are in Paonia, Colorado – "The ass crack of the Rockies."
The play commences with the pleasant aroma of meat (actually sausage) being pan-fried. Lights go up to reveal Emma (Megan Mullally) standing in the doorway of this pigsty while Ulysses (Nick Offerman) stands frozen with the frying pan in his hand, looking like an unkempt, wild man loner and completely naked except for a grubby apron around his waist. Soon we see that Ulysses has an oxygen tank strapped to his back. The man is clearly ill.
It transpires that Ulysses hasn't heard from nor seen Emma for twenty years, since she upped and left him (taking their 5-year-old son). Emma's reappearance is equally sudden and inexplicable — at least to him.
White's play is a talky back and forth, full of spiky but droll banter, that gradually reveals a number of salient plot points, best left disclosed by the protagonists. She's a failed editor and he's a washed-up writer and even twenty years later they're still driving each other 'round the twist.
White makes good use of the ordeal of mountaineering as a metaphor for a troubled relationship, forcing his characters into a place of no return; the only way to survive is to move forward.
It's an intriguing premise, but the play itself left me cold.
Photo credit: Enci.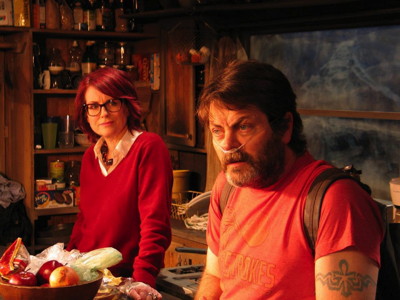 Annapurna
Odyssey Theatre Ensemble
2055 S. Sepulveda Blvd.,
West L.A.
 Performances:
Wed.-Sat., 8 p.m.; Sun., 2 p.m. (no perfs May 24-26)
Runs through Sunday, June 9, 2013.
Reservations: (310) 477-2055 or visit their official site.