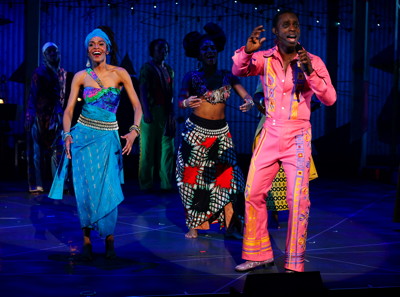 The Broadway musical Fela! is the true story of Nigerian musician Fela Kuti, who created a new type of music, Afrobeat, and mixed these pounding eclectic rhythms with incendiary lyrics that openly attacked oppressive military dictatorships that ruled Nigeria and much of Africa. His songs of rebellion were an inspiration to millions.
Fela! has returned to the Ahmanson Theatre in Downtown LA for two weeks only!  The show features a superbly talented cast, including Michelle Williams of Destiny's Child fame. Info below.
 Previously reviewed:
Pounding rhythms, colorful tribal costumes, exquisitely light and authentic African choreography, visually stunning staging and politically charged lyrics – Fela! is a biographical funk concert musical that is not to be missed! Add a charismatic and gifted performer as the central subject (Adesola Osakalumi plays Fela Kuti) and you have an exhilarating night of music and drama that will imprint on your memory for years to come.
Conceived by Bill T. Jones, Jim Lewis and Stephen Hendel, and directed, choreographed and orchestrated by Bill T. Jones, the Broadway musical Fela! brings riveting portions of the life story of this highly influential singer, songwriter, performer and political activist to the stage. The central character of Fela Kuti is surrounded by a large cast of musicians, singers and dancers – in real life many of the latter became Kuti's wives in order to tour with him.
Nigerian musician Fela Kuti was known for his showmanship and political activism. His elaborate concerts were apparently often quite outlandish and wild, with scores of musicians and dancers on stage, giving audiences an experience like no other.
Presented like a live concert, we the audience are occasionally directly addressed by Kuti as if we were his fans attending a performance at his own venue in Nigeria called 'The Shrine'. Mimicking the call-and-response nature of many of Kuti's powerful songs, he even sits down to chat directly with us, polling the audience to reveal their own brushes with the law. (Along with his family and followers, Kuti was frequently persecuted by the law for his outspoken lyrics and activism.)
Backstory:

The late great Fela Anikulapo Kuti, (15 October 1938 — 2 August 1997), whose real name was Olufela Olusegun Oludotun Ransome-Kuti, was the pioneer of Afrobeat music. He was a Nigerian multi-instrumentalist musician and composer, human rights activist and political maverick. His mother, Funmilayo Ransome-Kuti was an aristocrat and a feminist activist in the anti-colonial movement. (His father, Reverend Israel Oludotun Ransome-Kuti, a Protestant minister and school principal, was the first president of the Nigerian Union of Teachers.)
Played brilliantly by the operatically trained Melanie Marshall, Mama Kuti features in this show to great effect. Her voice thrillingly soars to fantastic heights during her two show-stopping songs. This is, quite fittingly, a hagiographical presentation of her story (complete with spooky animated projected portrait and a magical halo-effect) and it's clear she had a major influence on her son's important legacy. What happened to her is appalling and heartbreaking. Bill T. Jones pulls no punches when presenting details of the atrocities handed out to Kuti's followers and the Nigerian people, including some distressing news footage that amounts to murder captured on film. It's heavy stuff, but well-tempered by the life and soul of the outstanding music.
Further backstory:

Kuti was a human-rights revolutionary who started his own political party, Movement Of The People, to protest the kleptocracy in Nigeria. He had his own compound called the Kalakuta Republic, in Lagos, which he declared independent from Nigeria, where he and his uncountable number of wives lived, and were constantly terrorized by the government. His influence on funk and African music is unsurpassed with approximately 77 albums.

The musical style performed by Fela Kuti is called Afrobeat, which is essentially a fusion of jazz, funk, psychedelic rock, and traditional African chants and rhythms. It is characterized by having African-style percussion, vocals, and musical structure, along with jazzy, funky horn sections. The endless groove is also used, in which a base rhythm of drums, shekere, muted guitar, and bass guitar are repeated throughout the song. His band was notable for featuring two baritone saxophones, whereas most groups using this instrument only use one. This is a common technique in African and African-influenced musical styles, and can be seen in funk and hip-hop. Some elements often present in Fela's music are the call-and-response within the chorus and figurative but simple lyrics. Fela's songs were almost always over 10 minutes in length, some reaching the 20- or even 30-minute marks, while some unreleased tracks would last up to 45 minutes when performed live. His songs were mostly sung in Nigerian pidgin, although he also performed a few songs in the Yoruba language. Fela's main instruments were the saxophone and the keyboards, but he also played the trumpet, guitar, and took the occasional drum solo.
Fela! completely transforms that stuffy old barn called the Ahmanson Theatre into an Afrikan rave club. Despite some unfocussed storytelling within the second act, this show remains a triumphant tale of courage, passion and love, and an invigorating and true story of a legendary musician whose upbeat and catchy songs of rebellion were an inspiration to millions.
RUN – GO – SEE THIS show ASAP – it's super incredible.
Photos by Carol Rosegg.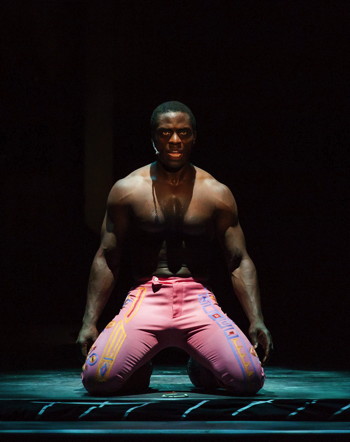 Fela!
Ahmanson Theatre
at the Music Center in Downtown L.A.
135 N. Grand Ave. at Temple St.,
L.A. CA 90012
Performances:
Now through May 5, 2013.
Tuesday through Friday at 8 p.m.;
Saturday at 2 p.m. and 8 p.m.;
Sunday at 1 p.m. and 6:30 p.m.
***No Monday performances***
Running time:
Approximately 2 hours and 45 minutes, including a 20 minute intermission
TICKETS:
$20 – $120 (Ticket prices are subject to change.)
Box Office:
Tickets are available by calling Center Theatre Group Audience Services at (213) 972-4400, in person at the Center Theatre Group box office or on-line here.

Hot Tix: $20 each may be purchased in advance or, subject to availability, on the day of performance at the box office (no checks).
Groups: (213) 972-7231. Deaf community: Information & charge, TDD (213) 680-4017.