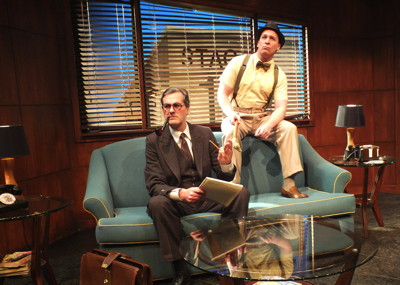 Boasting a superb clowny performance by Kevin Blake as Hollywood filmmaker Billy Wilder, Billy & Ray
 is a light comedy about the making of the groundbreaking motion picture Double Indemnity. Mike Bencivenga's enjoyable new play is currently running at the Falcon Theatre in Toluca Lake.
A producer at Paramount Studios, Joseph Sistrom (Anthony Starke), has just purchased to rights to James M. Cain's sordid novella Double Indemnity, based on a sensational real-life murder case from 1927. He's desperate to oversee the making of a hit movie, or risk losing his job. But the studio needs to pass the stringent codes imposed by the Hays Office censors… No sex, no depiction or murder or violence and no dead bodies. A pretty tall order for a slice of crime 'fiction…' With its chiaroscuro lighting and tough dialogue, Double Indemnity (released in 1944) went on to become the benchmark against which all subsequent film noir movies were compared.
As presented, Billy Wilder appears to be a real character; a jolly womanizer who drinks all day long and never appears to be under the weather. When we meet the Austrian writer and movie director he's just experienced an acrimonious falling out with his long-time writing partner Charles Brackett.
Sistrom and Wilder decide to bring in another hardboiled crime novelist, Raymond Chandler, to co-script the picture (Chandler's first and Wilder's third). New to the movie biz, Chandler clashes with Wilder , but eventually they begin to hammer out a screenplay that takes them four months to complete.
Apparently the creative pair argued a great deal throughout the writing, to the detriment of Chandler's health. But all we see on stage are a few stubborn power struggles over whether or not the window should be open when Chandler is smoking. Meanwhile, the pair seems to be spinning gold when collaborating on dialogue and scenario and nutting out the story together.
Director Gary Marshall keeps the tone light and playful, even inserting a few classic sight gags (such as a spit take and an exploding pack of cards), but ultimately letting Bencivenga's marvelous script shine. Besuited, silver haired and pipe puffing, Shaun O'Hagan is imposingly tall and appropriately Patrician, portraying the novelist as a cranky fellow who clearly prefers to work alone. Ali Spuck is also excellent as Wilder's no-nonsense secretary.
Considering this is a play where most of the time it's just two guys sitting in a room, hammering out a screenplay, there are sufficient amusing character moments to keep us engaged.
Recommended.
Photos by Chelsea Sutton.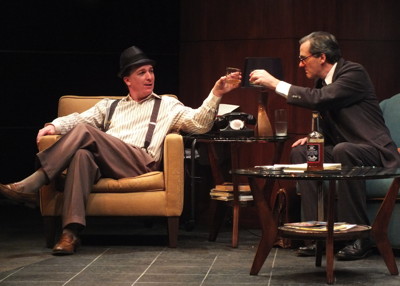 Billy & Ray


The Falcon Theatre
4252 Riverside Drive
Burbank, CA 91505
Performances:
Wed—Sat. 8pm, Sun at 4pm
Runs through Sunday, April 28, 2013 at 4pm
Tickets:
Weekdays (Wed/Thurs) $34.50 – $37.00
Weekends (Fri/Sat/Sun) $39.50 – $42.00
Student Rate (valid student ID) $27.00
Call the FALCON THEATRE BOX OFFICE at (818) 955-8101 or purchase tickets online here.