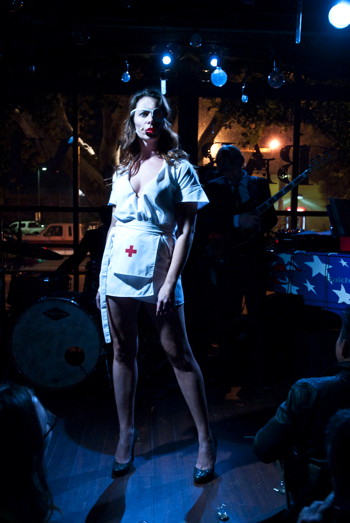 The hit "For The Record" series will leave its resident home in Los Feliz for one night only and head to Hollywood to perform "Tarantino In Concert" at famed House of Blues Sunset Strip.  This version of the World Theatrical Presentation, performed only once before at the 2012 SXSW festival, will be staged on Tuesday, April 16 @ 8pm. The live concert experience "For The Record: Tarantino In Concert" brings the movies of Quentin Tarantino to life through the soundtracks he meticulously integrated into each of his films. The evening will be bigger, badder and include something no one has seen in any edition of the "Tarantino In Concert" show, the inclusion of his latest hit film, Django Unchained!
"Tarantino In Concert" was originally staged a little over two years ago in Los Angeles at Rockwell: Table & Stage as the first show in the "For The Record" series which celebrates songs and moments from the body of work by a featured director.  A talented troupe of performers that includes a rotating ensemble of Film, Television, Record and Broadway talent come together to present this unique fusion of music, theatre and film that brings motion pictures to life in a concert setting.
The "For The Record" series was created by Shane Scheel and Christopher Lloyd Bratten and "Tarantino In Concert" was specially adapted by Shane Scheel, Christopher Lloyd Bratten and Anderson Davis. "For The Record: Tarantino In Concert" is directed by Anderson Davis, with music direction by Christopher Lloyd Bratten, choreography by Angela Pupello and produced by Shane Scheel and Siobhan O'Neill for Ad Astra Live. Series creator Shane Scheel states, "To watch this idea and show grow over the past couple of years from an intimate concert in front of about forty friends to now performing in front of hundreds of people every week has been an incredible journey." Scheel continues, "Having Quentin Tarantino come to see "For The Record: Tarantino In Concert" and absolutely love it reaffirmed that what we are presenting is truly something special and unique." 

Unquestionably a master of modern American film, Tarantino has also mastered the art of the movie soundtrack with song choices that have helped define his signature style. This retrospective highlights hit Tarantino directed films including Reservoir Dogs, Pulp Fiction, Jackie Brown, Four Rooms, Kill Bill Vol. 1 and 2, Death Proof, Inglourious Basterds, and Django Unchained.
The cast includes Von Smith (Fox's "American Idol," E! Entertainment's "Opening Act"), Rogelio Douglas Jr. (Broadway's In The Heights), Jason Paige (Blood Sweat and Tears), Anderson Davis (Broadway's South Pacific), Steve Mazurek (TNT's "Hawthorne"), Danielle Truitt (Disney's "The Princess and the Frog"), Lindsey Gort (CBS's "Vegas") and Dionne Gipson.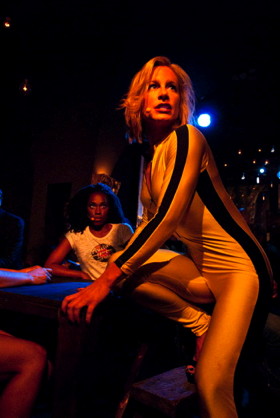 FOR THE RECORD: TARANTINO IN CONCERT
Tuesday, April 16, 2013
House of Blues
8430 Sunset Blvd,
West Hollywood,
CA 90069
8PM.
Tickets are $47.50 for Premier Floor Seating and $22.50 for Standing Room General Admission.
To purchase tickets please call (323) 848-5100 or go online here.
About "For The Record"

Film's most memorable characters and songs have always been permanently etched into celluloid and digital history, unchanging and frozen in time…until now. LA's hit FOR THE RECORD series breathes a new kind of life into the movies by adapting the works of great directors to a theatrical concert setting. It's a unique form of live entertainment that immerses its audiences in the worlds of cinema and music. The series features leading talent from stage, record and screen as well as rising stars – embodying iconic movie characters and giving them new musical voices. The series has featured the works of acclaimed directors Quentin Tarantino, John Hughes, Baz Luhrmann, Coen Brothers, Paul Thomas Anderson, Martin Scorsese, and Garry & Penny Marshall.

 

About The House Of Blues

With 38 owned/operated clubs and theaters, The House of Blues Entertainment portfolio, a division of LiveNation, is wide-ranging including the legendary Fillmores and the intimate House of Blues clubs throughout the United States. House of Blues Entertainment is the country's pre-eminent live music venue collection featuring state-of-the-art sound and lighting technology in one-of-a-kind custom designed environments aimed to bring fans and artists together in unparalleled musical environments.