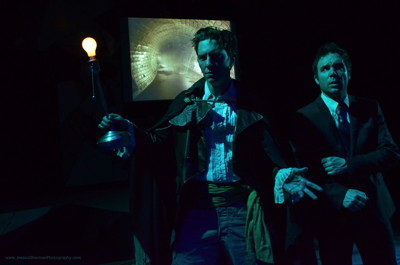 Dear readers!
My theater review this week for the LA Weekly is of Neverwhere, now playing at Sacred Fools in East Hollywood.
To read it, click here to go to the LA Weekly's theater page and scroll down a little bit.
~ OR ~
You can just read it here!!
Happy reading!
Neverwhere
After assisting a distraught and injured woman named Door (Paula Rhodes), a milquetoast office worker named Richard (Bryan Bellomo) embarks on a journey that draws him into a fantastical subterranean world that lies beneath London. Neil Gaiman's Wizard of Oz-esque story promises a magical subculture of strange characters, terrifying beasts and exciting twists and turns, but director Scott Leggett's disappointing production delivers a meandering fairytale of a series of myth-like quests that lack tension or genuine threat.
The danger set up within each exposition-laden scene gets resolved too quickly, before we amble on to the next mini-quest. Hot on Door's trail are assassins Mr. Croup (Ezra Buzzington) and Mr. Vandermar (Bryan Krasner) who, despite their dastardly deeds are played too comedically to pose genuine menace. Several cast members are guilty of overacting, while most seem to be concentrating more on reproducing British accents than clarity of expression. Michael James Schneider's cunning, stitched-together set feels underutilized.
Neverwhere
The stage adaptation of Neil Gaiman's story of an unlikely hero and his journey through the "London Below," a dark netherworld of fantastic creatures and forgotten humans.
Fridays, Saturdays, 8 p.m.;
Sundays, 7 p.m.
Continues through May 11,
$25.00
660 N. Heliotrope Drive,
East Hollywood,
310-281-8337