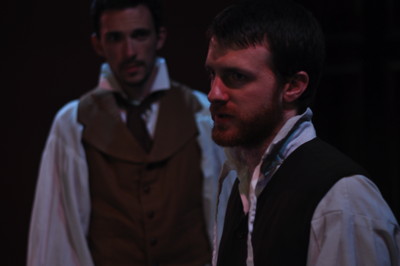 A study of language and identity, Irish playwright Brian Friel's Translations charts the beginning of a grim passage of Irish history where the imperialism of the brutish British government threatened to wipe out their culture. The drama is being presented by Coeurage Theatre Company at Lost Studio and runs until Sunday June 23.
Friel's play is set in 1833, just before the Great Famine of the 1840s caused by potato blight, during which approximately one million people perished and a over a million more fled Ireland. While this impending tragedy is hinted at, the focus is on the arrival of British soldiers who set up camp in this impoverished community of farmers' small rural village, the fictional Baile Beag.
Backstory:

In the early 19th century, thousands of British soldiers marched into Ireland to execute the first geographic survey of the region. Their orders were to translate every Gaelic location name into English, effectively erasing centuries of Irish history and culture.
We meet a colorful group of locals who study at the makeshift 'hedge' school under Manus (TJ Marchbank) and his alcoholic father Hugh (Ted Barton). Manus' brother Owen (Peter Weidman) returns to their village after six years absence, having somewhat made his fortune working in Dublin. Owen is now working for the British military as a translator and go-between. He is accompanied by Captain Lancey (Michael Faulkner)—a gruff and middle-aged cartographer, and Lieutenant Yolland (Kurt Quinn), a young and romantic orthographer; both are working on creating a map survey of Ireland for the British government.
Gradually, this aggressive colonization takes shape, as those in charge of mapping Ireland's landscape see nothing wrong with anglicizing and renaming the Irish locales. Lieutenant Yolland, however, struggles with his task as he falls in love with the country and specifically one of the local women, Máire (Sammi Smith) despite their inability to converse.
Tito Ladd's superb production design immerses you in this far-away world, filling the space as far as you can see with the suggestion of its rural setting. Joseph V. Calarco's powerful sound design is also excellent.
A sweet love story, a fraught political drama and a historical story—Brian Friel's Translations is a modern classic.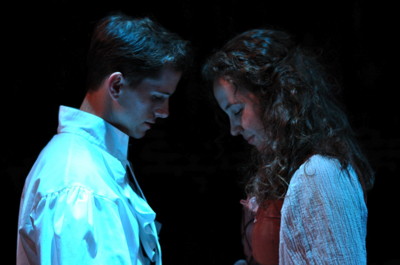 Translations
Coeurage Theatre Company at Lost Studio,
130 S. La Brea Ave., Hancock Park
Fri.-Sat., 8 p.m.; Sun., 7 p.m.;
Runs until Sunday, June 23, 2013.
(323) 944-2165
Reserve your ticket/seat here.
**The Coeurage PAY WHAT YOU WANT Policy**
Pay What You Can is based on a person's ability to pay.
Pay What You Want is based on a patron's desire.
It is a value placement as well as an economic decision, designed to eliminate cost as a factor in attending theatre. Each patron decides what a theatre experience is worth to him or her, and some decide it is worth more than they initially paid.
For that reason, the box office is kept open during intermission and after performances.